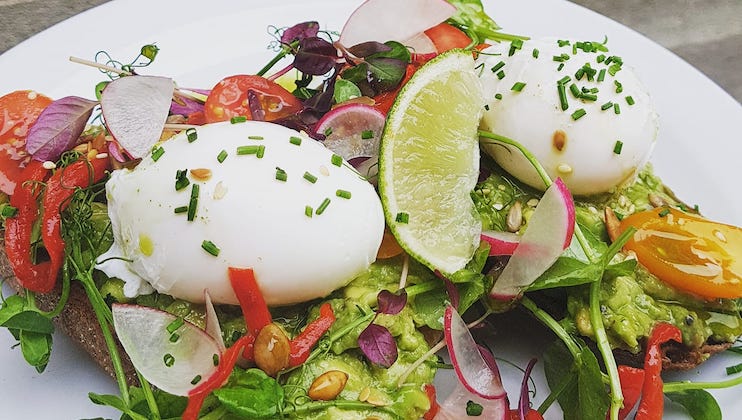 Our favourite weekend meal in the beautiful city of Bath
---
Green Bird Café
11 Margaret's Buildings, Bath, BA1 2LP
A wonderful independent café in the heart of Bath is sure to offer an incredibly tasty breakfast. Green Bird Cafe does exactly that, having won the Bath Good Food Awards 2017 for Best Breakfast! Their brunch/breakfast is served from 8am-12pm, Monday to Saturday, and is well worth heading down early for. Offering artisan breads, homemade granola and compotes and American style pancakes with syrup and bacon - they've got it all. Forget about fry ups filled with unwanted mushrooms and soggy tomatoes with their DIY bespoke breakfast, offering you the option of eggs, meat, salmon or veg to crate your own unforgettable English Breakfast.
Best of the rest:
---
The Pump Room
13 Abbey Churchyard, Bath, BA1 1LZ
What? Easy going brunch on the site of the Roman Baths.
Where? Overlooking the historic baths, in the Abbey Churchyard.
Why? Their sparkling brunch menu is simple but tasty. Offering variations of Eggs Benedict with sparkling wine and cranberry juice (and tea, of course), all for just £16 per person.
8 Alfred Street, Bath, BA1 2QU
19 Kingsmead Square, Bath, BA1 2AE
What? Chain of small, funky cafes across Bristol, Bath and Beyond.
Where? They have one café just by The Roman Baths and another up by the Bath Assembly Rooms.
Why? Their brunch is served all day, every day (ideal for those late risers) and includes almost every dish you could imagine. Enjoy a Boss Breakfast or Vegan Boss or something sweeter like Banana French Toast!
1 Kingsmead Street, Kingsmead Square, Bath, BA1 2AA
What? Conscientious café serving locally sourced Bath ingredients.
Where? Just off Kingsmead Square.
Why? Another all day brunch selection here - try one of their tasty Shakshuka dishes (baked eggs, spicy tomato sauce, feta cheese and sourdough) or order Cowboy Beans (pancetta, beans, baked eggs and spice corn bread)!