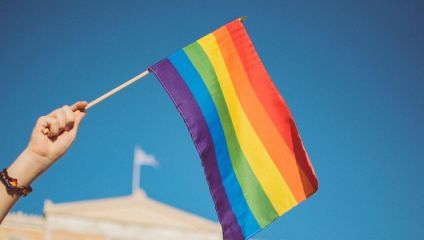 There is so much to do in the seaside town of Brighton, it's almost impossible to list it all. But even better, Brighton is famously the most LGBTQ friendly city in the UK, so there is plenty on offer for anyone who might be wanting to learn more about queer history, go to a LGBTQ club night or just enjoy a city that celebrates difference.
Brighton hosts the largest
Pride
celebration every August. The whole city gets involved in this weekend celebrating the gay community not only in Brighton but around the world. As well as the Parade that moves through the town, there is a dog show, a family area, and a pleasure gardens so you can celebrate exactly how you want. Pride is a must-attend event for anyone wanting to see the best of Brighton.
Image credit: Brighton & Hove Pride/ via Facebook
Though Brighton might be a small city, it has tonnes of clubs, including gay clubs, as well other clubs that host lots of queer nights. Revenge and Legends are local favourites, and will be very busy on weekends if you want to mingle with Brighton locals. For a more sedate evening, Brighton has lots of cute pubs and bars. Kemptown is a famously queer area, and is home to The Bulldog, the oldest gay pub in Brighton. The Marlborough is another famous pub that's a popular hangout for the lesbian community. They also have a theatre upstairs, hosting shows and events, often put on by the Pink Fringe. For something a little different, check out Tramfrau.
Image credit: Marlborough Pub & Theatre/ via Facebook
Whilst in Brighton, you might want to check out a show or two. There's plenty of comedy on offer in Brighton, with plenty of small venues hosting touring comedians and shows, as well as regular stand up nights. Zoe Lyons hosts Bent Double, winner of the Chortle Award for Best Comedy Night 2017. The Gay Men's Chorus regularly perform throughout Brighton. Every year, Brighton also hosts the Brighton Fringe, a month full of shows, performances and stand-up; make sure to check out the schedule for your favourite LGBT performers.
Zoe Lyons. Image credit: Steve Ullathorne
If you are interested in the history of Brighton, you might want to take a guided walking tour. Only in Brighton takes you around the streets, exploring the lesser-known spots of the city. Tours run for 90 minutes on most Fridays and Saturdays. Or, if you want to learn more about specifically queer history, The Piers & Queen tour explores the beach and city centre from a queer perspective.
Image credit: Lighthouse/ via Facebook
Brighton is also great for culture. The Brighton Museum & Art Gallery has a large collection of interesting objects and furniture, and in 2017, it hosts the first ever retrospective of Gluck, the pioneering gender queer artist who lived in Sussex and donated some objects to the museum. They also host the Museum of Transology, a collection of objects from the Trans community in Brighton. The Lighthouse are always producing interesting art and film from new and up-and-coming artists, so definitely working checking out.