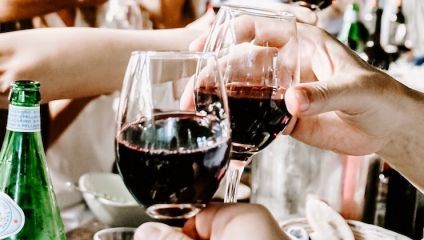 From cheap and cheerful eateries to slightly more upscale restaurants, Brighton has no shortage of places that offer Bring your own Bottle (BYOB). Whether you fancy a Lebanese feast, Japanese curry or a perfectly grilled piece of fish, we've rounded up the city's best spots to bring your favourite tipple. After all, the more money you save on drinks, the more you have to spend on food!
---
A Taste of Sahara
Image credit: A Taste of Sahara/ via Facebook
Combining flavours from Lebanese, North African and Middle Eastern cuisine, A Taste of Sahara is one of Brighton's gems. From Tagines and Couscous to Halal Kebabs, the extensive menu boasts an impressive array of popular and more obscure North African dishes. Order one of the popular Mezze plates, served with warm, delicious flat breads, to pair with your favourite bottle, or for parties of 10 or more go all out and enjoy an Arabian Feast. Exotic flavours at a reasonable price and BYOB? Yes, please!
A Taste of Sahara can be found at 103 Western Rd, Brighton BN1 2AA
---
Pompoko
Image credit: Jeremy Keith
Located near Brighton Dome, Pompoko is a popular spot for simple, fast, and fresh Japanese food. Choose from a variety of dishes including traditional Japanese Curry, Donburi and Yakisoba noodle dishes as well as a range of light salads. Perfect for a quick lunch, or a pre-theatre meal, bring your wine of choice for a small corkage fee (£1 per person) to enjoy with a tasty, inexpensive meal.
Pompoko can be found at 110 Church Street, Brighton, BN1 1UD
---
The Salt Room
Image credit: The Salt Room/ via Facebook
As one of the UK's most iconic seaside town, it is perhaps unsurprising that Brighton boasts some of the country's best seafood restaurants. However, for a truly memorable meal book a table at The Salt Room - winner of the 2017 Seafood Restaurant of the Year. Located opposite the West Pier, the modern British restaurant offers stunning sea views and a menu specialising in seafood cooked over charcoal. A daily changing specials board also displays the catch of the day, while those after a meatier affair will find terrific grilled meat options to choose from. Better yet, every Monday is BYO wine. Monday's have never looked so good.
The Salt Room can be found at 106 Kings Road, Brighton BN1 2FU
---
Si Signore
Image credit: Si Signore/ via Facebook
For an authentic Italian meal look no further than Si Signore. Tucked away down the Laines, the rustic Italian eatery serves a range of fantastic meat and fish dishes, pizzas and pastas, as well as delicious desserts. Enjoy your meal in the cosy restaurant, complete with candle lit tables, and excellent service. Just don't forget to BYOB - because nothing goes better with a big bowl of pasta than a bottle of wine.
Si Signore can be found at 12 Sydney Street, North Laines, Brighton BN1 4AN
---
The Coal Shed
Image credit: The Coal Shed Restaurant/ via Facebook
Named one of the best UK restaurants by Observer Food Monthly, The Coal Shed is one of Brighton's best spots for a stellar steak. Sister restaurant of The Salt Room, The Coal Shed uses locally sourced meat and fish, grilled directly over burning charcoal and also hosts BYO wine night every Monday at £5.00 corkage per bottle.
The Coal Shed can be found at 8 Boyce's St, Brighton BN1 1AN
---
Kambis
Image credit: Kambis
Widely considered to serve the best Mezze and Shawarma dishes in Brighton, Kambis is a must for authentic Lebanese fare. Situated in the bustling heart of Brighton, the small, independent restaurant offers an extensive menu, with an excellent range of vegetarian and vegan options as well. With free corkage you'd be mad not to bring along your favourite bottle to accompany an excellent meal.
Kambis can be found at 107 Western Road, Brighton, BN1 2AA