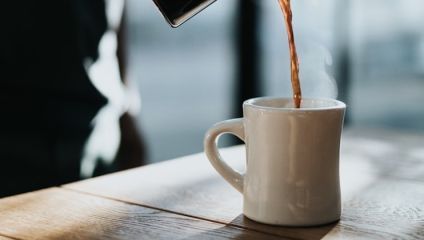 We're living in a flat white economy, and thanks to the hipster revolution great coffee has become increasingly easier to find. If you're looking for a caffeine fix check out our top 5 coffee shops in Brighton, one of the most caffeinated cities in the country.
---
Cafe Coho
Award winning espresso bar and two minutes away from the beach, Cafe Coho in Ship Street is Brighton's best loved cafe; with trendy decor, plenty of seating and free wifi, this is the perfect location for people-watching and a double espresso. In addition to coffee, Cafe Coho also serves breakfast - the bacon and maple syrup pancakes are scrumptious - so head there to start your day off on the right foot.
Cafe Coho at 53 Ship Street, Brighton BN1 1AF
---
Small Batch Coffee
What started off as a local family business is now a Brighton success story. With several locations across the city, the Jubilee Street flagship store offers the most seating space, but the Brighton and Hove train station locations ensure you never have to make your morning commute without a good cup of joe. Small Batch Coffee aficionados can also sign up for coffee masterclasses and Small Batch Coffee subscriptions to try all their unique blends at home.
Small Batch Coffee is at 17 Jubilee Street, Brighton BN1 1GE
---
Marwood
The Marwood Coffee Shop makes two rather big promises, kick arse coffee and life changing cake. Spoiler alert: it delivers. Marwood is the coolest and quirkiest coffee shop in town, decorated with mannequin legs, UFO posters and an assortment of toys (to name a few). Their coffee ninjas (baristas are so passé) take the craft very seriously, so rest assured that the cafe delivers both on looks and substance. If the weather is good make sure to ask about the secret garden - you won't regret it.
The Marwood Coffee Shop is at 52 Ship Street, Brighton BN1 1AF
---
The Creperie
If you like something sweet with your coffee, just look to the continent. The Creperie offers iconic French cuisine just off the Brighton seafront, where you can treat yourself to cappuccino and Nutella for breakfast. Though not technically a coffee shop they serve top quality coffee from Small Batch to go with your crepes, galettes or waffles. Did we mention they are also 100% gluten free?
The Creperie is at 2 Ship Street, Brighton BN1 1AD
---
Red Roaster
Originally named after their first coffee-roaster, Red Roaster is one of the oldest independent cafes in Brighton and a staple of the local coffee scene. Immensely popular with the locals, you'll find some of the best - and cheapest - coffee in town here and homemade cakes to enjoy with your macchiato. As patrons of the arts Red Roaster host exhibitions, poetry nights and music events; feel free to have a go on the café's piano!
The Red Roaster is at 1d St. James's Street, Brighton BN2 1RE