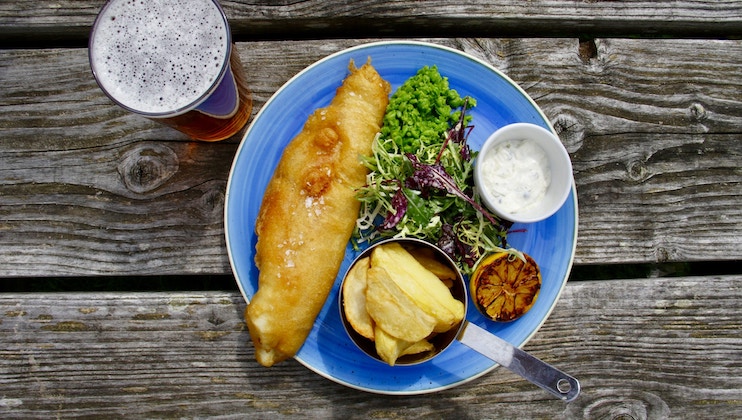 Not just for sunny days, fish and chips by the seafront is a must have, come rain or shine!
---
Spotlight on: Bardsley's of Baker Street
22-23 Baker Street, Brighton, BN1 4JN
It might not be on the seafront, but Bardsley's is one of the most iconic fish and chip spots in all of Brighton. Located at the top of The Level, this traditional chippy is well worth a journey up London Road for. Offering both sit in and take away, you can relax and enjoy your greasy chips and sweet, battered fish before walking the 25 minutes to the beach. Bardsley's has been run by the same family for four generations since opening in 1926! It's won a handful of awards and been named as one of the UK's Top 10 Chip Shops by The Guardian.
Open Tuesday - Saturday, (from 12-3pm and 4.30-9.30pm) enjoy all the classic chip shop dishes - battered cod, a 'special' haddock or even just a bag of chips. Being this close to the seafront you can rest assured that you're being served the catch of the day, and the restaurant also offers a large range of weekly specials depending on what's available. Those looking for something a little bit healthier have the option of having their fish grilled or poached, and they naturally offer pies, battered sausages and all those other chippie classics!
---
Best of the rest:
---
The Basketmakers
12 Gloucester Road, Brighton, BN1 4AD
What? Cosy pub with home-cooked local food and real ales.
Where? Just down the road from the North Laines.
Why? The Good Pub Guide once described The Basketmakers as 'Best Valye Pub Food in the UK', and this homely pub has continued to appeal to the residents of Brighton ever since. Home-made food using local produce (wherever possible) ensures you'll get a tasty beer battered fish and a tasty drink to wash it down.
---
The Regency Restaurant
131 King's Road, Brighton, BN1 2HH
What? A traditional seafront seafood restaurant, offering fish and chips and much more!
Where? Opposite the Brighton i360, right by the beach.
Why? Something a bit different from your usual chippy, The Regency Restaurant specialise in all sorts of tasty seafood dishes. You can even get Lobster Thermidor but prepare to shell out £31.95 for it! Their fish and chips might be a bit on the pricier side, but you're paying for quality, fresh fish and an unforgettable view out to sea.
---
Loving Hut
48 Gardner Street, Brighton, BN1 1UN
What? 100% vegan café and restaurant!
Where? Just next door to Komedia, in the Laines.
Why? Who says you have to miss out when enjoy a plant-based diet? Their vegan fish and chips promise to be as good as the real thing, although we'd definitely suggest you swap out the salad with some beans or 'colesaw' - fish and chips isn't supposed to be healthy!