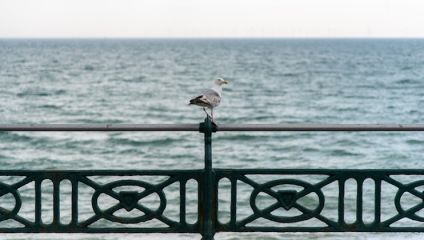 If you want to frolic in nature without leaving city comforts too far behind, we recommend you take an alternative tour of Brighton. Have a look at our top Brighton nature spots and make the most of the East Sussex countryside.
---
Devil's Dyke
A National Trust site, Devil's Dyke is famous for its stunning views and for being the deepest and widest dry valley in Britain. For a quiet summer afternoon with the family we suggest taking a packed lunch for a picnic with a view and berry picking with the children. If you're feeling more adventurous, we suggest spending the day cycling or hiking in the area. If you're really looking for a challenge, we hear Devil's Dyke is the perfect spot for paragliding…
For more information on Devil's Dyke go online.
---
Kipling Gardens
If you don't want to stray too far from the city, Kipling Gardens are the perfect spot for a quiet getaway. Only a few miles from Brighton, the gardens originally belonged to Rudyard Kipling's country house in Rottingdean, and are now open to the public. Take a stroll through the rose garden before settling down with a good book for afternoon tea in the tranquil herb garden. If you're lucky, you might even enjoy a game of croquet!
The Gardens are open all year round. More information online.
---
South Downs National Park
Though it may be England's newest National Park South Downs does not disappoint, with market towns, beautiful landscapes and exciting wildlife. From strawberry fairs in the summer to bonfire night in November, the Park is bustling with life and activity, and is worth a visit any time throughout the year. Go horse riding down the National Trail or try gliding across the Downs. For a high tech scavenger hunt try geocaching, where you use your smartphone to discover caches hidden in nature.
Discover the other activities on offer at South Downs National Park.
---
Seafront
We couldn't talk about Brighton without mentioning the beach; Brighton and Hove offer 11 kilometres of beautiful seafront with plenty of attractions that anyone can enjoy. Whether you prefer to sit by the seaside with a good book or are brave enough to go in for a dip, Brighton's seafront has something for everyone. Breathe in the soothing sea air and explore Brighton's natural sandy beaches - you'll completely forget how close you are to the city.
Take a trip to the seafront.