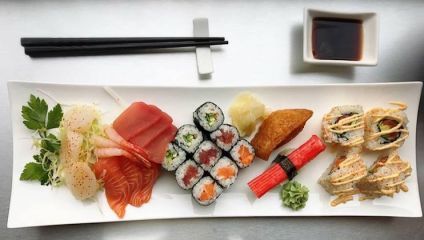 Fresh fish, karaoke and sake in beautiful Bristol
Sushi is no longer considered the hipster fad it once was. Sushi has become hugely popular across the country, leading to an influx of restaurants and bars delivering authentic Japanese dining. Bristol is of course no exception to this trend, being home to numerous independent sushi joints, from the cheap and cheerful lunchtime hotspots to premium locations for that special occasion outing. Here is our guide to the best Japanese restaurants in Bristol.
---
Bento Boss
Clifton Down Station, Whiteladies Road, Bristol, BS8 2PH
A popular spot for Bristol sushi, Bento Boss offers excellent sushi and pan Asian cuisine. The vast menu is filled with fishy delights and their veggie alternatives, including classic nigiri and sashimi made with a wide range of fish and veg. You can also try exotic titbits like grilled eel nigiri. Those wanting a bit of variety can grab a sushi or vegetarian sushi bento box, and they offer plenty of Japanese main meals for your guests who aren't too keen on the whole raw fish thing! Be sure to wash it all down with a classic sake for the full experience.
---
Nomu
81 Whiteladies Road, Clifton, Bristol, BS8 2NT
This Japanese kitchen and cocktail bar is loved locally for its cosy and intimate atmosphere, making it ideal for date night. Sushi and cocktails are given equal amounts of attention here at Nomu, and if hungry, you can order any three Small Plates for just £15. We recommend diving into some dynamite rolls (filled with salmon, avocado and wasabi then fried) and some classic California rolls. As for drinks - Lychee Martini's or perhaps the Zen Garden Martini all round?
---
Fujiyama
21 Regent Street, Bristol, BS8 4HW
The authentic and fresh sushi at Bristol's Fujiyama is enough to bring regular crowds along for some tasty seafood, but the real unique pull is the downstairs karaoke room! Available for pre-booked private parties, this karaoke and sushi combination makes an excellent birthday, hen or stag do or even a work social. Once the sake starts flowing, you'll no doubt be up to do your best X-Factor impression. Or, if you're still feeling a bit delicate from a few too many sakes the night before, Fujiyama can deliver some of the best sushi in Bristol straight to your door as a takeaway.
78 Park Street, Bristol, BS1 5LA
If your sushi eating habits are no longer financially sustainable, then head to Yakinori and attend a Sushi Masterclass so you can make your own! The 2-hour long £65pp course promises to help you master the art of sushi making, offering you all the ingredients, tools and tutoring to help you hone the skill. You'll be welcomed with green tea and miso soup, offered a sake after the hard work is done and take a bountiful bento box of goodies home with you. We are sold!
Noa
12-13 Waterloo Street, Bristol, BS8 4BT
This fresh and modern lunchtime spot in Bristol's Clifton helps you have a break from your regular boring desk sandwich. These healthy, tasty dishes are both fresh and well-priced, offering plenty of lunch deals and bento box discounts. You can, alternatively, grab some of their sharing sushi platters and enjoy with friends on an evening!
69 Baldwin Street, Bristol, BS1 1QZ
Obento has been a Bristol sushi favourite since its opening in 2004 and is now an impressive two-story sushi restaurant and karaoke bar. Boasting three Tatami style private rooms, this is a great spot for a get together with friends. Enjoy a steady stream of sushi whilst you karaoke from 6-10.30pm. All their sushi is made to order using the freshest ingredients possible at an excellent price - what more could you want from a Japanese restaurant in Bristol?