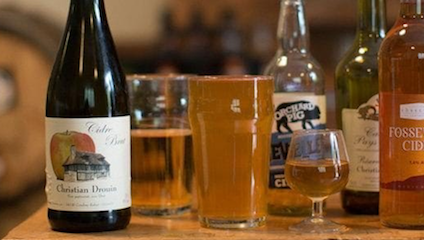 A cider city through and through, Bristol is one of the country's premier purveyors of the traditional tipple. From festivals to cider cycle trails, the city is teeming with fantastic ways to enjoy cider. Do as the locals do, and swap your beer for a pint of cider with our guide to the city's best cider bars.
Culture Calling's guide to the best cider bars in Bristol
---
The Apple
Image credit: The Apple/ via Facebook
For a terrific pint of cider, look no further than the aptly named The Apple. A beautifully converted Dutch barge moored in the heart of Bristol's Old City, this local hotspot specialises in cider and perry, both on draught and in bottle. With friendly staff and wholesome, locally sourced food to snack on, the bustling pub is a strong contender for Bristol's best location to drink a cider (or two).
The Apple can be found at Welsh Back, Bristol BS1 4SB
---
The Coronation Tap
Image credit: shrinkin'violet
Clifton's original, and sole ciderhouse The Coronation Tap is a beloved Bristol institution dating back centuries. Here, cider comes in any and every form - draughts, packaged, iced, mulled - you name it. Experienced staff are more than happy to help with your selection, or you can even take part in a Cider Experience session and sample the entire range. Better yet, you can buy a bottle of your favourite cider to take home, or bring in your own containers to fill!
The Coronation Tap can be found at 8 Sion Place, Clifton, Bristol
---
The Lazy Dog
Image credit: The Lazy Dog
Love dogs and cider? Head north to local favourite The Lazy Dog - a dog-friendly pub with a range of refreshing ciders on tap. During the summer, enjoy a pint in the sprawling beer garden, whilst the pub's cosy interior and secluded booths make for an ideal spot to while away an afternoon or evening as the weather gets cooler. The pub has also been awarded the 'Best Food Pub' accolade by the Bristol Good Food Wards for two years running, so make sure to sample their daily changing menu or pop by for one of their hearty Sunday roasts - accompanied by a first-rate cider of course.
The Lazy Dog can be found at 112 Ashley Down Rd, Bristol BS7 9JR
---
The Orchard Inn
Image credit: The Orchard Inn/ via Facebook
Selling cider to locals for over 150 years, The Orchard Inn is the perfect spot to drink cider in a traditional, relaxed setting. With over 20 still ciders sourced from breweries across the South West, in addition to a number of bubbly varieties, it isn't surprising that the Victorian pub was awarded the CAMRA South West Cider Pub for 2016. Take you pick, tuck into some cracking pub fare, and enjoy regular live music which includes incredible local jazz and blues acts.
The Orchard Inn can be found at Hanover Pl, Harbourside BS1 6XT
---
The Stable
Image credit: The Stable/ via Facebook
Serious about cider, The Stable is leading the British craft cider revolution. The popular chain now has locations all over the country, and each restaurant has its own qualified cider expert to help guide you through their impressive range or a cider tasting experience. Of course, no visit would be complete without sampling one of the organic sourdough pizzas made with locally sourced toppings. Pizza and cider? Now there's a winning combination.
The Stable can be found at South Building Anchor Square, Canon's Rd, Harbourside, Bristol BS1 5UH
---
Bristol Cider Shop
Image credit: The Cider Shop/ via Facebook
While technically not a pub or traditional cider house, the Bristol Cider Shop is a must-stop for all things cider. Named as the UK's 'Independent Cider Retailer of the Year' in 2015, every cider is sourced within 50 miles of the premises, and each and every bottle and barrel is handpicked. With a choice from over 100 varieties of award-winning artisan cider and perry, we guarantee you won't leave empty handed.
Bristol Cider Shop can be found at Unit 4, Cargo, Gaol Ferry Steps, Wapping Wharf, Bristol BS1 6WE