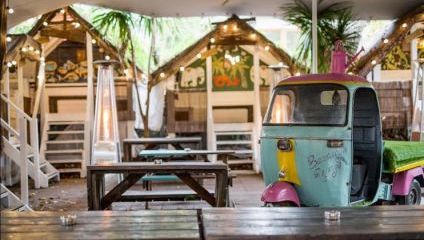 Grab a friend and order a drink, you'll want to be outside over the next couple of months
When the warmer months approach, Bristol becomes a true mecca for all things out and about. Take a glance at the cobbled corner outside Arnolfini or the throngs of lunchtimers in Castle Park and you will see what I mean. Commercially, the competition is fierce, with restaurants, cafés, parks and squares all offering different takes on the art and science of sitting outside. Grab a pint of cider and sit down at one of these excellent venues.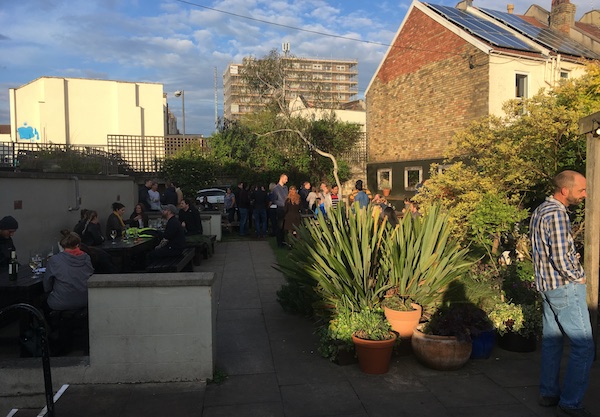 139 North St, Bristol BS3 1EZ
Bristol's reputable North Street is something of a double-edged sword. Home to both long-term inhabitants and pop-ups-of-the-day alike, there is a vibe for all. One of the former is The Spotted Cow, a pub with a rich heritage of over 200 years. The inside is warm, roomy and clean but the location comes into its with its large walled garden - an excellent place to kick back and soak up some precious British sun. With excellent pub grub (such as widely-renowned Sunday roasts), a friendly atmosphere, grassy patches, fairly lights in the evenings, plenty of seats, murals and a dog friendly policy - bring some mates and revel.
---
38 Jacob's Wells Rd, Bristol BS8 1DR
A short walk from the Harbourside's beautiful Brunel Quay and running parallel to Brandon Hill Park lies The Hope & Anchor. Unassuming and dusty from the outside, yet cosy and spacious on the inside, this pub truly comes into its own with its drinking garden situated at the back. With terraced levels and plenty of sitting spots this is definitely one of Bristol's best spots to have a peaceful pint and escape the crowds. Note: make sure you try the strong Sunday roast options (including giant Yorkshire puddings!).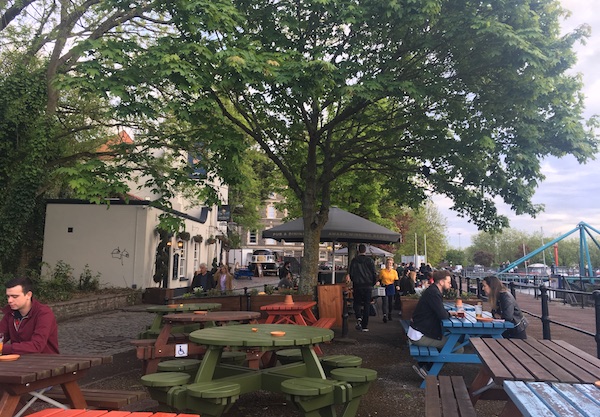 ---
The Ostrich
Lower Guinea St, Bristol BS1 6TJ
Situated directly opposite the rambunctious ex- cargo ship nightclub Thekla, is The Ostrich. The Ostrich boasts a large pub garden that practically shines in sunny weather. Sitting dockside, you can imagine yourself as a man or woman of old, sitting where Bristolian sailors, dock-workers and merchants would have toiled. Stocking a large variety of award winning beers and serving well executed classic pub food affair, feel free to drop by for a relaxed evening on the water.
Wyndham Cres, Bristol BS4 4SX
Set in a Brislington woodland oasis and best travelled to via one of Bristol's enchanting ferries is Beese's Riverside Bar. With luscious gardens and beautiful scenery, this is a time-tested nature refuge for Bristol's urbanites. If a lover of music, visit on a Friday for 'Music Nights' and if a foodie, try their stellar sausage roll. If your legs get restless, take a small boat over the River Avon and head out on a tranquil woodland walk. 100% dog friendly.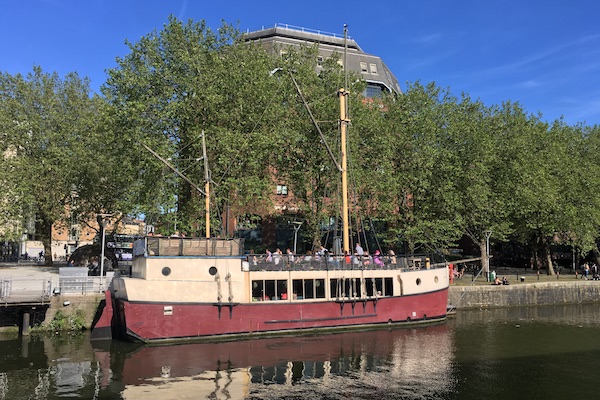 ---
Under the Stars
The Architecture Centre, 16 Narrow Quay, Bristol, BS1 4QA
This selection would be remiss without a mention of Under the Stars, one of Bristol's resident boat bars. Though technically not a pub garden, the bar is situated just of the City Centre, and is a perfect place to admire the bubbling energy of the Harbourside. The top deck is open to the elements so grab a bench and visit when sunny, sipping G&T's (or their brilliant cocktails!) accompanied with risotto, halloumi, pea & brie tapas, watching the city ferry come and go.