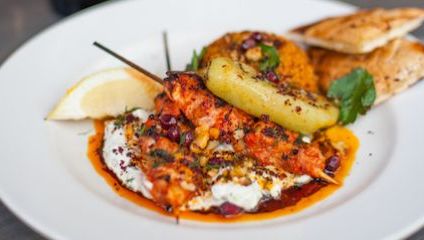 In this new monthly feature, we're taking you through some of the best secret spots Bristol has to offer. First up: Where to Eat…
Whether it's for a special occasion or you just feel like trying something new, finding undiscovered eateries is nothing short of delightful. It goes without saying that Bristol boasts an eclectic mix of excellent cafes and restaurants across the city, but for somewhere a bit different, we've pulled together a selection of lesser-known spots. And luckily for you, there are plenty to explore…
---
Mockingbird Café
All good days start with a top-notch breakfast, and there's no better place than Mockingbird Café in Clifton. This cosy little café is tucked away behind the high street on Alma Vale Road, and serves up a delightful menu of locally sourced food from 9am. It's an ideal place to stop by for breakfast, or to enjoy a charming brunch - and don't miss their delicious Hobbs House sourdough toast either. For most of the week they even serve lunch: it's the perfect café to take you through the day.
Mockingbird Cafe
Mockingbird Café is at 58 Alma Vale Rd, BS8 2HS.
---
Hart's Bakery
Alternatively, cosied away in a railway arch beneath Temple Meads station you'll find Hart's Bakery. All their delights - be it sourdough bread, pastries, cakes or savouries - are prepared and baked within the same arch shape, with bread going on sale as soon as it comes out of the oven! Combine that with coffee from Extract Coffee Roasters and you're in for a treat whatever time of day you appear. There is a seating area if you want to relax with your pastry, but you'll find that many take a grab and go approach to anything they can get their hands on!
Hart's Bakery is at Arch 35, Lower Approach Road, Temple Meads, Bristol BS1 6QS.
---
Chicken Shed
Pop up culture is alive and well in Bristol, and it's as apparent as anywhere in Wapping Wharf (behind M Shed), with new development 'Cargo' - a collection of independent retailers housed in repurposed shipping containers. It's home to several delightful eateries, but keep an eye out for Chicken Shed, perched on the top of the stack. Set up by Michelin star chef Josh Eggleton and local farmer Luke Hasell (the guys behind Eat Drink Bristol Fashion - they also have a café/bar in a Mongolian Yurt behind Temple Meads), the restaurant has a relaxed vibe and locally sources ethically and sustainably produced ingredients. So head on down and get yourself some chicken for dinner.
Chicken Shed is at CARGO, Gaol Ferry Steps, Wapping Wharf, BS1 6WP.
---
Souk Kitchen
Another cool joint for dinner, Souk Kitchen in Southville won two Bristol Good Food awards last year for their Middle-Eastern/North-African inspired cuisine. Check them out for an unusual brunch or lunch option, or else try their speciality evening menu: mezze. The restaurant is a stone's throw from the Tobacco Factory Theatre, and they're doing so well they've recently opened a second restaurant in Clifton. So there's really no excuse not to get stuck in while they're still small.
Souk Kitchen
Souk Kitchen is at 277 North Street, Southville, BS3 1JP and 59 Apsley Road, Clifton, BS8 2SW
---
Birch
For something a bit splashy, head to Birch (also in Southville). With a new, locally sourced menu each day, this small establishment prides itself on celebrating the best ingredients the region has to offer, much of which comes from their own on-site market garden and orchard. The menu is only published in the afternoon, but with recent highlights including Braised Shorthorn Beef, Roasted Cauliflower and Dorset Rock Oysters, you're sure to be in for a treat. Make sure you book in plenty of time as it's only small and punters can't help going back for more.
Birch is open for dinner Wednesday-Saturday, and lunch on Saturdays. Find it at 47 Raleigh Road, Southville, BS3 1QS.
---
Bravas
Finally, if your leanings are for something from further afield, Bravas on Cotham Hill serve up a delectable array of Spanish-inspired tapas. The restaurant has a relaxed, local feel with an open kitchen, and the menu changes daily to reflect seasonal trends. At Bravas the drink is as important as the food, and they offer a wide array of Spanish wine, cold beers, gin & tonics and more so you can find the perfect accompaniment.
Bravas is at 7 Cotham Hill, BS6 6LD.