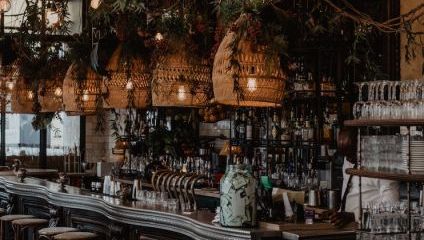 It's beginning to look a lot like mulled wine time
It's beginning to look a lot like Christmas here in Bristol - so you better get your (ice) skates on and start getting festive. But we know it can be difficult getting yourself away from the call of the sofa when it feels like minus a million degrees outside, so we've collected the cute 'n' cosiest of Briz's pubs and bars - you'll warm up in no time.
---
Après Bar
Imagine how cosy it would be right now to settle down on a fur covered bench in front of a cosy log burner and enjoy a warming glass of mulled wine or a delicious hot chocolate… well, now you don't have to imagine, thanks to Après. The bar, which replicates an alpine ski lodge, also serves such delightfully wintry dishes as a raclette burger and smoked sausage with sauerkraut. What's more, the bar is right on Millennium Square, so it's the perfect post ice-skating spot. Just maybe don't go off to the ferris wheel right after all that raclette.
Après Bar, 15 November - 5 January, One Millennium Square, Anchor Road, Harbourside, Bristol BS1 5DB
---
The Apple, Bristol
The city's getting into mulling season this year, especially when it comes to our greatest export: cider. Boasting a ridiculous range of ciders and cider cocktails, The Apple should definitely be on your mulled beverage hit list, serving mulled ciders straight up or with your choice of spirit in, whether it be rum, amaretto or Cointreau - an apple a day keeps the doctor away, after all. And what's more, The Apple is located on a beautiful boat bobbing in the Avon. All aboard!
The Apple, Welsh Back, Bristol BS1 4SB
---
The Xmas Tavern
This Bishopston pop-up is about as Christmassy as it gets, particularly thanks to its open fire pits, which are basically begging and pleading with you to go and grab some marshmallows from the bar to toast on them. So it's good that the Xmas Tavern sells marshmallows for this very purpose - regular for the little ones, Kahlua-filled for mum and dad.
The Xmas Tavern, from 21 November, 102 Gloucester Road, Bristol BS7 8BN
---
Just look at that name! Don't you feel cosier already? Well, after you've sunk back into a huge leather armchair with a warm spiced cider in your hands you certainly will. Pipe & Slippers is one of those quintessentially English pubs filled with wood panelling and fireplaces and though it's certainly worth a visit all year round, it just feels right during Christmas.
Pipe & Slippers, 118 Cheltenham Rd, Bristol BS6 5RW
---
The Rummer
The Rummer's cocktails are well-known for their good quality, and they always have a cracker of a Christmas special on. You don't necessarily have to get boozy either: local speciality coffee and teas can be enjoyed by the fire and are sure to warm you up. There's also a whole Christmas menu (including a rolled goose main) should you get peckish.
The Rummer, All Saints Ln, Old, Bristol BS1 1JH