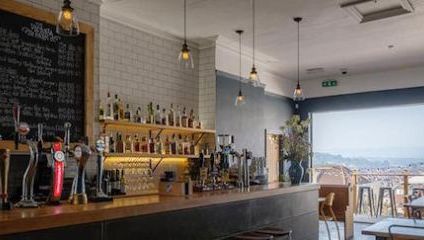 Sunglasses and shorts have been pulled from the depths of the wardrobe and have been brought on their first outing of the year as some heat has finally hit the UK. Along with sunburn, summer brings glorious days filled with eating and drinking in the sunshine with family and friends, and there are few better places to be than Bristol. The city is full of beautiful restaurants and bars that offer outdoor dining areas so that you can soak up every last ray – we all know we have to make the most of it while we can.
---
Racks is great all-rounder with options that are sure to please all the family from homely burgers and sandwiches to culinary delights such as wood pigeon and sea food risotto. What makes Racks fantastic in the summer is that they offer BBQ and Hog Roast Parties on their large terrace at which they serve Pimms or a bottle of beer on arrival - what more could you ask for on a sunny day!
Image Credit: Racks via Facebook
Racks Bar & Kitchen, St. Pauls Rd, Clifton, Bristol, BS8 1LX. Opening times: Monday - Thursday 7am - 11pm, Friday - Saturday 8am - 12pm, Sunday 8am - 10:30pm.
---
The Lido
The Lido is the perfect one-stop location on a summer's day as the bar offers outdoor seating right alongside a stunning blue pool which is available for guests to swim in after indulging in some delicious food. The poolside bar serves up breakfast for early risers which consists of a range of appetizing toppings such as salmon, kippers, eggs and bacon on sourdourgh toast, yoghurt and muesli and fruit. Later on in the day, the poolside bar serves a selection of tapas dishes including meats, cheeses, vegetables and croquetas, so you can close your eyes and pretend you're on holiday for the day.
Image Credit: Bristol Lido
The Lido, Oakfield Place, Clifton, Bristol BS8 2BJ. Opening times: Poolside Bar, Monday to Saturday 8am - 11pm, Sunday 9am - 10.30pm Sunday. Restaurant 12pm - 3pm, 6pm to 10pm. Pool and spa, Monday to Friday 1pm - 4pm.
---
Wapping Wharf
Wapping Wharf is a relatively new addition to Bristol's buzzing harbourside. A small village of shipping containers have been roped together and filled with a selection of restaurants, cafes, bakeries and bars. Right next to the river, with a host of outdoor benches, the containers are a perfect relaxed location to mill about on a sunny weekend. Options include Pigsty, a pork lovers paradise, Salt and Malt serving up mouth-watering fish and chips, Bertha's delicious homemade pizza and Oliver's Ice Cream, artisan gelato makers, amongst many others.
Image Credit: Wapping Wharf via Facebook
Wapping Wharf, Wapping Road, Bristol, BS1 4RW.
---
Brew Coffee Company
Brew's decked outdoor seating area is a real suntrap, the ideal location for a lazy brunch or a cup of coffee and a slice of cake during the afternoon. The food is inspired by the chef's Middle-Eastern travels giving each dish an interesting twist such as adding Beetroot Borani, Za'atar, Labneh and Dukkar atop the usual variations of eggs and sourdough toast. The cakes and pastries alone are noteworthy delectable treats no matter the weather, freshly homemade in house.
Image Credit: Brew Coffee Company via instagram
Brew Coffee Company, 45 Whiteladies Road, Clifton, Bristol, BS8 2LS. Opening times: Breakfast/Brunch, Monday - Saturday 7:30am - 5pm, Sunday 9am - 4pm. Lunch, Monday - Sunday, from 11am.
---
The Victoria Park
The Victoria Park's remarkable feature is their gorgeous tiered garden which provides a stunning view across Bristol. The food they serve is a more refined version of the usual pub fair made using the best ingredients that they aim to source from the local area. The menu lists delights such as smoked mackerel rillete, beer battered fish and macaroni cheese baked with truffles. The pub aims to provide a convivial atmosphere which means it is a great spot for both a family friendly lunch and a boozy evening with friends.
Image Credit: The Victoria Park via Facebook
The Victoria Park, 66 Raymend Road, Bristol, BS3 4QW. Opening times: Monday to Saturday, 12pm - 11pm. Sunday, 12pm - 10.30pm, roasts served 12pm - 5pm. Pizzas served Sunday to Friday, 5pm - 10pm, Saturday 1pm - 10pm. Telephone: 0117 330 6043.
---
The White Lion
Not many places could be better for those visiting Bristol on a summer's day than The White Lion bar, part of the Avon Gorge Hotel. Its terrace, which is one of the largest in the South-West, provides a truly picturesque view overlooking the famous suspension bridge and river. The bar offers a menu of well-cooked pub grub such as gourmet burgers, sandwiches and pizzas - perfect alongside an ice-cold beer. For those looking for a more sophisticated meal they also offer an A La Carte' menu, serving French food classics such as Cassoulet Classique and Half Roast Normandy Chicken.
Image Credit: The White Lion via Twitter
The White Lion, Sion Hill, Clifton, Bristol, BS8 4LD. Opening times: Bar, open from mid-morning. Sunday Lunch, 12pm - 4pm, Afternoon tea 12pm - 6pm. Telephone: 0117 403 0210.