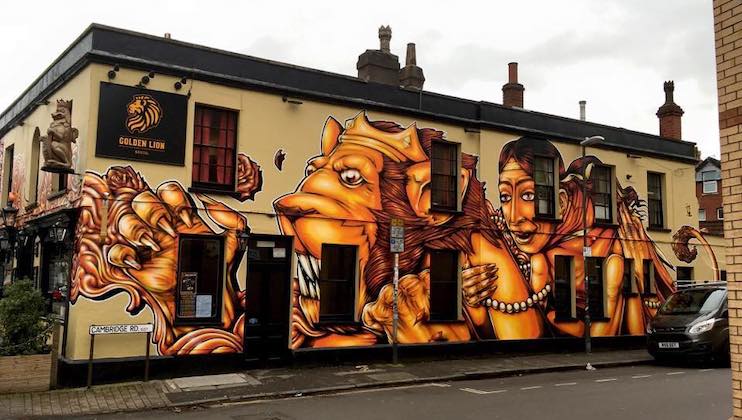 For bar lovers, ale aficionados and pub grub connoisseurs, Gloucester Road in Bristol is the place to be. Every city has an area of town that serves up some fine drinking establishments and Gloucester Road has a little bit of something for everyone. Here are some of the very best Bristol bars...
Culture Calling's guide to the best places for a drink down Gloucester Road, Bristol
The Golden Lion
If on the lookout for Gloucester Road's finest bars, where should you visit first? That's a tricky one but if pushed then we'd suggest The Golden Lion. Not big by any means but always a great selection of ales on tap to go alongside a number of gigs for live music lovers. There's also some extremely impressive street art adorning the exterior should that float your boat.
The Gallimaufry
No round-up of Gloucester Road would be complete without a mention of The Gallimaufry. One of the busiest spots in town and for good reason. The owners describe it as a restaurant, bar, live music and arts space which is actually a pretty accurate description. The cocktails are spot-on (and very reasonably priced) and there's a great outside space in sunnier times. By the way, if you're interested, the word 'gallimaufry' means up-cycled things to wear and use around the home.
Gloucester Road Ale House
Now if you owned an alehouse on Gloucester Road, what would you call it? Gloucester Road Ale House might not be the most imaginative of pub monikers but it does exactly what it says on the tin with some great ales and ciders on offer all year round. Decent burgers on the menu as well which also happens to be the case down the road at The Flyer which we'd heartily recommend.
The best of the rest
We could go on and on about the area and its eclectic community, but we'd rather you went and explored for yourself. Venues such as Halo, The Cider Press, Tinto Lounge and The Royal Oak are all worthy of a mention, but you'll have to take our word for that. Or not, you could head down there right now… Gloucester Road, we salute you!