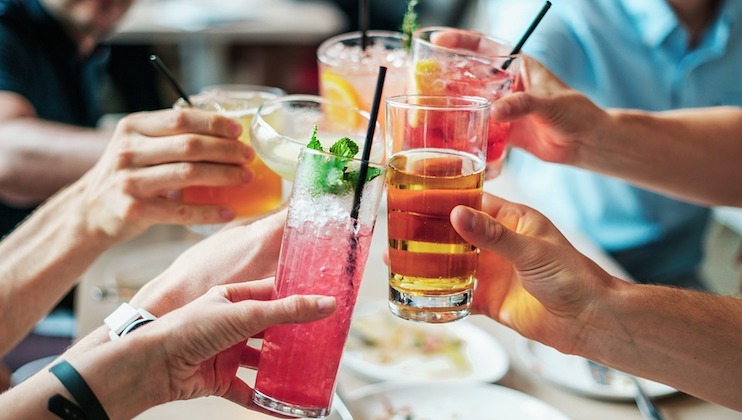 Why let the time of day stop you from enjoying a good cocktail?
There's nothing we Welsh appreciate more than a bit of good food combined with good drink - and why should we let the time of day stop us from enjoying that singular pleasure? Cardiff is full of cafés and restaurants which will provide you with the brunch of your dreams combined with a cheeky cocktail - or three…
---
Grey
Grey is the original and best for a bottomless brunch in Cardiff. For thirty quid you can bag yourself two courses and free-flowing prosecco - the waiters don't skimp, either. You'll get some proper Welsh food here, too, including Welsh rarebit and steaks and burgers from Cefn Mawr farm. For your second course, knock yourself out on their knickerbocker glory. Located in the Hilton Cardiff, Grey has a classy, contemporary feel - somewhere to take your mum out to.
---
The Ivy
If you're anything like us, you've been waiting for the Welsh edition of this world famous restaurant for quite some time. Now it's here, and it's got a lot going for it as a boozy brunchtime choice: the interiors are totally lush, and the brunch menu doesn't hold back: there are starters, mains and sides including classics like eggs benedict and buttermilk pancakes but also more substantial feasts, including several steaks. The Ivy also serves their delicious cocktail range and a wide-ranging gin and tonic selection at brunch, so you're sure to get your hair of the dog sorted.
---
Fino, Ocho and Juno Lounge
There are three Lounges across Cardiff: Fino (Whitchurch), Ocho (Penarth) and Juno (Roath) meaning you won't have to drag yourself into the city centre to get fed and watered. These local cafés are bright with cute eclectic décor (look out for the popular beekeeper portrait at the Juno lounge) and a well-stocked bar - perfect for a boozy brunch. Expect all the usual fare (the shakshuka is an especially good shout) plus an extensive cocktail list. Tidy.
---
Dirty Martini
Bottomless brunch at Dirty Martini doesn't just mean a constantly refilling glass of bubbly (though you can choose that if you so please), but an endless stream of their signature martinis, from passion fruit to espresso and the classic French martini. The drinks are the focus here rather than the food, which comes on a sharing platter in the form of cute 'birdcages' - a bit like a fancy cake tower - with both meaty and veggie options.
---
The Pot Bistrot
The Pot Bistrot is Cardiff's hidden gem: serving up delicious French inspired fresh food to all Cathays. The prices are more than reasonable, with all dishes coming in well under a tenner and of course, you can add a classic mimosa or Bloody Mary to your order. Brunch runs 'til 2 Wednesday to Saturday, though if you're there on a Sunday, make sure you're in time to order breakfast before 11.
---
The Exchange
Fancy having a tipple surrounded by the fascinating history of Cardiff? Try bottomless brunch at the Coal Exchange, home to RP Culley's. The interior is truly stunning, with exposed brick wall for days, and the food isn't half bad either - choose from a sumptuous full Welsh breakfast, a sophisticated chorizo and black bomber omelette, and much more. The pre-set price of £30 will get you two courses and an hour and a half of refillable prosecco.