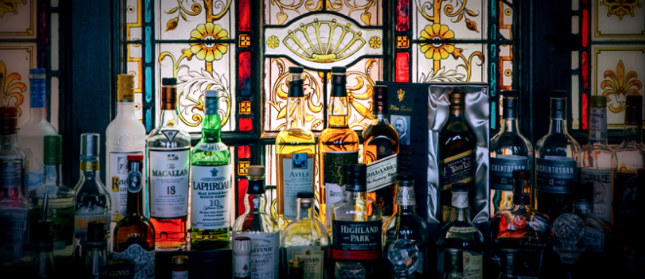 Who doesn't love a good tipple? Not us. We've been drinking our way around Bristol, one cocktail at a time, and decided upon our top 5 spots. Why not have an old-fashioned gander and then tell us in the comments what you would add to your Bristol bar-crawl?
Where to go for a drink when you're in Bristol
---
Hyde & Co is Bristol's original speakeasy bar, located just by The Triangle. With an eclectic set-up, low-lights and vintage furniture, you can sip your way through their prohibition-style cocktail menu in elegance and privacy from dawn til dusk, as nature intended. Wake up to a Breakfast of Champions at noon, cheat Little Death in the evening, and dance with the Angel of the Night before battling Hell & High Water in the wee hours. With Hyde & Co's array of bitters, syrups, tinctures and spirits, no two hazy days will be the same.
Hyde & Co. Photographer: ShotAway.com
Hyde & Co is at 2 The Basement, Upper Byron Pl and is open Tuesday - Sunday, 6pm til late.
---
Milk Thistle
How could one mention Hyde & Co without his glamorous little sister, Milk Thistle? Spread across four of the finest floors in Bristol, this lady is well in-demand, so book in advance if you want in on one of the city's best-kept secrets. Whether you're high-flying in her attic, lounging in her lounge or getting up to no good down in her vault, your private mixers will be accompanied by her top-shelf bartenders, stirring up classics (with or without a contemporary twist) or shaking up unique concoctions.
Milk Thistle is at Quay Head House, Colston Avenue and is open Monday to Saturday.
---
Hausbar
This pre-war Berlin-style underground tavern will hit you right in the T-spot (that's for Trend, keeping it clean for those who've had one too many Jägermeisters). Plus, if you're lucky, you might be selected as resident guinea pig for the warm staff to sharpen their noteworthy mixology skills. Tucked away but worth the trek, Hausbar has a cosy atmosphere and is great for a date, quiet after-work drinks, or just ducking and hiding from your worries in opulence and style.
Hausbar is at 52 Upper Belgrave Road and is open every night from 8pm - 2am.
---
The Rummer
Set in an historic inn at the heart of Bristol's flower market, this is one strong, independent bar, relying on nothing but quality. The Rummer specialised in rum cocktails but, if you're too pure for Nelson's blood, they have over 400 premium spirits, making it one of the world's greatest hotel bars with the largest spirit collection in the region. The cocktails definitely live up to the collection, as they have a couple of naughty ones that pack a punch, such as Death in the Afternoon (champagne and Absinthe) and their Zombie Exclusiva, which is strictly limited to one per customer per day - you'll find out why when you get there.
The Rummer.
The Rummer is at All Saints Lane, Old City and is open seven days a week.
---
On the flipside of the eccentric, absinthe-stained coin, we're going back to basics with the cool, classy and clean Southside. This chill bar in Totterdown keeps it uncomplicated with its cocktail menu, scaled back with a couple of classic old friends at the more than friendly price of £7 each. To top it off, the industrial interiors provide a satisfying contrast to their comfort food menu of stews, bouillabaisse, burgers and anything else to warm you over for chilly months to come.
Southside Bar & Kitchen is at 172 Wells Road, and is open Tuesday - Saturday, 5pm-11pm.