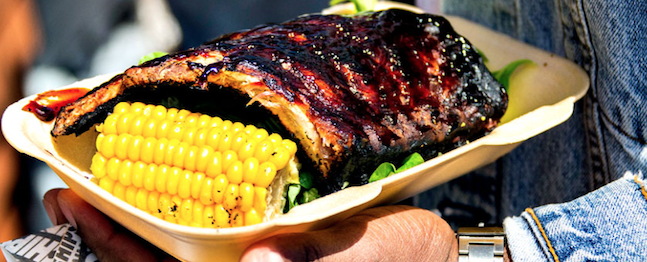 If you're a foodie who wants to spend your summer celebrating all things scrumptious, Bristol is your go-to capital of cuisine. From burger bonanzas to Thai and vegan feasts, there's something for everyone at Bristol's top food festivals – where you can embrace the city's culinary culture, enjoy the sun and stuff yourself silly. Here's a taster of each of our top 5 food festivals taking over Bristol this summer.
---
Grillstock
Kicking things off on the first weekend of July is Grillstock. This is definitely one for the carnivores, hosting a meaty weekend of barbeques, beer and awesome live music. If you're a competitive foodie, you can enter an eating contest or chili-eating competition and show Bristol what you're made of. For the less hardcore eaters, you can enjoy watching barbeque competitions to the sound of the Darkness and Craig Charles, who are headlining Grillstock 2017.
Image Credit: Grillstock 2017
Grillstock is on 1 & 2 July at Bristol harbourside. Tickets are £50 for a the whole weekend or £35 for Saturday and £25 for Saturday. Pit Crew tickets are also available at £75 which include a weekend ticket, access to the Friday Firestarter party, 4 beers (or other drinks), 2 meals, and a £15 merchandise voucher.
---
Bristol Harbour Festival
Later on in July, Bristol Harbour Festival will be making all your culinary dreams come true. The harbour side area is due to be taken over with a feast of food stalls: from your classic hot dogs and burgers to more exotic Asian treats, there will be something to satisfy those taste buds. Wandering around the stalls of independent Bristol brands, you'll be sure to find sweet treats like cakes, brownies and cookies, perfect to take home as souvenirs or to be scoffed on the spot for those with a sweeter tooth. Grab some food, get a drink, and head down to the harbour to enjoy music and live performances for all of the family.
Image Credit: Richard Payne ITV News
Bristol Harbour Festival run from 21 - 23 July and is a free event.
---
For those whose tastebuds tend toward the exotic, this one is for you. Previously known as the Bristol Thai Festival, this large-scale event aims to celebrate diversity in Bristol by spotlighting different cultures through food and entertainment. Enjoy live cooking demonstrations and a live Carib and Asian Cookery show in addition to music, costume parades and beauty pageants. The Bristol Thai and Multicultural Food Festival is ideal for those who want to experience the cooking of other cultures.
Image Credit: Desy Thai Ltd, Bristol Thai & Multicultural Food Festival
Bristol Thai and Multicultural Food Festival will be held at Millennium Square on 30-31 July. Tickets can be bought in advance at £4 for 1 day entrance, £6 for 2 day entrance. There is currently an offer to buy 2 tickets and get a third for free.
---
Valley Fest
Food-centric events continue all the way into August, and leading the pack is Valley Fest. Situated in an idyllic spot by the picturesque Chew Valley Lake, the festival is housed in a Community Farm. It may be an organic-food-only festival, but prices should stay cheap and won't hurt the wallet too much. To get into the community vibe, the festival offers a midnight feast on the Saturday and a picnic on Sunday where attendees share food and swap stories and recipes. As well as stuffing your face, you can learn how to forage, meet the farm animals and learn some circus skills, all while enjoying the gentle melodies of folk strummer José González, and many more musical acts.
Image Credit: Valley Fest
Valley Fest will be held 4-6 August at Chew Valley Lake. Tickets: Adult Weekend with Camping £110, Teen Weekend with Camping £40, Kids Weekend with Camping £20, Standard (no camping) Adult £75, Standard Teen £25, Standard Kids £14, Adult Day £15, Teen Day £10, Kids Day £5, all under 5s go free.
---
Bath and Bristol Food Festival
Later on in August the Bath and Bristol Food Festival sets up shop, representing the South West in the Fantastic British Food Festival which takes place across the UK. This new festival hosts 40 stalls of selling a range of delicacies including artisan cheeses, cured meats, ice cream, street food and plenty more. If you're looking for inspiration, head on over and see live demonstrations from top chefs, including 2014 Masterchef winner Ping Coombes, in the Talks and Tastings Hub. It is also a chance to get clued up on nutrition and promote healthy eating for youngsters, as Bristol Football Club will be running sporting activities and nutritional advice for all festival-goers.
Image Credit: Bath and Bristol Food Festival
Bath and Bristol Food Festival will be held at Bath Racecourse on 12 and 13 August. Adult Tickets are £6 for adults and £2 for children under 12.
As you can see, if you're a diehard Bristol foodie there's a jam-packed summer ahead. So get you gastronomical groove on and make sure not this miss these moveable feasts.