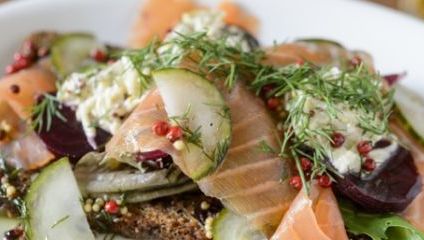 When you are lying in bed on a sleepy Sunday morning, there's often only one good reason to lift yourself up and start the day – brunch. Bristol has a whole range of scrumptious cafes and restaurants ready to serve you all the bacon and eggs (and veggie options) you could possibly hope for. Here are our favourite five for you to chomp through this year.
A selection of the best places for a spot of brunch in Bristol
---
Boston Tea Party
No, not a meeting of radical republicans: a brunch joint ready to fill you head to toe with glorious grub. Boston Tea Party has six separate cafes spread across Bristol, each with their own particular vibe. Brunch options include chorizo or sweetcorn hash, smoke salmon and avocado on sourdough bread, or the almighty Boss - bacon, roast potatoes, mushrooms, scrambled egg, baked beans, roasted tomato and their special gourmet sausages - enough to fill even the most ravenous bruncher. The coffee is also gourmet, and there are twenty different teas to choose from. Lapsang souchong, Moroccan mint, organic lemongrass & ginger: you name it, they've got it.
Boston Tea Party has six cafes across Bristol. To find their locations and see their menus, look online.
---
Rocotillos
Maybe you feel like an American brunch experience? Rocotillos is a classic diner right on the Clifton Triangle, replete with pop culture décor. There are pancakes - raspberry, blueberry, choc chip and banana. Oh, and there is the 'Ultimate' pancake - a double stack with ice cream, chocolate sauce and maple syrup. More sugar needed? Rocotillos have a milkshake menu, with a 'Hard shake' option - Baileys, Kahlua, Cointreau, Jim Bean - if you fancy a bit of extra sauce with that sauce.
Rocotillos Pancakes
Rocotillos resides at 1 Queens Row Clifton, BS8 1EZ.
---
Mud Dock
Maybe you fancy a bit of exercise to earn your late morning feast? Mud Dock has seen you coming. This stylish loft café sits above a specialist bike shop, and describes its culinary mission as "fuelling the human engine". Even if you are happy keeping your weekends in second gear, Mud Dock is still worth the visit. The menu includes all the favourites, and a great veggie selection with blackberry & apple porridge or scrambled eggs and sautéed potatoes. If you fancy a sweet treat to cap off your meal, Gingerbread & Lemon curd trifle and plum & raspberry crumble are on offer for dessert.
Find Mud Duck at 40 The Grove, BS1 4RB.
---
Primrose café
Primrose Café is fine dining brought to brunch, and if you are looking for crisp, clean cooking, this is the morning meal for you. Primrose's staples include bubble & squeek with poached eggs, home-cured corned beef with sautéed potatoes, eggs royale with Chew Valley smoked salmon. It really is too much to resist. And if you stop by on Sundays, there is an additional range of croquet monsieurs as well as freshly baked banana bread. Dig in - and then stay for lunch. Cajun buttermilk chicken anyone?
Photo Credit: Jason Ingram.
Primrose Café's breakfast menu runs until 3.30pm, and they can be found at 1 Clifton Arcade, Boyce Avenue, BS8 4AA. More information online.
---
River Station
Sitting there with your coffee and your plate of fresh eggs, you always want a good view, and in this regard River Station delivers. This neat café-restaurant perches on the edge of the Avon down in Bristol's historic city centre. The brunch menu features french toast with blueberries and honey, patatas bravas and chorizo, or smoked chicken Caesar salad. The egg options (benedict/florentine/royale) are particularly delicate and well worth a try if you want a lighter dish. If you are recovering from a long night (or planning an exciting day ahead), the River Station's breakfast bloody mary is particularly recommended.
Find River Station at The Grove, BS1 4RB.