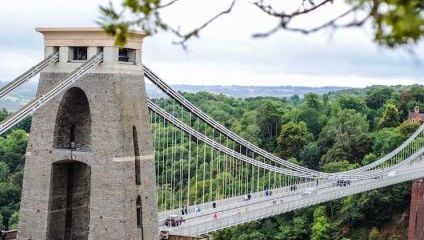 Great news for those who love gastronomy, but hate the extortionate price tag - eating delicious food in Bristol doesn't have to cost the earth. The city is home to plenty of restaurants and café's that are affordable and serve award-winning dishes. Beloved by locals, these budget eats are some of the city's best kept secrets.
---
Beerd
Image credit: Beerd/ via Facebook
Situated at the top of buzzing St. Michael's hill, this eclectic restaurant serves more than your average pizza. Beerd are masters of hand-crafted Neapolitan style pizza, which they enhance with delicious gourmet toppings, from chestnut mushrooms and truffles to beef brisket and prosciutto. Their pizzas are also served alongside an extensive and unique range of craft beer, inspired by brews from the US. If all that doesn't tempt you, Beerd also offers one of the best lunch deals going - a classic pizza with two toppings for £4.95, plus a £1 soft drink.
Beerd can be found at Treble Rock, 157-159 St Michael's Hill, Bristol BS2 8DB.
---
The Burger Joint
Image credit: The Burger Joint
The allure of The Burger Joint is understandable given the attention to detail the owners bestow on the quality of their burgers. Made using only the best ingredients, sourced as locally as possible, the burgers are delicious and, better yet, customisable - customers have the ability to personalise everything from the bun and burger toppings, to the sauces and sides. Although the sheer size of the portions make the evening prices great value for money, The Burger Joint also offers incredible deals throughout the day. The 'Weekday Lunch Deal' includes any standard burger, any side and any house beer, wine or soft drink for £7.95, whilst the 'Afternoon Meal Deal' means you can chow down on any standard burger served with one topping and one side for a mere £5.95.
The Burger Joint can be found 83 Whiteladies Rd, Bristol BS8 2NT.
---
Chilli Daddy
Image credit: Chilli Daddy/ via Facebook
Chilli Daddy is widely regarded to be cooking the best Szechuan food in Bristol. It's a big claim, but the mouth-watering array of noodle, rice and soup dishes that founder Dr. Weng developed, from recipes learnt from his mother and grandmother, attests to their authenticity. This restaurant was established like many other Bristolian culinary triumphs, after a successful stint as a humble stall in St. Nicholas market in 2011. However, the food soon spoke for itself and Chilli Daddy moved on to bigger things. Prices are very reasonable with main noodle and rice dishes costing around £6, and appetisers starting at £2.50, making some of the best Chinese food in Bristol some of the cheapest too.
Chilli Daddy can be found at 45-47 Baldwin St., Bristol, BS1 1RA.
---
Eat-A-Pitta
Image credit: Eat-A-Pitta
Eat-A-Pitta also began life as a stall in St. Nicholas market, where owner Dan started to sell falafels to the masses made according to his grandma's secret recipe. Since then, the popularity of this humble café has grown and there are now various locations across Bristol. Not only are the falafels some of the best in the city, but Eat-A-Pitta's menu is strewn with a range of flavour-packed items that won't break the bank. Generous hummus bowls served with pitta and salads start at only £4, drinks are only 90p when bought with food, and a snack of six falafels are only £2.50, making Eat-A-Pitta a favourite with students.
Eat-A-Pitta can be found at 21 Queens Rd, Bristol BS8 1QE.
---
The Canteen
Image credit: The Canteen/ via Facebook
The Canteen is a Bristol hotspot due to its dedication to serving hearty, affordable food, whilst showcasing some of the best new music emerging from the UK. The Canteen's chefs run a community minded, award-winning kitchen that makes the most out of local produce to create an ever-changing seasonal menu, including delights such as Moules Frites and Slow Cooked Stews. With meals costing between £5-£10, and served with free soup and homemade bread, you'll be hard pressed to find another place to get as much for your pound. Notable favourites are the indulgent Sunday lunches which offer a range of meats alongside a vegan option, as the restaurants aim to provide good food for all dietary requirements.
The Canteen can be found at 80 Stokes Croft, Bristol BS1 3QY.