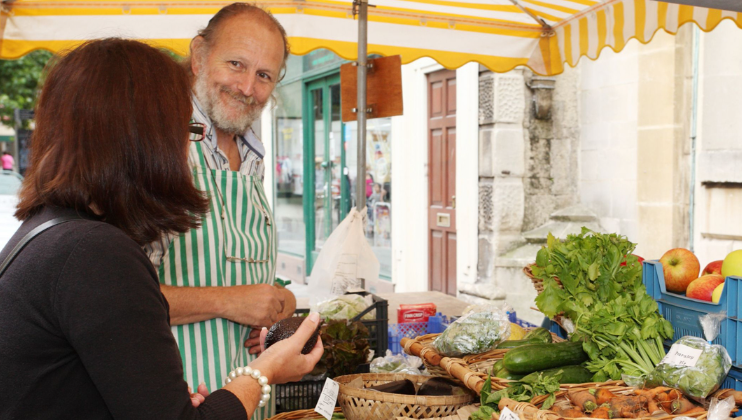 Browse the best markets in Bristol!
There's no way to get to know a city quite like wandering around its markets. Whether regular or seasonal, Bristol boasts all kinds of markets sprinkled across the cityscape, so take your pick and sample the food, drinks, crafts and local atmosphere.
St Nicholas' Market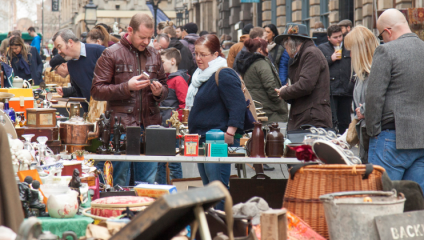 The Corn Exchange, Corn Street, Bristol, BS1 1JQ
This regular, vibrant market in the heart of the city hosts the largest collection of independent retailers in Bristol. Established in 1743, it's the oldest and best loved market in Bristol, famed for its range of delicious food and independent sellers.
Known as St Nick's by it' locals, it was voted Britain's Best Large indoor market in 2016 at the National Markets Association (NABMA) Awards and compromises three main sections as well as taking in streets and buildings nearby. From vintage stalls to a barbers to even fossils, there's a heap of unique stalls to explore. Click here to read more about whats sold at St Nicks.
The food section serves up everything from pie, mash and gravy, to jerk chicken and steaming lasagnas. Watch out for the queues at lunchtime, but with so many choices (not to mention sweet shops and pastry stalls for afters in the covered market) it's simply unmissable. There's a fine blend of permanent vendors and pop-up street food vendors available to sample so there's always something new to try with each visit.
---
Tobacco Factory Market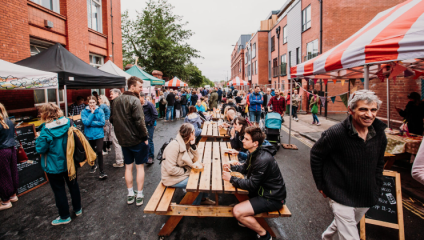 Tobacco Factory, Raleigh Road, Southville, Bristol, BS3 1TF
The brainchild of ex-Bristol Mayor George Ferguson, the Tobacco Factory is best known for its theatre and as a hub for creative training. With a rich history of being one of the last survivors from the vast Imperial Tobacco Site. Ferguson saved it from demolitions, letting it become the creative, vibrant, multi-purpose hub it is today packed with a Cafe Bar, Makers Market, Meeting Spaces, Creative Organisation Offices, apartments and even a performing arts school.
Every Sunday the corner of North Street bristles with 40 food and craft stalls, selling local produce and wares. The emphasis is on fair trade, ethical, organic products, and it's a great way to interact with the local community. Plus, if you're there on the third Sunday of every month you'll find an extended market spilling into Raleigh Road, as well as a vintage and retro market aptly called Retroville.
You can read more about the market here.
---
The Harbourside Market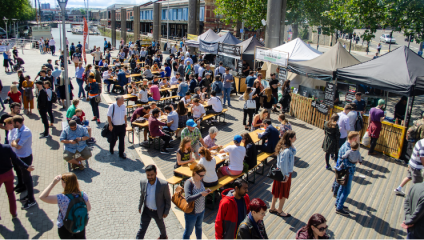 1 Canon's Road, Bristol, BS1 5TX
Combining Bristol's best street eats with some of the finest views in the city, the Harbourside Market is a bustling Aladdin's cave of tempting foods and creative trinkets. Though the market it currently closed, the food section of the market remain's open and there are heaps of gourmet goodness to feast on. From pizza to burgers to BBQ, Kebabs, sarnies and salads it's a comfort food haven for foods fanatics.
As the weather gets warmer the market bar is open selling local beers, ciders and spirits. There's plenty of seating for you to enjoy your meal (or meals if you can't decide) including some deck chairs over the summer months. Its ethos on sustainability and building a platform for its traders means Harbourside isn't just a market but a tight knit community with the aim of selling quality food at decent prices.
---
Bearpit Market
St James Barton Roundabout, Bristol, BS1 3LY
Once considered a less than hospitable roundabout underpass, the fondly termed 'Bearpit' now boasts its own street food market to go with the array of street art coating its walls. Currently on trial with a once-a-month occurrence, if the Bearpit market reaches success, it will become a weekly affair.
The idea behind this market is to use a space that is in need of love in a positive way and to support local businesses. With a £250,000 cleanup budget, it's certainly got the funds to help it hit the ground running. The market sells tangible trinkets but not food and drink, this is because market organiser, Indie, says that she's wants to encourage people to eat and drink locally in Stokes Croft.
Selling everything from jewellery, to artwork to plants, it's the perfect place to browse on the weekend and maybe even buy something you didn't think you needed.
---
Harbour Festival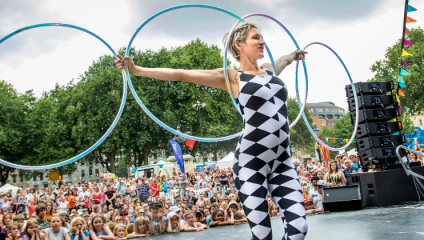 To throw in a curveball, don't miss this annual festival that takes control of the city for an entire weekend with an eclectic mix of live music, fairground rides and market stalls! The festival is always a huge hit amongst locals and visitors alike: whilst Queen Square fills with the sweet smells of food stalls, much of the harbour front is given over to pop-up stages. It's hard to resist the food on offer, so head down with an empty stomach and make the most of this one-off delight.
It's completely free to enter, and only happens once a year, so be sure to stop by if you're in the city.
---