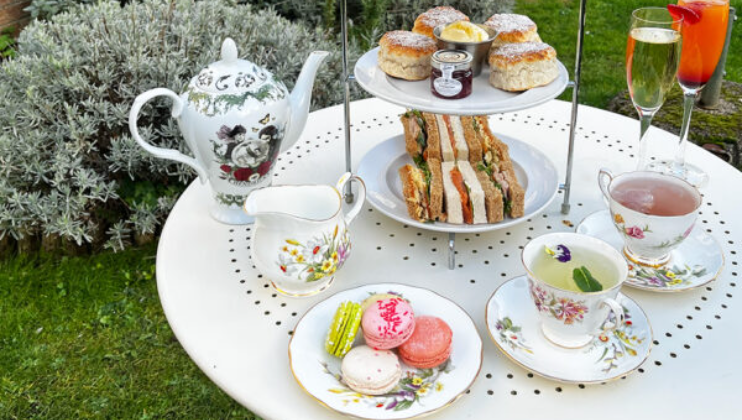 Looking for a leisurely afternoon treat? Take a trip in time and explore the quintessentially British delight of afternoon tea in Bristol…
No matter if you struggle to tell the difference between a Devonshire and a Cornish, we can't either, but there's one thing we're sure we can agree on- there's always time for a spot of afternoon tea. It's been over 150 years since the Duchess of Bedford introduced this delightful mid-meal treat and the best Afternoon Tea in Bristol is tricky to narrow down, but luckily there's no shortage and we've selected the top spots to enjoy this past-time in.
Ashwell and Co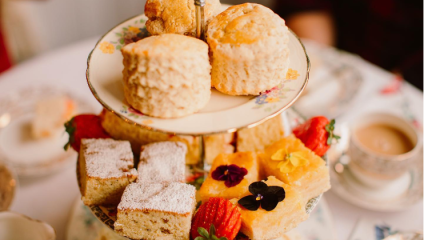 32 Alma Vale Road, Bristol, BS8 2HY
Nothing encapsulates vintage quite like afternoon tea, so it's no surprise that the vintage lifestyle boutique of Ashwell and Co (formerly Heartfelt Vintage) is Bristol's go to spot for cream tea. The shop offers vintage garms, a tea room and a party venue, and is the perfect spot for disappearing back into the 1920's for a little bit.
Where this unique tearoom excels is its devotion to freshly baked produce, and they produce everything from the bread for the sandwiches to the clotted cream on the scones right there on Alma Vale Road. Their afternoon tea is vegetarian as standard, and they always offer a vegan alternative. They'll also make you a gluten free afternoon tea for a couple extra quid. Their menu is updated every couple of months in order to keep it fresh and seasonal, but flavour and quality are always the tearoom's first priority.
Head down during the summer for a selection of carrot and coriander hummus sandwiches, pistachio and lime drizzle cake and the obligatory homemade scones with jam and cream, all served on charming vintage crockery.
Fancy making an occasion of it? Ashwell and Co offer a huge range of party packages that are ideal for hen parties (or stag dos!), baby showers or birthdays. They even offer a Wedding Tea service! You can come and enjoy the party in their shop (and try on the dresses) or have the party come to you. All party packages come with a glass of prosecco on arrival, and whilst they're not licensed to sell alcohol, they have a BYOB option, meaning you're free to make your afternoon tea boozy. Their party packages range from vintage make over parties, to crafting get-togethers and dancing do's. Learn the Charleston, Lindyhop or Burlesque dancing before settling down to a home-baked cake! Whether you're looking for a party or just an afternoon treat, be sure to book in via their website as all food is made to order the day before.
---
No 4 at Clifton Village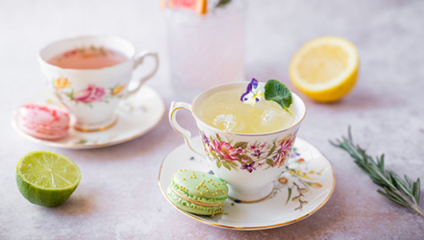 4 Rodney Place, Bristol, BS8 4HY
Nestled inside a Georgian building within the well loved Rodney Hotel is No 4. Serving quintessential afternoon tea in a number of packages you can choose to enjoy your delights in their regal restaurant, or their secluded walled garden.
Whether you're going for the classic or maybe a gin and champagne afternoon tea, relax and enjoy these delightful British snacks prepared by their talented kitchen team and available with tea and/or coffee.
Starting from just £18 per person, their menu is both delicious and affordable. There's also a vegan afternoon tea option. To make a booking, click here.
---
The Ivy Clifton Brasserie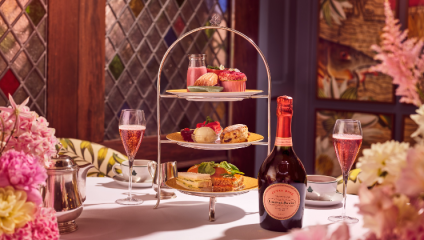 42-44 Caledonia Place, Bristol, BS8 4DN
London's famous restaurant, The Ivy opened its Bristol doors in 2016. Overlooking the Mall Gardens, the Ivy Clifton Brasserie restaurant brings relaxed and sophisticated dining to the chic Clifton Village.
Their expert afternoon tea comes in a glamorous setting (for a pretty penny) and is truly a way to make an experience out of the occasion. Immerse yourself in the remarkable 1920's art deco surroundings in the heart of leafy Clifton.
Prices start from £8.75 upwards. And the menu boasts delicious vegan and vegetarian options. From their main menu we recommend enjoying the Truffled Chicken Brioche Roll followed by a decadent Crème Brûlée Doughnut and a cooled glass of champagne.
To book a table or make further enquiries, click here.
---
Hotel Du Vin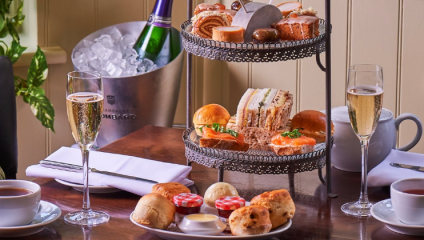 The Sugar House, Narrow Lewin's Mead, BS1 2NU
An elegant yet relaxed spot to indulge in quality time and a good pot of afternoon tea (or champagne). Sample their eccentric and unique tea infusions whilst you enjoy tempting towers of pastures lathered in clotted cream and sumptuous savouries.
Not only is it well priced (with tea bookings starting from £13.95 per person). Try their carrot cake complemented by tutti fruity macaron and rum baba, or their goat's cheese and spinach quiche bagel. Whatever you select, we're sure you'll be impressed.
To check out their menu, click here.
---
Berwick Lodge Boutique Hotel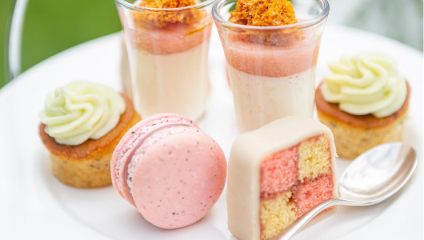 Berwick Drive, Bristol, BS10 7TD
Berwick Lodge offers three fantastic Afternoon Tea experiences in a tranquil setting with acres of stunning grounds offering uninterrupted views of Wales whilst still being conveniently accessible (just off of Bristol's M5). With a rich history having been built in 1890 the lodge offers character, a unique dining experience and wonderful hotel to spend the weekend at.
Their afternoon tea can either be set in the beautiful panelled lounge or on the grounds (weather permitting) with vegetarian, vegan and gluten free menu options to choose from. You have the choice of switching the traditional to the boozy with a champagne version or you can dive into the delight of the Berwick Afternoon Tea, spoiling you with plenty of clotted cream and jam.
Whatever you choose, the atmosphere and the food alike with leave you feeling grounded and satisfied.
---