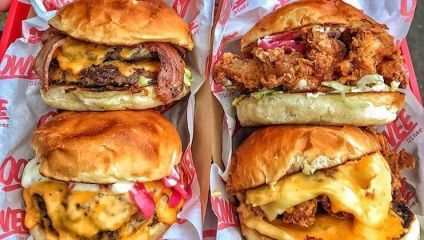 There is nothing better than a fat, juicy burger
---
Spotlight on: Oowee Diner + Oowee Vegan
202 North Street, Bristol, BS3 1JF
65 Baldwin Street, Bristol, BS1 1QZ
Pure. Food. Porn. Oowee has been a Bristol favourite since they opened their take-away diner in Montpelier nearly three years ago. Last year they opened a sit-in diner on North Street, and since then they've also established a crazy popular vegan junk food diner. Anyone who thinks that a plant-based diet is always going to be healthy (read: rabbit food) will be blown away by their entirely meat-free burgers and disgustingly good dirty fries. And their original diner and take-away shop are also winners in the burger game. With no airs and graces, Oowee are committing to being a treat 'yo self, junk food heaven.
Meat eaters... Oowee North Street has you sorted on classic burgers and crazy concoctions. Try their Big Cheese (double patty, double American cheese, Swiss and Monterey jack, baconnaise all over) or the Dirty Double (double patty, American cheese, fried onions and Oowee dirty sauce), or be brave and order the Peanut Butter Bacon Jelly, which contains double patty, peanut butter, American cheese, bacon jelly (?!?!), bacon and lettuce - wild. You also can't leave without trying their Cluckin' Fries (buttermilk chicken, melted mozzarella, chicken gravy and spring onion).
Vegans… do not despair. If you've been dragged along to the original diner you can enjoy a small selection of vegan dishes on the regular menu. However, if you can convince your meat-eating friends to try going animal-free for one night, they'll no doubt be surprised by the amazing food on offer at Oowee Vegan. Their plant-based beef burgers include The Big OoVee (OoVee dirty sauce, vegan cheese, crispy potato pancake and a gherkin), or opt for an utterly convincing seitan chicken burger!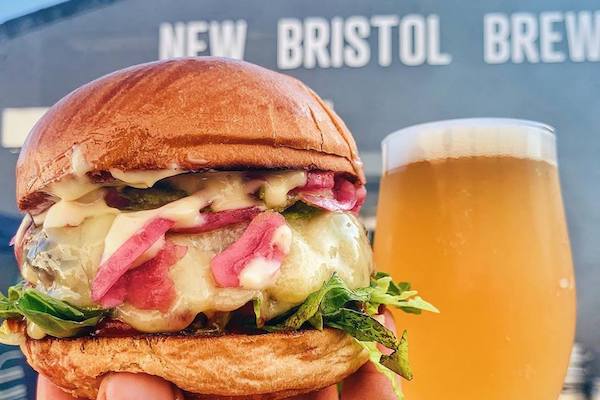 Image credit: Asado via Facebook
---
ASADO
90 Colston Street, Bristol, BS1 5BB
What? South American and Spanish flavours combined with great British ingredients.
Where? Atop the picturesque Colston Street!
Why? Asado means barbeque in Spanish, and the burgers at ASADO are cooked over a wood fired BBQ grill. Proud to use local West Country cheese (instead of American plastic cheese), and quality meat. Try the La Lam-Baa-Da, which has an organic lamb patty, topped with feta cheese, garlic mayo, pickled pomegranate and cabbage!
---
Burger Theory
37-38 St Stephen's Street, Bristol, BS1 1JX
What? Permanent spot in central Bristol for a previous music and food festival favourite!
Where? Just off Baldwin Street (near Popworld… great news for Saturday nights).
Why? The 'creative burger people' specialising in giving you what you want, and their burgers are classic and special dishes are customisable with different buns or extra halloumi, bacon or hot wings! For something new try the Karaage Chicken (Korean fried chicken thighs, sticky chilli sauce, peanuts and spring onions), or try replacing any beef patty with a Moving Mountains Patty and cut down animal products one step at a time!
83 Whiteladies Road, Bristol, BS8 2NT
240 North Street, Bristol, BS3 1JD
What? Build-your-own burger restaurant.
Where? They have one in Bedminster and one up by Clifton Down station.
Why? This place is quite simply ALL about the burger. The build your own format allows you to order exactly what you want, and 12 different types of burger meat (including wild boar, ostrich and venison) are offered on locally produced artisan buns. Where else in Bristol will offer you a boar burger topped with mac 'n' cheese, hash browns and halloumi, then serve it with hand-cooked chips? Veggie? Try the homemade Beetroot and Feta burger!
Aboard Spyglass, Welsh Back, Bristol, BS1 4SB
What? Great burgers and plenty of craft beers and ciders.
Where? On the floating harbour at Welsh Back, overlooking the water and offering a huge outdoor seating area.
Why? Quality burgers made with local 28-day aged Herefordshire beef and plenty of extras to pimp your plate. Like sweet AND savoury dishes? Try the unique Hawaiian Beef, which includes caramelised pineapple, Monterey jack, cured bacon and spicy mayo!