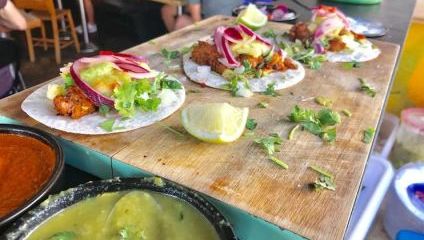 With Mexican cuisine and taco's in particular becoming increasingly popular in Bristol we thought it a must to list the top taco spots in the city.
Think tacos and you would be forgiven for imagining Mexican street food or in distant markets. However, tacos are now global and are busy taking the world by storm. The simplicity and versatility of the humble taco allows elite restauranteur and casual pop-up revellers to add their own spin on the classic. In fact, did you know that 400,000 Norwegians (8% of the population) eat tacos… every single Friday? Amazing. Let's see what Bristol notoriously good eateries have to offer…
Cargo Cantina
15 Cargo 2, Bristol BS1 6ZA
Sitting on the second layer of Wapping Wharf's container food haven is Cargo Cantina. Like other well-honed Bristol food establishments such as Pasture and Root, Cargo lives and breathes local produce (such as free range and organic meat) with a keen eye on provenance.
Inspired by the Cantinas of Mexico, this is a great place to have a casual sit down and chow down on tacos such as Conchinato Pibil (shredded pork with citrus and spices), Chicken & Habanero and Cauliflower and Peanut Romesco (Price per taco start at just £5.90). With accompanying delights such as Tostadas, Burritos and an extensive list of tequilas and mescals this is certainly a worthy option. Make sure to sit outside on sunny days and take in the Harbourside buzz!
To check out their menu, click here.
---
The Woolly Cactus
1 Bath St, Bristol BS1 6HL
Just like everything else in central Bristol, The Woolly Cactus is conveniently accessible from wherever you find yourself to be. A quick stroll from the City Centre and over the Bristol Bridge, this unassuming little vehicle has been churning out Mexican meals-on-wheels since 2014.
With fresh salads & veg from Bristol Fruit Market and meat from a butcher in South Gloucestershire this is a local operation, churning out food to punters over the lunch hour crunch. With 3 tacos for £6 (+ the guaco-tax) alongside the usual Mexican players (Burritos, Quesadillas and Fajitas) this is simple and tasty food for those looking to grab a quick bite. Highlights include the Steak Chili Verde and the Pulled Pork which will pair excellently with a sunny day, a spot of grass to sit in and a cold drink.
---
Downtown Taquería
47 Colston Street, Bristol, BS1 5AX
You can find this hidden gem just off of the city centre, offering Californian tacos with Mexican Spirit. The price for tacos here starts at around £5 per piece and are bursting with flavour whether your filling of choice be meat, fish or vegan/ vegetarian. Open for lunch from midday everyday it's a great place to get the evening going before heading out on the town.
---
Casa Mexicana
29 - 31 Zetland Road, Redland, Bristol, BS6 7AH
Operating since 1986, this family owned and run Mexican restaurant continue to successfully bring the authentic Mexican cuisine to Bristol.
Using fresh ingredients, organic herbs, spices and local meats and a bar stacked with wines, sangria and, of course, a wide selection of tequilas paired with a friendly and vibrant atmosphere, there's no wonder Casa Mexicana has been recognised as the best Mexican restaurant in Bristol.
Their menu boasts a wide selection of mouthwatering Mexican dishes, but we're here for the taco's. Starting at £5.50 per taco, we recommend tasting the taco de conchita, made with slow-cooked pork and wrapped in a crispy flour tortilla and if there's no room for dessert, a good ol' shot of tequila will finish the meal off splendidly.
To make a reservation, click here.
---
I Scream Tacos
11 Riverside Way, Hanham, Bristol BS15 3TF, United Kingdom
From a pink ice cream truck to a fully functioning, self sufficient taco truck and business, the guys at I Scream Tacos have come a long way from their one way ticket to Dudley.
A little TV exposure and some invaluable business advice from Baroness Karren Brady has assisted this taco truck in establishing themselves as not only a popular destination for a quick bite, but as caterers for global companies and events.
Their home-cooked Mexican street food is fresh, traditional and best of all, packing a punch with flavour. Prices start at £8 for two tacos and they even do home delivery.
To check out their menu, click here.
---