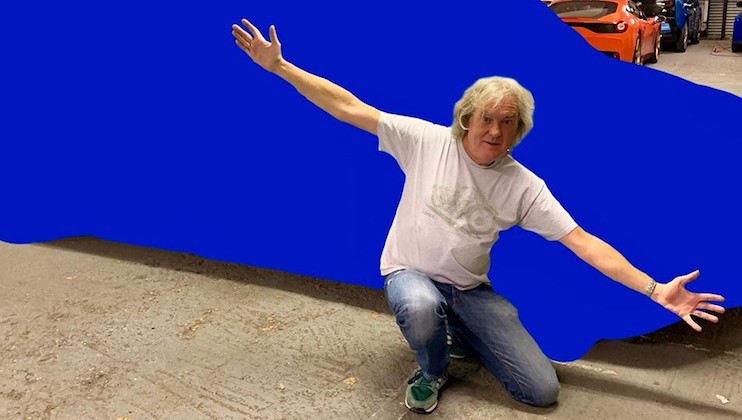 He is recognisable around the world as Captain Slow, the methodical foil of first BBC's Top Gear and now Amazon's big-budget The Grand Tour. But it is in his birthplace of Bristol that James May can trace the origins of the one classic motor that continues to evade his grasp.
During his career as one-third of the most notorious presenting trio on the telly, James May was often cast as the logical and sensible straight man to the hyperactive Hammond and the bombastic Clarkson. But his career path may well have been very different had it not been for a moment of audacious cheekiness not normally associated with the shaggy-haired Captain Slow.
Back during his formative journalistic years at Autocar, May was tasked with compiling the Road Test Year Book, an annual supplement that he says "took months of really boring research". To alleviate that boredom - and for engine enthusiast May to find something unbearably uninteresting, we can only imagine how tedious it must have been - the young journo designed each page's first letter to spell out an acrostic that read: "So you think it's really good, yeah? You should try making the bloody thing up; it's a real pain in the arse."
After readers rang in thinking they'd won a prize, Autocar bosses dismissed the meddling May - who used the opportunity of unemployment to pursue a career in radio that led to a co-presenting job on a new motoring show called Top Gear. The rest, as they say, is history.
It's hard to argue against the idea that May truly deserves his place. He is, after all, a man with an obvious and infectious passion. "I love the science behind cars," he enthuses. "We all know that cars serve multiple purposes - they're practical, they thrill us, but they also amaze us; tremendous feats of engineering. And the really interesting thing is that the fantasy cars of yesteryear are now reality."
Despite the somewhat controversial ending to his Top Gear career, May is still living the motoring dream in what he describes as "the best job in the world" - its Amazon-backed and mega-moneyed rival The Grand Tour. And since breaking into the world of television, May has been around the globe many times over - from driving a Suzuki SJ413 down Bolivia's Death Road on Top Gear to his recent excursions on Namibia's Skeleton Coast. One place, however, still holds a special place in his heart.
"I feel like I'm home when I go to the West Country," he explains. ""I was born in Bristol and grew up in the Avon area, and my grandparents and other family are from here."
But even his association by birth to the city, and his status as one of the world's foremost driving fanatics and motoring minds, still can't bag him a chance to get to grips with one of the West Country's rarest engineering exports: Bristol cars, creators of the boxy Blenheim and the gull-winged Fighter.
"I have chatted at length to Anthony Crook, who bought the company in 1960," explains May. "And he's fantastic, but he won't let me get in one of his cars. He won't even let me in the showroom! Do you know why? Because of Clarkson, who once thought it was appropriate to criticise Bristol. I've told him I'd buy one, or that I was born in Bristol - but to no avail! I have, it seems, been damned by my association to that oaf, and probably not for the last time."
It's not all bad, though. May can still fall back on his expansive automotive collection, which has included over the years such standouts as a Rolls Royce Phantom, Porsche Boxter S, Ferrari 458 Speciale, a Fiat Panda and a Brompton folding bicycle.
"At the moment I'm the careful custodian of six cars and 10 motorcycles," he remarks. "Then there's another motor in a museum. I think as well that the longer you drive, the more obsessive you become about cars. People say that they're there to be driven, but they're works of art as well - the older ones, at least - and you have to treat art with respect and love.
"I said earlier I was the 'custodian' of my vehicles, because that's what I am. As a motorist, you never really own a car; it's just in your care for a while. That's why we all owe it to ourselves and our mutual friends to treat cars with the respect they deserve, because the chances are they'll belong to someone else further down the road!"