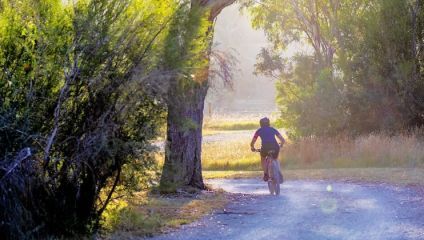 Bristol's proximity to stunning English countryside makes it a cyclist's paradise. Not only is it one of the most bike-friendly cities in the country, but there's a fantastic selection of well-maintained routes to take advantage of close at hand. With such a range, there's something for every fitness level.
---
Bristol and Bath Railway Path
This beautiful cycle trail has to be your first port of call. Starting in central Bristol it winds its way through Mangotsfield, Warmley and Saltford all the way out to picturesque Bath. Cutting through stunning countryside and following a disused (and mercifully flat!) railway path, the route spans a total of 13 miles. If you fancy a stop along the way, you could do a lot worse than Bitton Station - a good half-way-ish point with all the facilities you need for a breather, as well as steam trains if you're lucky! Once you reach Bath you needn't stop there: for a longer haul continue along the Kennet and Avon Canal - initially working its way up hill via a series of locks towards Bathampton, the canal continues all the way to Newbury near Devizes.
Find out more about the Bristol to Bath Cycle Path on the Sustrans website.
---
Ashton Court (Nova Trails)
One of the first official mountain bike trails in the country, the grounds of Ashton Court have featured an interconnected series of bespoke routes built to serve a range of skill levels since 2002. Receiving a major overhaul in 2011, you'll see advanced riders hammering it down the advanced red grade route, but there's also a blue grade, moderate route, complete with rock steps, rollers and berms for less experienced bikers. Totalling 5 miles, the route lends beautiful views, so why not explore the parkland as well for a breath-taking vista across the city. Just be warned, it's very hilly!
Find out more about Ashton Court's cycling facilities, including cycle hire.
---
River Avon Trail
Also a popular walking route, this path hugs the side of the River Avon as it winds its way out towards the Bristol Channel. Mercifully flat and easily accessible from the city centre, the path instantly plunges you into the countryside amongst trees and woodland. It's remarkably quiet as soon as you've passed beyond the Suspension Bridge, despite the busy Portway road across the river. A fast rider will cover the 7 miles to Pill Harbour in no time, so you can continue out to Portishead if you fancy it.
Find out more about the River Avon Trail.
---
Festival Way
This route is mostly traffic free and takes you out the south-western edge of the city towards Nailsea. Following National Cycle Network Route 33 and first taking in Ashton Court, the route continues through the attractive village of Long Ashton and out across the countryside to Nailsea. Tyntesfield House is close to the end of the route, so you could even combine the ride with a visit. It totals 8 miles one-way, so should be an achievable journey for a range of abilities.
Find out more about the route on the Sustrans website.
---
50 Acre Wood
For the most serious mountain bikers, this volunteer-built trail is rougher and tougher than its counterparts in Ashton Court. Just a short ride further out of town, the route includes tough technical climbs, a rocky descent with optional drop-offs, and plenty of roots, logs and mud to deal with. If you're with less advanced riders, there's a wide yellow-rated track at the bottom of the trail that bypasses the most difficult features.
You can find further details about the route here.