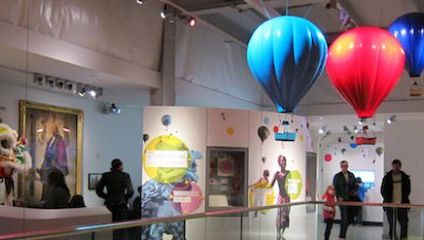 Famed for its maritime history, Bristol has since become a go-to city for year-round festivals, exciting bar life, and stunning green spaces. Compact enough to be able to get around on foot, yet large enough to have something to offer everyone, Bristol is the perfect destination for a day-trip getaway. Here's how to get the best of Bristol for just £20!
Exploring new cities can be expensive, so we at Culture Calling have created a guide for how you can explore Bristol on a budget.
---
10am: Stokes Croft and Gloucester Road - Free
There's no better place to start your Bristol adventure than in the city's most vibrant neighbourhood, Stokes Croft. A centre of radical art and strong community spirit, this bohemian quarter is best known for its colourful street art and groundbreaking graffiti. Stokes Croft's most famous export is internationally renowned artist Banksy, whose artwork can be spotted all over the area, making Stokes Croft's streets feel like an outdoor gallery. Running through the neighbourhood is Gloucester Road, Europe's longest street of independent shops. There's something for everyone in this buzzing area, but be warned, you might risk spending the whole day here!
Stokes Croft. Photo Credit: Shallac.
---
12pm: Lunch at the Canteen - From £7.50
After a morning of graffiti gazing, it's time to head over to The Canteen for a lunchtime treat. This hip eatery is a Stokes Croft institution and a firm favourite with locals and visitors alike. It's a vivacious, creative social hub that focuses on honest, affordable home-cooked meals resourced from local supplier networks. Every main comes with a bowl of soup and crusty bread, so get a bang for your buck while you take a break from Banksy.
The Canteen is located at 80 Stokes Croft, Bristol BS1 3QY.
---
1pm: Brandon Hill and Cabot tower - Free
Bristol is often described as a city in the countryside, and with over 400 gardens and parks it's little wonder why. Take a walk over to Brandon Hill, Bristol's oldest park, where you can enjoy great views over the city and the Harbourside area. The park also features the 105-foot tall Cabot Tower, an icon of Bristol's skyline. The tower is open daily and it is free to climb its steep, winding steps which lead up to a breath-taking panoramic of the city below.
Cabot Tower. Photo Credit: Heather Cowper [url=http://www.heatheronhertravels.com/]http://www.heatheronhertravels.com/[/url]
Brandon Hill is located in Brandon Hill Park, Great George St, Harbourside, Bristol BS1 5RR. Cabot Tower is open 8am-7pm during the summer months and from 8am-4pm during the winter.
---
2pm: M Shed - Free
The M Shed, located on Bristol's historic Harbourside, is the perfect place to get a feel for Bristol's rich history as one of Britain's most important maritime cities. This newly renovated museum tells the story of Bristol and its people, exploring the city from prehistoric times to the 21st century.
Inside the M Shed. Photo Credit: Heather Cowper [url=http://www.heatheronhertravels.com/]http://www.heatheronhertravels.com/[/url]
M Shed is located at Princes Wharf, Wapping Road, Bristol BS1 4RN. Open Tues-Sun 10am-5pm.
---
4pm: The Grain Barge - Around £4
This historic converted barge has become one of Bristol's friendliest places to eat and drink. Docked in Hotwells on the Harbourside, the Grain Barge offers three decks on which to relax and unwind with a cool drink. This floating bar prides itself on its stellar range of craft beers and its excellent live music, so if great drinks and beautiful scenery float your boat, dock yourself at the Grain barge for an afternoon refresher.
The Grain Barge. Photo Credit: Reading Tom
The Grain Barge is located on Mardyke Wharf, Hotwell Road, Bristol BS8 4RU.
---
5:30pm: Clifton Suspension Bridge - Free
The beautiful Clifton Suspension Bridge, set against the cliffs of the Avon Gorge, is without a doubt the defining symbol of Bristol. Built in 1864 and designed by famous Victorian engineer Isambard Kingdom Brunel, this magnificent bridge draws hundreds of thousands of visitors each year thanks to its incredible views. For a truly magical experience, visit the bridge at sunset and soak in the beauty of the ancient Avon Gorge and elegant Clifton Village by twilight.
Clifton Suspension Bridge at night. Photo Credit: Charlie Marshall.
Clifton Suspension Bridge is located at Bridge Road, Bristol BS8 3PA.
---
6:30pm: Dinner at Yume Kitchen - From £6
Clifton Village is one of Bristol's most affluent neighbourhoods, and a stroll around this part of town will have you falling in love with its stunning Regency architecture and its quaint boutiques. Despite its posh reputation, Clifton does have a number of cheap and cheerful eateries from which to choose. One of these is Yume Kitchen, Bristol's first Japanese owned and run restaurant, serving authentic, Japanese fare. Starting from just £6 for a main meal, this small yet stylish restaurant is a true gem that should not be missed when visiting the area.
Yume Kitchen is located at 9 Cotham Hill, Bristol BS8 2AA.
From Banksy to Brunel, parks to picturesque views, Bristol on a budget is perfectly possible, and for just £17.50! Bristol truly has something for everyone: don't delay in booking a trip here soon and discovering the city for yourself.