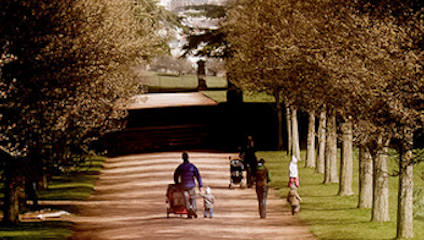 Bristol's eco-friendly credentials are well-documented, but the city is also green in the more-traditional sense, with plenty of open public spaces in which to relax and enjoy the unusually-glorious weather. Check out our list and don't forget your sun cream!
Our guide to green spaces in Bristol
---
The Downs
They may not be particularly well hidden, but there's no way we can exclude the Downs (the Clifton & Durdham Downs to give their full title). An essential stop, this 400-acre area of common land is always popular when the weather's good, and features football pitches, walking routes, and a children's playground. Stop by to join the wide array of revellers, playing various sports and games and holding picnics. Located remarkably close to the city centre, and with plenty of space, the Downs even has a bespoke barbeque area, with flagstones set into the ground along Ladies Mile. It's ideal for a bit of fresh air and sun, and when you need to cool off you'll find Café Retreat nearby for refreshments and toilets.
Image Credit: Paul C Stokes via Flickr
Head to the Council's website for maps, walking routes, and further details.
---
Queen Square
Down near the city centre you'll find this charming little idyll. Calm, peaceful, and flanked by impressive buildings, it's an ideal spot to catch your breath. An historic square dating back to the seventeenth century, it was named after Queen Anne in 1702, before being largely destroyed by rioting in 1831. It was then saved by a 1999 National Lottery grant, and has now been beautifully and carefully restored. The Square plays host to a range of festivals and events throughout the summer, so every now and again you'll find something special going on. Head on down and join the workers and tourists alike enjoying this contemplative space.
Image Credit: Redstone Hill via Flickr
Queen Square is located at BS1 4LH.
---
Ashton Court and Leigh Woods
To really find somewhere green, head across the Clifton Suspension Bridge where you'll find yourself suddenly in the middle of the countryside. First you'll pass Leigh Woods, a woodland area shared between the Forestry Commission and National Trust, with a stunning range of walking trails and mountain biking routes for all abilities. A little along from the bridge lies Ashton Court Estate, a massive 860-acre site with rolling hills, an attractive historic house and gardens, and custom-built mountain biking trails. The Estate often hosts events such as the world-renowned Bristol International Balloon Fiesta, so it might be worth checking you're in the clear before turning up. There's even a golf club with two 'pay and play' 18-hole courses if you fancy a round!
Image Credit: Rik O'Hare LRPS via Flickr
Ashton Court Estate is at Long Ashton, BS41 9JN.
---
Windmill Hill City Farm
To the South of the city, tucked away amongst the hustle and bustle of Bedminster, you'll find Windmill Hill. This City Farm boasts farmyard animals, a picnic area, community gardens, bike service centre, adventure playground, café and even five-a-side football pitch. There's plenty of green space to enjoy, as well as a wide range of craft courses, all in support of preserving the local environment. It's mostly free to visit and open all week, so it's ideal if you have kids to entertain (there's also a nursery) or as a place to get away from it all. Pop in for a breather, or sign up for a class.
Image Credit: Windmill Hill City Farm via Facebook
Windmill Hill City Farm is at Philip Street, Bedminster, BS3 4EA.
---
Brandon Hill
Just off Park Street you'll find this steep park stretched up the hill. The oldest park in Bristol, there's a children's play area, and charming paths through its nature conservation area. It's topped by the magnificent Cabot Tower which offers stunning views across the city. Built in the 1890s to celebrate the 400th anniversary of Cabot's journey, it's quite the spiral staircase to climb the 105 metres to the top, but well worth the effort. The perfect stop off from any shopping trip or visit to town.
Image Credit: Andrew Littlewood & Karl Newell's Photostream via Flickr
Brandon Hill is off Park St, BS1 5RR. Cabot Tower is open from 8:15am to 4:30pm seven days a week.