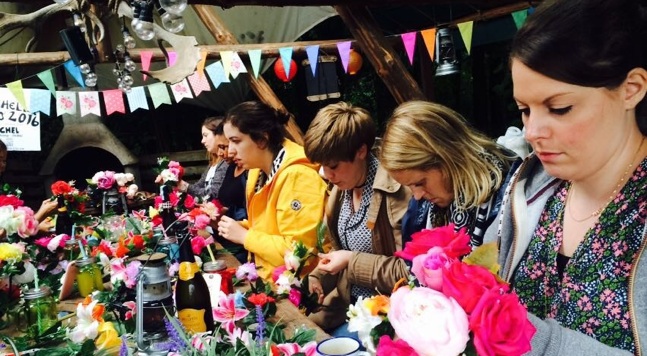 Feeling crafty? We're stitching you up with the tricks of the trade behind Bristol's famous art scene. Whether you're a self-confessed pot head (into pottery, thanks. Keep it clean…), a milliner in the making, or a hen looking to ruffle those creative feathers, you'll be sure to find something to cut your teeth on, not your fingers.
Bristol's best art, design and craft classes
---
Spike Print Studio
Spike Island's not-for-profit studio group is the largest open-access print studio in the South West. Artists of all levels can learn to produce original prints in a nurturing and supportive training environment, with classes ranging from one day to ten weeks. If you're looking to build up a body of work, why not check out their one-year portfolio classes?
Spike Print Studio is at Spike Island, 133 Cumberland Road.
---
Betty's Birds
Treat your hens to a pre-nuptial crafty day out! Betty's workshops grace you with the customising skills of a goddess so you can prep for the naughty antics ahead. With classes including unicorn costumes, mermaid crowns, customised bras and superhero life drawing, you'll be sure to totter away with the essentials for a dream hen night to be (or not be) remembered.
Betty's Birds are a national company and have classes around the UK. Workshops are for a minimum of 7 hens.
---
RWA Drawing School
RWA Drawing School is the ultimate haven for pencil pushers, pioneering drawing as more than just an art form in its own right. Whether you choose a one-day class or a ten-week course, you won't need long to find out why drawing to art is like ballet to dance; it's an essential foundation to any creative process.
RWA Drawing School Workshop.
RWA Drawing School is at Royal West of England Academy, Clifton.
---
Wot Pots
Learn to spin clay pots from scratch or make your mark on one of their pre-made figurines. Either way, you can make a party of it with wigs, hats and bubbly. Or you can create everlasting memories, preserving the hand and footprints of your little ones, using non-toxic paint. We sense a new favourite mug in the making…
Wot Pots is at Westbury Wildlife Park.
---
Leather Needle Thread
Esther Keen is keen to get you bag and shoe fanatics on board. You're in good hands with this leatherworker: Esther is a graduate in bag design and construction from London College of Fashion. Now in Bristol, she spreads the joy of creating our favourite leather goods, from stitch-less bags, backpacks, ipad cases, glasses cases and even plant hangers.
Leather Needle Thread does workshops and private parties.
---
Milliners' Guild
If you've got a head for hat making, a course at Milliners' Guild will teach you the beauty of the hat as the sum of its parts. Learn how to craft organza flowers, origami ribbons and fascinators. You can also enrol onto their five-day winter school or their course in setting up a creative business and take the next step in producing Ascot-worthy pieces.
The Miliners' Guild shop is at 39 Alma Vale. They also do work experience, internships and apprenticeships.
---
The Letterpress Collective
Ever thought of putting your own stamp on life? The Letterpress Collective is home to beautifully preserved old presses and type cases, allowing you to fully embrace the beauty of sliding ink onto paper. Take a course in composing type by hand and spend all day producing your own prints.
The Letterpress Collective. Photographer: The Letterpress Collective.
The Letterpress Collective is at Centrespace, 6 Leonard Lane.
---
Creative Glass Guild
If you've got an eye for glassmaking, Creative Glass Guild is a clear winner. This centre for workshops offers huge range, specialising in stained glass, fusing, lampwork and bead-making to name but a few. Finished one course? No problem, there's always more glassmaking classes to smash!
Creative Glass Guild is at Unit 4. St Philips Central.
---
Laura After Midnight
Ten years after travelling the globe making costumes for Theatre and Film, Laura after Midnight set up shop in Bristol, marking the birth of Bristol Sewing Club, Bristol Crochet Club and Wedding Sewing Club. With some sessions held over coffee, Laura after Midnight is one to check out if you're looking to pick up new skills and friends.
Laura After Midnight is at The Midnight Atelier and Workroom, at Pithay Studios. Due to reception issues, she is unable to be contacted by telephone, but you can email queries to laura@lauraaftermidnight.com.
---
Graft
Hubby and wife team Rob and Sophie Wheeler join forces to bring you graffiti art and mural painting workshops. You get the low-down on graffiti history, styles and spray can techniques. You then get to develop a whole new graffiti identity with your own tag and graffiti name, before producing a board or canvas to take home.
Graft Workshops. Photographer: Rob and Sophie Wheeler
Graft runs workshops for a range of groups, including schools, stag and hen dos, birthdays, work and team building events, families, one-to-one sessions and festivals.