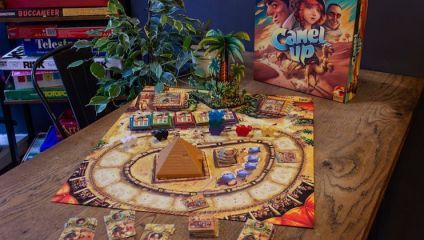 Be it Cranium or Cards Against Humanity, board games (and card games) are an incredibly fun way to spend time with friends. When you're sick of playing that dusty version of Monopoly that your family has had for years then head down to one of these board game pubs and cafes, the perfect chance to try a new game and engage in a bit of healthy competition! Grab a coffee, a cocktail, or a pint and sit down to a family-favourite board game!
It's only fair that we give Chance & Counters the top spot on this list, seeing as it was the city's first-ever Bristol nightlife board game café! Tucked away at the bottom of the Christmas Steps, this café-come-bar is a cosy little spot to while away an evening or afternoon. They boast over 850 games to choose from (we certainly can't even name 850 games) and you can even buy some of the newest games to take home. Want for nothing throughout your stay, enjoying local ales and ciders as well as a seasonal menu of snacks and meals. Booking is recommended, and it costs £5 per person for a four-hour slot, in which you can play as many games as you like. You can even become a member, and check out their events to trial new board games by budding local designers.
20 Christmas Steps, Bristol, BS1 5BS
---

Playground Coffee House
As serious as board games as you are about coffee? Then this specialist coffee shop is the one for you. What the guys at Playhouse don't know about board games they make up for in coffee knowledge, offering specialist coffee skills and extensive knowledge in how to make the best cup of Joe. They have around 150 board games dotted around the café, which you're welcome to grab and play free of charge, for as long as you want! They're also a fully licensed bar, with a seriously good Espresso Martini. Don't like sitting on a chair - not a problem! Take a pew on one of the swings by the window and enjoy a game of Stack the Fish (that's fish-shaped Jenga … obviously).
43 St Nicholas Street, Bristol, BS1 1TP
Another premier gaming location in Bristol's town centre is Replay, which even has a ping pong table in the basement! Their menu is pretty limited but does offer a few bar snacks and sandwiches, with coffees, cocktails and smoothies available throughout the day. They've got over 300 games including new ones and original favourites, and the staff are on-hand to help you choose a game that suits your group and time frame. It's only £2 per person for a three-hour slot, and you're welcome to play ping pong for free between Tuesday and Thursday (£3 for half an hour between Friday and Sunday). If you can't get enough of those board games and want to carry it on at home, then head to Rules of Play (St Nicholas Market) for a 5% discount on your new game!
196 Cheltenham Road, Bristol, BS6 5RB
You can always trust a student bar to provide great board games - after all, how else are students meant to procrastinate? The White Harte is popular for its great drinks deals, decent food and close proximity to Bristol University. They have a small stack of board games on offer for free use, and you'll also find a pool table and vintage ice hockey table! They've got large screens up showing all the big sports games and this place does have a late license, so it can get pretty rowdy throughout the night. But, during the day you can enjoy some local beers, a bite to eat and a casual game of Twister.
54-58 Park Row, Bristol, BS1 5LH
These might not be board games, but a venue full of Bristol nightlife vibes and vintage arcade games surely deserves a spot on this list, right? Kongs offers exactly that - decent craft beers and the option to play Donkey Kong all night long. They offer their very own craft beer, the Kongs Silverback APA, and the Bristol bar has a pop-up gourmet kebab stall with meat, veggie and vegan options. DJs play late into the night on weekends and there's a ping pong table for those waiting for a turn on Pac-Man - don't forget your cup of coins!
13-15 Kings Street, Bristol, BS1 4EF