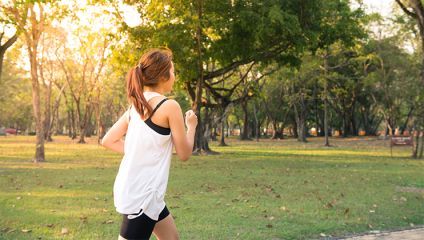 Whether you're training for the Bristol 10k or to jog around your local park, it's good to have a strong repertoire of local running destinations. Here are our top five running routes in Bristol for you to explore...
---
Ashton Court
Ashton Court is one of Bristol's stately homes and a favourite for many of the top running routes in Bristol. The grounds are open to the public, perfect for a picturesque jog through their rolling meadows and in between the wooded copses on this plotted route. This is the same course as the Ashton Court 5K Park Run, which takes place every Saturday morning; a great event if you are looking to meet other runners. Open, flat, and with great views back across Bristol - it's an ideal place for those still finding their running legs.
View route map for Ashton Court Park Run on plotaroute.com
---
The Downs
The Durdham Downs - Bristol's largest park and a great spot for a run. Our route goes right around the outside, which is a steady 6.5K. The great thing about the Downs, however, is that there are lots of pathways cutting across the central fields, so you can scale up or scale down your session to your heart's (and lung's) content. It's a bit hillier than Ashton Court, but hardly the worst Bristol can offer. Racing around here will certainly be social: it's the most popular running location in Bristol.
View route map for The Downs, Bristol on plotaroute.com
---
Harbourside
Bristol's many waterways provide lots of pedestrian paths for you to weave your way between the rivers, and if you are looking for a bit of urban running, this is a great route. The Harbourside is stunningly picturesque, especially in summer. There are lots of neat cafés and modern architecture for you to cruise by, and in the evening the sun leaves a glistening trail on the water. Upsides: this route is flat and completely tarmacked. Downsides: it will be a bit crowded, and you may have to dodge the sightseers as you go.
View route map for Harbourside, Bristol on plotaroute.com
---
Greville Smyth Park
If you are looking for a shorter run, Greville Smyth Park is a tidy spot to the south of Bristol. The green is just next to Ashton Gate Stadium, Bristol City FC's home ground, so you'll be in good athletic company. Families descend on Greville Smyth at the weekend for its steady slopes and children's playground. Serious runners, however, will need to do a few laps to pick up a sweat - this isn't the largest space. Have a gentle jog round to stretch off from the heavier sessions, and enjoy the serene surroundings of south Bristol.
View route map for Greville Smyth Park Route, Bristol on plotaroute.com
---
Tyntesfield
Grand old Tyntesfield is a National Trust venue perched on the outskirts of Bristol, and its grounds host a whole range of scheduled runs throughout the year that are well worth the short journey into the countryside. Feel Good Friday runs are a shorter course put on every other Friday morning; and if you are looking to truly test yourself there are plotted Trust 10s, a 10K across the nearby valley. Organised runs can be taken competitively, but are always social as well. Powering around the elegant Tyntesfield will feel a little surreal - the visuals are a good reward for all of your hard work.