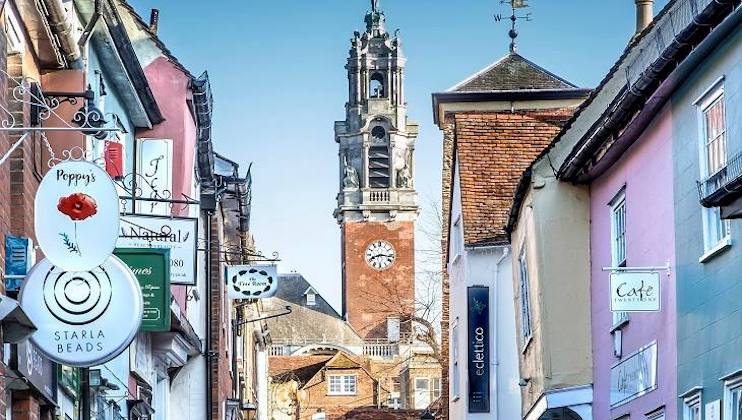 Thinking of taking a trip east? If so, perhaps you've heard of the historic town of Colchester
Sitting at the gateway to East Anglia, Colchester is one of Britain's foremost historic towns, the first capital of Britain and 'Britain's Oldest Recorded Town', as well as being home to some of England's most fascinating and important heritage sites. With such a rich and vibrant history, it's no surprise that hidden in the depths of the town's past there is a wealth of intriguing facts and hidden treasures for you to discover. Outsmart your walking tour guide and impress your travel companion with the top five historical facts you (probably) didn't know about Colchester.
---
It's Britain's oldest recorded town
Whilst Colchester is famously Britain's 'oldest recorded town', the town is also a historical record holder in many other ways. Impressively, Colchester is home to Britain's largest surviving Roman Gateway (The Balkerne Gate) and Europe's largest surviving Norman Keep. The Colchester Castle Museum explains all of these facts in exemplary detail and gives visitors a real sense of town's historical significance. The Castle was constructed on the foundations of the Temple of Claudius, later destroyed by Boudica, when Colchester (Camulodunum) was the first Roman capital of Britain. Housed within its walls, the Museum contains a wealth of stunning artefacts from over 2000 years of settlement including some of the UK's most detailed documentation of Roman life in Britain. The interactive exhibits tackle Norman architecture, Roman medicine, witch finders and chariot racing - all of which took place in and around the castle. There are also expert-led tours around the castle's Roman vaults and the castle roof, which offer spectacular panoramic views of Colchester.
Find Colchester Castle Museum at Castle Park, Colchester CO1 1TJ
---
It's home to the 11th best zoo ... in the world!
Housing over 260 species across 60 acres of parkland and lakes, Colchester Zoo is fantastic example of a modern conservation park. Originally known as Stanway Hall Park Zoo, the Zoo was opened on the 2nd June 1963 by Frank and Helena Farrar and has since been developed into one Europe's most impressive conservation zoos. The Zoo has been at the forefront of breeding management and development - in fact, their elephant Kito was the first ever elephant calf born via artificial insemination in Britain. Kito is now a full time resident in the zoo's spectacular elephant enclosure where you can visit him and others at their daily feed.
Colchester Zoo is located at Maldon Road, Stanway, Colchester CO3 0SL
It's got a fascinating history with fish and oyster trading
---
Did you know that Colchester's fish and oyster industry is an important component of the town's history and trade? The Colne oyster fishery dates to the Roman era, and the borough of Colchester obtained rights to the fishery in 1189. The oysters from this fishery are even knowns as 'Colchester Natives'! On the last Friday of October every year, the Mayor of Colchester holds a grand Oyster Festival at the Moot Hall. The festival dates back to 1845 and every year sees a host of special guests and invitees come together to celebrate Colchester's rich heritage and community, and has become an important point in the Colchester calendar.
It played part of the creation of Twinkle Twinkle Little Star
Resident Jane Taylor of Stockwell Street composed the famous nursery rhyme 'Twinkle Twinkle Little Star' in Colchester in 1806. You can still visit Stockwell Street to view the little plaque that commemorates this achievement. Hollytrees Museum explains the conception of the nursery rhyme further, along with giving visitors a look into 300 years' worth of domestic and childhood history in Colchester. Hollytree Museum is free to enter and an excellent way to explore some of Colchester's hidden antiquities and treasures, including their amazing Clock Gallery. For help and advice on what to do in Colchester you can speak to the friendly team from the Visit Colchester Information Centre who are also based at the museum.
Hollytrees Museum can be found at Castle Rd, Colchester CO1 1UG
---
---
It has a historic racing track
Did you know, Colchester was home to Britain's only known Roman Chariot Racing Track that could seat 8,000 spectators?! The Roman Circus Centre explains the cultural and historical significance of this monumental structure which was only uncovered in 2005. The centre allows visitors to walk the outline of the circus site and examine the reconstructed stumps of the starting gates and central gateway. In the visitor centre, you can experience reconstructions of the circus through state of the art audio/video and see a model construction of the full circus to get a feel for the complete Roman chariot racing experience.
Find the Roman Circus Centre at Roman Circus Walk, Colchester CO2 7GZ
Discover more about Colchester's rich and fascinating history at Visit Colchester.