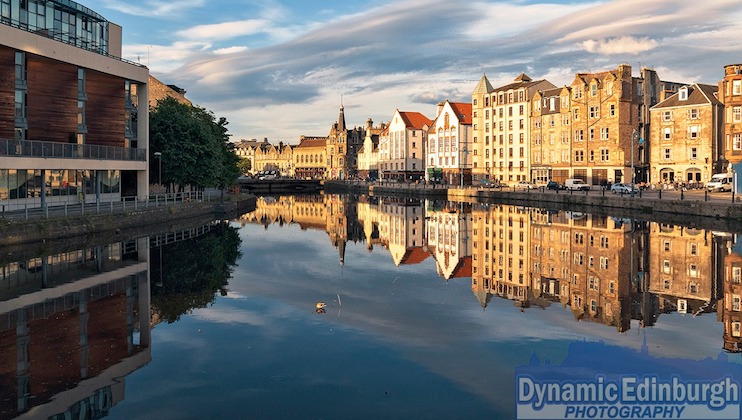 Edinburgh, Scotland's capital city, is one of the UK's most beautiful and fascinating destinations to visit. A mixture of medieval charm, Georgian elegance, and modern-day chic, the city is a melting-pot of history and culture with a truly unique sense of character. Despite its compact size, Edinburgh is jam-packed with things to do and see. It's a hard task fitting in all its wondrous sights in a day, but here's our how-to guide on getting the best of the bunch for under £20.
---
10am Princes Street Gardens (Free)
Start your day in the peace and tranquillity of one of Edinburgh's most sumptuous gardens. Nestled at the foot of Edinburgh's iconic castle are the beautiful Princes Street Gardens, marking the division between the city's Old and New Towns. This luscious green space is at its most beautiful in the morning, and its central location will give you a feel for this eclectic city as a whole. Be sure to keep an eye out for the Floral Clock - commissioned in 1903, it is the first of its kind and a definite must-see when strolling through this wonderfully landscaped park.
Image Credit: UndiscoveredScotland.co.uk
Princes Street Gardens is located at Princes St, Edinburgh EH2 2HG.
---
11am Edinburgh Free Tour (Free)
Guided tours remain one of the best ways to see a city when time is of the essence, and Edinburgh Free Tours is a fantastic option if you want to squeeze in as many sights as possible in two hours. Follow your friendly and knowledgeable guide through Edinburgh's history-rich streets, and take in its many fascinating points of interest including the Royal Mile, Edinburgh Castle, St. Giles' Cathedral, Old and New Towns, the Birthplace of Harry Potter, and many, many more.
St Giles Cathedral. Image Credt: Lucia via Flickr
Edinburgh Free Tours take place every day come rain or shine at 11am. The meeting point is in front of the Royal Mile's Coffee House, 144 High St, Edinburgh EH1 1QS. Tours are free but booking is essential.
---
1pm Lunch at Pie Maker (From £1.30)
Although Edinburgh has become a foodie destination city, it isn't particularly known for its budget dining. That being said, if you look hard enough, you'll find some cheap and cheerful hidden gems, including Pie Maker. For as cheap as £1.30, you can satisfy your hunger with a piping hot pie, and if you're feeling your Scottish oats, go for their traditional Scottish pastries filled with haggis, turnip, and mash.
Image Credit: TripAdvisor.co.uk
Pie Maker is located at 38 South Bridge, Edinburgh, EH1 1LL.
---
2pm Scottish Parliament (Free)
Stroll down the Royal Mile towards Holyrood, the seat of power in Scotland and home to the Scottish Parliament. Free to visit, this impressive building is an architectural marvel and you might even be lucky enough to watch some politics in action from the viewing gallery if parliament is in session.
Image Credit: Hamish Irvine
The Scottish Parliament is located at the End of the Royal Mile, Horse Wynd, Holyrood, Edinburgh, EH99 1SP. Open Monday, Friday, Saturday 10am - 5pm, Tuesday, Wednesday, Thursday 9am - 6.30pm.
---
4pm National Museum of Scotland (Free)
If there's one museum you visit while in Edinburgh, make it the National Museum of Scotland, which houses over 20,000 artefacts celebrating the nation's culture, history and people. Explore the museum's vast array of exhibitions and learn about Scottish history from the primeval age right up to the modern day. Don't forget to visit the the museum's rooftop terrace for stunning panoramic views over the city below.
Image Credit: GDU Photography via Flickr
The National Museum of Scotland is located on Chambers Street, Edinburgh EH1 1JF. Open everyday 10am - 5pm.
---
6pm Dinner at The Mosque Kitchen (Under £5)
This no frills curry den is truly an Edinburgh institution and is known around town for being one of the tastiest and cheapest restaurants in the city. Bursting with flavour and spices, The Mosque Kitchen's heaping plates of curry will cost you less than £5 and leave you fully satisfied. For a curry in a hurry for next to nothing, visit this temple of taste without delay.
Image Creit: The Edinbug
The Mosque Kitchen is located at 31-33 Nicolson Square, Edinburgh EH8 9BX
---
So there we have it, a whole day spent in Scotland's capital for an impressively small price of £6.30! We think this'll do nicely indeed.