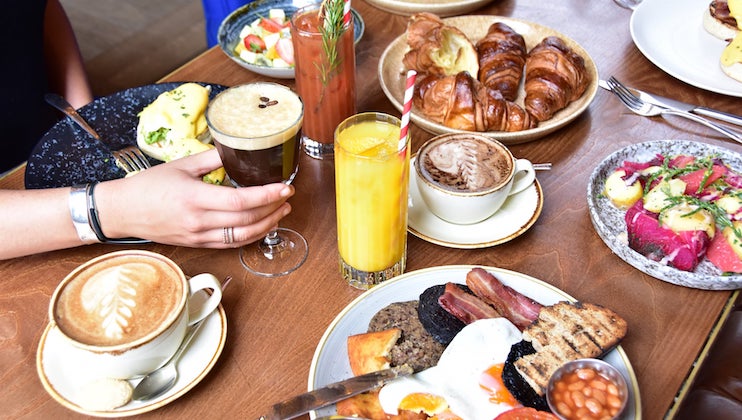 Will you make it a Mimosa or a Bloody Mary?
We can think of no better way to start a lazy weekend than with a sleep in, a delicious brunch and a refreshing cocktail - perfect for hair of the dog or beginning an afternoon of day drinking. Check out our round up of best spots for boozy brunches in the beautiful city of Edinburgh!
---
Urban Angel
121 Hanover Street, Edinburgh, EH2 1DJ
For a café that ticks all the boxes then head to Urban Angel, an all-day eatery just a 10-minute walk from Edinburgh Waverly. This stylish café boasts locally sourced, seasonal produce in its dishes, and offers a trendy menu filled with Instagram-worthy Acai Bowls and healthy Granola. You can, of course, enjoy classics like Eggs Benedict or French Toast, with optional add extras like smoked salmon, bacon and sausages. They have a modest cocktail list on a morning, featuring a Bloody Mary, Mimosa or even a freshly brewed Espresso Martini for a must-have caffeine and alcohol hit. Big night last night? Be sure to order a Ginger Shot for a touch of rejuvenation.
---
32 Castle Street, Edinburgh, EH2 3HT
Experience some of Edinburgh's literary history with a trip to Badger & Co, which is located in the former home of Wind in the Willowsauthor Kenneth Grahame. Their brunch menu is pretty extensive, with plenty of meaty and veggie options from 9am - 3pm each day. However, we're mainly interested in their Badger's Boozy Brunch which is on offer Friday, Saturday and Sunday from 11am-4pm. For just £30 you receive a sharing platter (one between two) filled with amazing brunchy bits like pancakes, bacon butties, salmon on rye and an abundance of avocados. Don't be put off with having to share, as the restaurants ensure that you get more than enough for two to share in each serving. Your price also includes four tasty cocktails (per person), and whilst the morning drinks menu is limited it does feature a Blood Orange Mimosa to die for.
---
Bar Soba
104 Hanover Street, Edinburgh, EH2 1DR
Love the concept of brunch but hate eggs and avocados? Then Bar Soba's unique South-East Asian street food menu will most certainly be your go-to weekend brunch spot. Definitely more lunch than breakfast, each person enjoying brunch at Bar Soba can indulge in a selection of shared starters then pick one main meal per person. Starters include mini dishes like Korean Popcorn Chicken, Korean Cauliflower and meat and veggie Gyozas, whilst the mains to choose from include a selection of curries and stir fries. Each person is also welcome to four alcoholic drinks throughout the duration of brunch, choosing from beer, prosecco or a small selection of Soba speciality cocktails. This brilliant brunch offer costs just £25 per person - an absolute bargain for the amount you get. Head down to Hanover Street between 12 and 4 every Friday, Saturday and Sunday to make use of this brilliant deal.
---
113 - 115 George Street, Edinburgh, EH2 4JN
Where booze and brunch are concerned, you can always expect an All Bar One to deliver. This UK-wide bar chain is a popular choice with drinkers from cities all-over the place, and it's certainly not uncommon to end your night here and head back in the morning for a slap-up brunch. Their brunch menu is a pretty bog-standard offering, with Smashed Avocado and the Full English and Full Veggie Breakfast featuring as the main event. The star of the food menu, however, is their Brunch Burger - a soft bun filed with sausage, bacon and egg alongside a vodka Bloody Mary ketchup! Their Bloody Marys and Mimosas are just £3.45 each when ordering from the brunch menu, making them the cheapest morning cocktails on our list - ideal if you've woken up with an empty bank account from the night before!
---
The Ivy on the Square
6 St Andrew Square, Edinburgh, EH2 2BD
Who says you can't enjoy fine dining at breakfast time? Head to The Ivy on the Square for a truly luxury weekend brunch, with Saturdays, Sundays and Bank Holiday offering a brunch and lunch from 11am-4pm. The menu offers plenty of choice, including unique dishes like Oatmeal-rolled Lathallan Haggis Bon Bons and Truffle Arancini to start off with. Main menus include all the usual offerings, along with tasty Hot Buttermilk Pancakes and luxury salmon dishes. They also offer a full selection of steaks, perfect for those late risers who fancy a Sirloin for breakfast! A large selection of cocktails, gins and champagnes can be ordered with breakfast here at The Ivy, including a refreshing Peach Bellini or hard-hitting Bloody Mary. Certainly one to save for a special occasion, as this brunch soiree won't come in cheap!