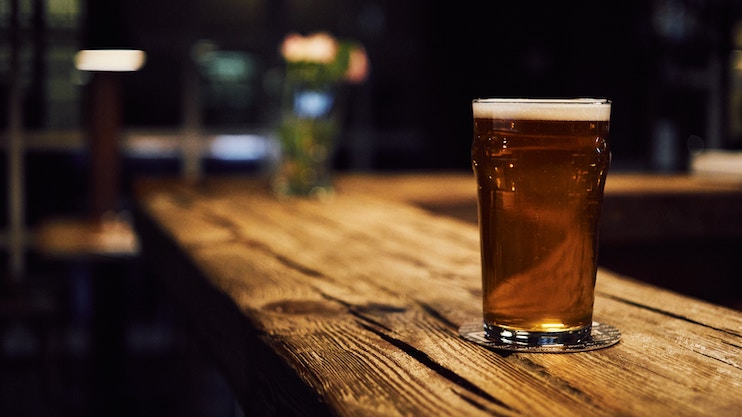 Go alcohol free this month, Leeds!
Despite all your resolution to stop drinking on January 1st, Dry January can start to drag a little bit a couple of weeks in. Trick your mind and body into thinking it's getting a tasty alcoholic beverage with a trip to one of these bars and thank yourself for your non-existent hangover tomorrow. *FYI - 0.5% beers count as alcohol free in our eyes - cut yourself some slack*
---
Brudenell Social Club
33 Queen's Road, Leeds, LS6 1NY
Many Leeds locals know Brudenell as being one of the city's best music venues, however it's also worth popping in for a swift one if you're trying to do alcohol-free! Join up with friends for a game of pool or darts in true working man's club style and keep an eye on their events line up - chances all you'll be able to catch a band for free or get a ticket for under a tenner. Their ever-cheap bar serves alcohol free Brooklyn Lager (0.5%) on draft and always offer a small selection of bottled alcohol-free beer. Admittedly, Brudenell is around a half an hour walk from the city centre but it is truly worth the treck.
---
Headrow House
19a The Headrow, Leeds, LS1 6PU
Don't fancy taking the trip out to Burley? Well, Headrow House is a great spot for a low-alcohol beverage and is centrally located on The Headrow. This multi-storey bar features a music venue, beer hall and rooftop bar and terrace, ticking all your boxes for a decent night out. These guys offer a bottle of Jever's Fun, a 0.5% Pilsner that promises not to leave you stumbling up to the bar to order everyone a Jagerbomb at 11pm. If you're in the area but fancy a change of scenery then head to Headrow's sister bar Belgrave Music Hall & Canteen, where you can enjoy a Jever or an ever-popular low-alcohol Erdinger (0.5%)!
---
Wetherspoons
Beckett's Bank, 28-30 Park Row, Leeds, LS1 5HU
The Cuthbert Brodrick, 99 Portland Crescent, Leeds, LS2 3AD
Ok, hear us out. No self-respecting Leeds local doesn't love a trip to a Wetherspoons, with their cheap drinks offering the perfect kicking off point to any night out. And Wetherspoons have, in fact, been killing it with the alcohol-free and low-alcohol drinks' offerings for a little while now. Not only can you order the bog-standard Beck's Blue (0.05%), but you can also choose from a low alcohol can of BrewDog Nanny State (0.5%), Budweiser Prohibition (0.05%) or even the Suffolk brewed Adnams Ghost Ship (0.5%). If you're not a big beer drinker, then grab yourself a Kopparberg Strawberry & Lime at just 0.05%! Or, for something completely different enjoy a can of fruity Kombucha (0.2%) or one of two 'craft sodas' for a more grown up version of a soft-drink!
---
Angelica
Level 6, Trinity, 70 Boar Lane, Leeds, LS1 6HW
Sweet and fruity cocktails lend themselves nicely to being alcohol-free, as most of the time you can't taste the alcohol in them anyway! Bougie rooftop bar Angelica is a city-favourite for splashing out on a cocktail or two, and their small but tasty selection of Mocktails will certainly impress. Enjoy a Passionfruit Cooler for a mock-Pornstar Martin or something completely different with the French Polynesian or Parfait Amore. You'll also find a small selection of non-alcoholic Kombuca and a booze-free Peroni, as well as the Big Drop Pale Ale and IPA (both at 0.5%).
---
Cosy Club
53 Albion Street, Leeds, LS1 5AA
The fun and casual dining and drinking experience of Cosy Club offers both alcohol free beers and cocktails for your entire AF-gang! Featuring cans of BrewDog Nanny State (0.5%) and Budvar B:Free (0.5%) you can enjoy a crisp and refreshing beer alongside your meal (they also serve breakfast, lunch and dinner!) Their mocktails include a selection of Kombuchas, a Virgin Mary (just in-case you're still hungover from New Year's Eve) and a couple of mock-Mojitos. You can also enjoy a selection of tasty lemonades and Fentiman's soft drinks!