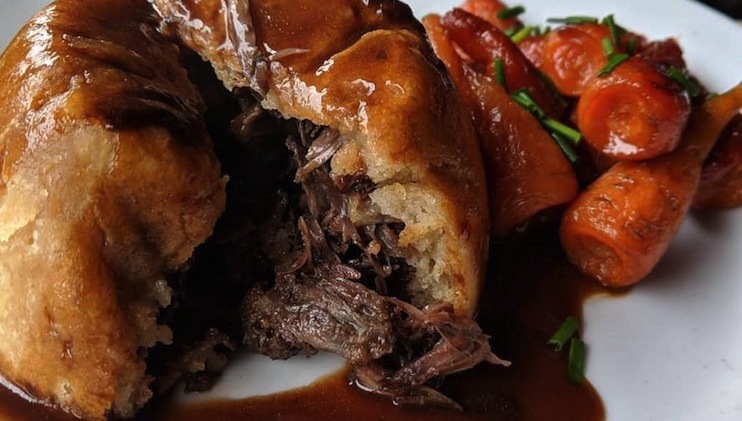 This is no pie in the sky - get your chops round one of these golden parcels of fabulous flavour, in lovely Leeds...
---
The Swine That Dines (formerly The Greedy Pig)
We all know there's no "I" in team - but there is a "pie" if you're Jo and Stuart Myers. They took over this former brunch cafe around 7 years ago, and introduced a pie pop-up that has become a fortnightly fixture. On "Pie Sundays" you can expect a full menu of pies, baked to perfection in-house, using various types of pastry made lovingly from scratch, with real butter.
The menu is constantly changing, but to give an idea, previous pies have included the likes of Spiced Pumpkin & Kale; Mutton, Almonds & Raisin Pithivier; Rabbit & Chorizo; Beef Shin & Bone Marrow…
But what if it's not Sunday, I hear you cry? Well, lucky for you pie-lovers there's always at least one on the menu every day!
The Swine That Dines is at 70 North St, Leeds LS2 7PN
---
Best of the rest:
---
Pieminister
You know what you're getting with these maestros of pies - great veggies and vegan options, plus you can pie-fest your order with skewers and sides like traditional mash, peas and gravy, to our loaded fries, indulgent mac 'n' cheese, zesty slaw and more…
15-17 Duncan Street, Leeds LS1 6DQ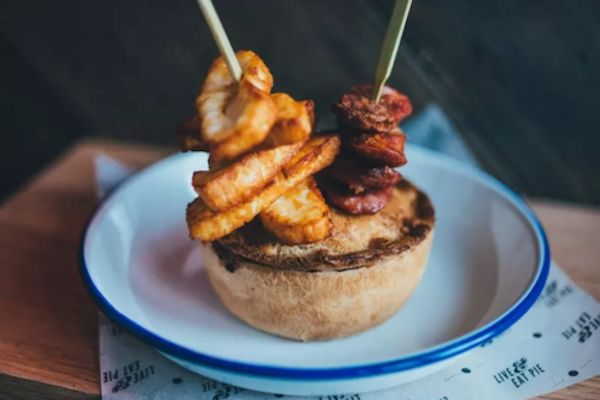 Pieminister via pieminister.co.uk
---
The Hop Pub
Sourced from the multi award-winning Jones Pies 'n' Pasties of Huddersfield, and served with mouth watering boozy beer infused peas, these guys know their pies. Plus, you can get a pie, mash, peas and a pint for only £6 - bargain!
The Hop is located at Granary Wharf, Dark Neville Street, Leeds LS1 4BR
---
Wilsons Butchers
Leeds Rhino Rugby fans may know the Wilsons pie van from match days - but for a quick pie fix we suggest you get yourself down to one of their five pie shops across the city.
Wilsons has pie shops in Armley, Morley, Crossgates, Wakefield, Pontefract
---
Weegmann's
Another stalwart of the traditional butcher pies, the self-proclaimed "pork pie people" are not joking - don't miss a slice of heaven from this Leeds institution.
4-6 Market Place, Otley, Leeds LS21 3AQ