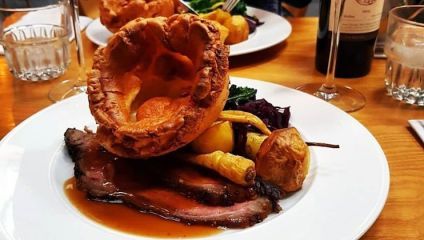 No one does a Sunday lunch quite like Yorkshire folk
Yorkshire puddings, roast potatoes and the optional cauliflower cheese are on offer here in Leeds, where plenty of the city's best restaurants offer an unbelievable Sunday lunch. Check out our round up of the best spots for your weekly roast.
---
The Brunswick
82 North Street, Leeds, LS2 7PN
When in Leeds, our first choice for a roast dinner has to be The Brunswick. Located just a short walk out of the city centre, this understated pub specialises in tasty food, cask ales and events like jazz night and comedy night! Their roast dinner sells out each and every Sunday, so booking is imperative if you want to avoid being sorely disappointed. They offer beef, chicken, pork and lamb, as well as nut roast for the veggie and vegan option and an extra special beef wellington to serve two! Whilst you have to pay extra for sides like cauliflower cheese and cheesy leeks, each plate comes with a free mini Bloody Mary!
---
Wapentake
92 Kirkgate, Leeds, LS2 7DJ
Wapentake aim to create a 'little piece of Yorkshire' by combining a café, bar and bakery in one cosy little spot. Using locally sourced beers, hot drinks and ingredients from over the road at Kirkgate Market, a trip to Wapentake certainly supports the local economy. Being locally sourced, their Sunday roasts do change each and every week. But they always promise to offer a meat, veggie and vegan option come rain or shine. They even serve vegan Yorkshire puddings, so you don't have to miss out on that 'little bit of Yorkshire' on your plate.
---
Shears Yard
11-15 Wharf Street, The Calls, Leeds, LS2 7EH
Shears Yard is one of our favourite independent kitchens in Leeds, where deliciously, locally sourced food meets tasty drinks in a totally relaxed environment. Whilst veggies and vegans are pretty much always catered for here in Leeds, Shears Yard gets our vote for filling the menu with more than just a nut roast for meat-free eaters. Whilst their menu changes weekly, veggie options such as the leek, cauliflower and cheese crumble (with all the trimmings, of course) ensure you don't get stuck eating the same old main week in, week out.
---
Matt Healy x The Foundry
1 Saw Mill Street, Leeds, LS11 5WH
For a special occasion, treat yourself to a Sunday out with Matt Healy, a runner up on MasterChef: The Professionals and a local Leeds lad! This dinner comes in on the pricier side at £19.95 per head, but you can be certain that you're getting the best of the best. Sharing platters include 12-hour roasted sirloin or roast chicken, with mushroom wellington for the veggies and vegans! You'll get roast potatoes, plenty of veg, Yorkshire puds and cauliflower cheese as standard with each plate, and gravy will always be available in abundance.
---
Arts Café
42 Call Lane, Leeds, LS1 6DT
One of Call Lane's most popular indie eateries is Arts Café. This restaurant, bar and art gallery boasts a wonderful atmosphere to unwind with a plate or two, along with a weekly offering of a delicious Sunday dinner. Their menu changes each week but is always prepared with locally sourced and organic meat and veg. Their Yorkshire puddings pile high and at just £11 per person you'll certainly be able to stretch to a pint of local ale (or two).