Up-and-coming folk duo Jimmy and Sid released their latest album, Many a Thousand, earlier this month, and are now embarking on a UK tour with their new tracks in tow. We chatted to Jimmy about the inspirations behind the duo's new material, how they see themselves as "socially conscious", and why it's so important to him to be playing a gig in Leeds on 16 September.
Culture Calling: How did you get into folk music?
Jimmy Aldridge: I didn't grow up with folk. A lot of young musicians on the folk scene grew up in folk families, whereas when I was younger I was into all kinds of music. I loved early rhythm and blues, rock and roll and soul music. I then came across The Freewheelin' Bob Dylan when I was about twenty, and I was really interested in what he was doing. I also loved the soundtrack for O Brother, Where Art Thou? which had Alison Krauss and Dan Tyminski and others playing on it. I got really into that style of music until I thought, hang on, this is the traditional music of America, what is the traditional music of our country? I knew a bit about Irish traditional music but not so much the English stuff, so I started to explore. Fortunately, at the time I started digging into English folk music I met a whole group of people in Leeds, where I was living at the time, who were at a similar point, and we started playing together. We went to Grove Folk Club on Friday nights, and we kind of all learnt together, and that group of friends turned into a Ceilidh band! We moved en masse over a year or two down to Bristol, and then that band led to my duo with Sid, who I met there.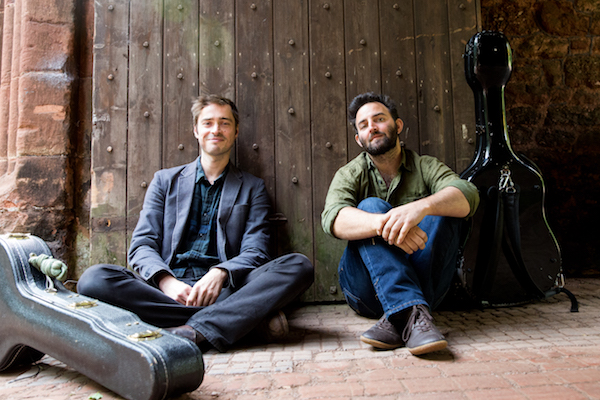 Image Credit: Emily Fairweather Photography
CC: How did that relationship with Sid evolve?
JA: So we were doing these Ceilidhs together, and by the end of the night we would sit down and play these songs together, and really enjoy playing as a duo, so it became a stand-alone thing. We entered a competition as part of Bath folk festival called New Shoots which was looking for new talent around the south west. We were runners up in that, and having got through the competition we thought we could turn the duo into a real thing. So we developed more of a set, phoned clubs in the area and it's grown from there really!
CC: What is it you like about being a pair rather than performing as a solo artist, or even a larger group?
JA: There's something great about a being duo, because it enables a conversation between the two artists. Some of my favourite acts are duos because there's just something about that very intimate meeting of two styles and vocabularies. Watching that interaction between two people can be a very special thing. If you go beyond a duo, or perform as part of a larger group, there may be a lot more potential scope for expression, but you're not able to communicate as tightly as you can as a two. That's a big part of what our act is now, it's a conversation between the two of us. We really try and interact and play the songs according to where we are, where the audience are at and how they're responding to us.
There's a really amazing tradition in folk that it is a participatory form of music. The audience can start singing along and join in with your songs - especially because some of the ones we sing have great choruses that people can jump on to. So it's important to react to how much the audience want to be involved. As a two you can respond much quicker to that. If you have a bigger band, some of the arrangements are much more standardised.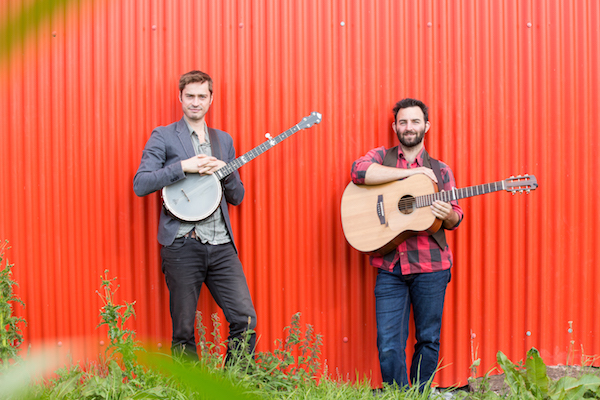 Image Credit: Emily Fairweather Photography
CC: You are described as being a socially conscience duo. Can you explain a bit more about what this means?
JA: We both come from backgrounds in the environmental sector. Sid is working in traditional forestry and organic horticulture, and I'm working as an environmental policy advisor. So both our jobs are underpinned by a concern for the environment, and wider than that, how people are treating themselves and the natural world. So it was a natural progression for our music to reflect the concerns we had in our day to day work. Many of the traditional songs we were finding had some essence of social justice and fairness, and then we also started to write our own music looking at particular stories that we thought really illustrated things we were concerned about. But we don't like lecturing people. We'll sing about something that we think is serious, but then we'll try and turn it into a hopeful story. And then within that there's a lot of enjoyable, fun music as well. We try and get people singing and laughing as much as listening to our concerns.
CC: Are these environmental concerns the inspiration behind your latest album Many a Thousand, which was released earlier this month?
JA: Many a Thousand is probably our most original album so far, in that over half the songs are our own material, which very much reflects our concerns about what's going on in the world. The traditional music that we've selected also has elements of political and social struggles that occurred 300 years ago, which we think teaches us something about where we are today. It's not a concept album directly, but it's very much about our view that there is a great need for people to come together and think about where we are. We're at a turning point in the country's history, and it feels like it's a moment where the absolutely crucial next step is for people to come together and repair the divisions that have been drawn over the past few years.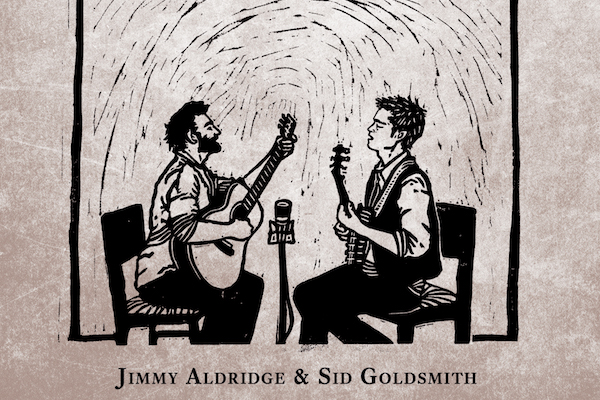 Image Credit: Jimmy Aldridge and Sid Goldsmith, Many a Thousand album cover
CC: Do you have a favourite song on the album and why?
JA: The first track of the album is called Hope and Glory. It's a reaction to the political debate in our country that's got a bit sour over the past few years, and explores the idea that what England once was is being used to prevent change. It's a really powerful, emotive subject, and this song we've written around this idea is quite purposefully hopeful and joyful. It's a waltz, is very melodic, and it's a lovely one to play live.
CC: You're playing All Hallows Church in Leeds on 16 September. How important to you is playing this gig in the city where you say your relationship with folk music?
JA: It's amazing. I lived in Leeds for a while, it's where I bought my first banjo, and it's still got quite a few friends there. It feels a bit like a homecoming gig, so I really can't wait. Also Fred Harker, who is playing percussion for us on the tour, also has roots in Leeds, so for the whole band it feels like it's going to be a really celebratory gig.
Jimmy and Sid are performing at All Hallows Church in Leeds on 16 September, and are then touring around the country through till November. For tour dates head to their website.