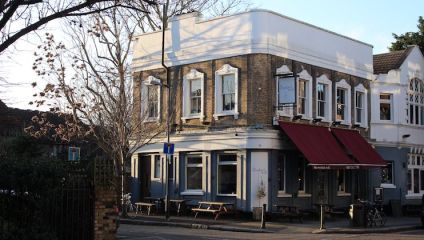 London Calling visits the glorious South London neighbourhood

Camberwell lies nestled on a crossroads connecting Peckham, Brixton, Oval and Elephant and Castle. Some say Camberwell means 'Well of the Britons" due to the sizeable Celtic population who resided in a pre-dominantly Anglo-Saxon area at the time, while others believe Camberwell means "Cripple Well", as the springs and wells located in nearby Denmark Hill were said to have healing properties - meaning sufferers of life-threatening diseases were sent there to recover. Whatever the origin, Camberwell is now home to a tightly packed range of good pubs, great restaurants and friendly local shops - with the local art college ensuring a healthy dose of cultural offerings as well.

One thing Camberwell isn't short of is good places to eat. Silk Road is one of the finest Chinese restaurants anywhere in London. The food originates from Xinjiang province, and their range of noodles, stews and dumplings are incredible. There's no website, so you need to pop in to book a table - and believe us, booking is essential as it's extremely popular. Elsewhere, Caravaggio serves wholesome, home-cooked Italian dishes with great service, Maloko deals in North African vegan galettes and delicious fresh juices, FM Mangal offer up rich Turkish kebabs and mezzes and for a quick bite to eat, Falafel and Shawarma will serve you a delicious, hearty wrap with change from a fiver.
Maloko. Image courtesy of UAL Blog
Alongside good restaurants, the other essential element of any good area is the coffee. Thankfully, Camberwell doesn't disappoint here either. The aforementioned Maloko serves a decent cup of joe, and another favourite is the new but ever-so-welcome The Pigeon Hole, a great café offering quality beans and delicious, locally sourced food. Lumberjack Café is a fine alternative, with the added bonus of being a Community Interest Company - meaning all profits go toward community benefit and youth charity. Finally, Cycle PS is a Bike Shop/Café/Bar that operates as a hub for local cyclists whilst selling their great own-brand coffee (and the home-baked pizzas aren't bad either).
If bikes are your bag, SeaBass Cycles is another great place to buy vintage frames with all new components as well as custom builds. Their main shop is in Camberwell, but they also have a huge warehouse in Peckham filled floor to ceiling with beautiful bicycles. Elsewhere on the high street, Cruson is a greengrocers with wonderful, friendly Greek owners - always willing to pick you out the perfect avocado - whilst The Hill Bakery & Deli is the place to head to treat yourself to artisan loaves and cheese. Every Saturday a Farmer's Market is held on Camberwell Green, where Thrognall Farm's stall sells high-quality fruit and veg at great prices (plus their home-made jam is sensational) and for anything else you may need food-wise, TFC Camberwell is an enormous Turkish supermarket with every spice and ingredient you will ever need, at great value. A surviving record shop is something of a rarity these days, but Rat Records is still going strong, and is a great place to go crate digging.
Cruson © Julian Burgess
All that shopping is thirsty work, so it's fortunate that Camberwell offers a plethora of drinking-holes to wet your whistle. The Sun of Camberwell is a large pub with a great garden and an excellent Sunday roast, while Stormbird is the place to head for an enormous range of ales and beers from across the globe. Their taps are always on rotation, so there's something new to try every time. Just over the road, Hermits Cave is a proper pub with a warm fire and cosy atmosphere, while The Crooked Well also serves good pints and hearty food. The Old Dispensary is a tiny Irish pub packed with heaps of atmosphere and regular live jazz.
The Old Dispensary © Ewan Munro
Alongside The Old Dispensary, Camberwell is home to two of South London's finest jazz offerings. The Junction is run by musicians and plays host to gigs and high-quality jam nights, while Jazzlive at the Crypt is located in the crypt of St. Giles Church, and one of the most unique and lively jazz nights out there. Art lovers will be satisfied with commercial offerings from GX Gallery and in-depth exhibitions at the South London Gallery, and any theatre-hounds should check out the Blue Elephant Theatre for some proper fringe offerings. Art Deli is a café-come-art space that serves up delicious meals and inspiring artwork in equal measure, and if all this gets the creative juices flowing, then Cowling and Wilcox is a fine and graphic art supplier with everything you need to get creative.