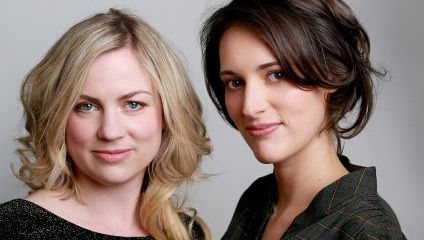 What are the absolute essential ingredients to make theatre interesting?
London Calling sat down with co-artistic directors Vicky Jones and Phoebe Waller-Bridge of DryWrite Theatre Company. Written by Vicky and starring Phoebe, the pair are currently in rehearsals for The One, the Verity Bargate award-winning play.
DryWrite is a new writing theatre company inspired by the power of anonymity.What has been your process working with writers?
Phoebe: There were certain things we knew we wanted to see on stage, certain questions. Often we found we were bored in the theatre. We thought the ultimate sin as a theatre-maker is to bore your audience so we started having passionate conversations about if we boil it down, what are the absolute essential ingredients to make theatre interesting? We started splitting them up into different performance nights, so we'd say, 'if you need to feel an affinity or a connection with a character, how do you make an audience fall in love with a character in less than five minutes? We knew that was going to be our brief. The audience would directly respond to that so we would create ways of measuring those responses. We wanted to know which bits worked, which bits didn't, and wanted individual audience members to feel brave enough to tell us if something had worked or not. So that's where the anonymity came from with the playwrights. They're protected; it's a genuine experiment. Once we had that in place we found writers interested in that experiment. We went onto briefs like: How do you create suspense in an audience? How do you make an audience heckle without them realising? How do you create mob mentality? How do you draw them into a nasty, grisly, gruesome fight? We would say to the writers, 'we genuinely don't know the answers to any of this. You go away and find out how to make an audience laugh and then suddenly feel guilty about laughing.'
Did you turn to new writing specifically because there weren't enough complex female characters in the established canon?
Phoebe: No, not instinctively. We were more interested in the fundamentals of theatre: what makes theatre land, how do you find impact, what makes you love characters, hate characters, want to be in a room with characters, what drives people, what drives an audience to feel things in the moment. In amongst that is definitely the search for female characters.
Vicky: We wanted to talk about the world around us, where we live now, find new ways of looking at theatre, explore what theatre can do, find new forms, new writer's styles, look at ways we could reflect our lives which are changing so rapidly.
You've worked with hundreds of writers through your company, where did you find them?
Vicky: We've been very lucky. When we came together as a company there was a burgeoning new writing scene where lots of exciting things were happening; people were building their own confidence and finding their way as writers. There are some phenomenal playwrights that have found their feet now, who at the time were discovering who they were. We were lucky because as a company we were coming up with something that cost us nothing, and had a huge number of people interested in being involved. We found ways of getting them interested and writing for us.
What was your impetus to write The One?
Vicky: I moved into a new flat, had broken up with a boyfriend and felt very alone, like a new phase had begun, so I thought, 'fuck it, I'll give it a go'. I started and didn't sleep for three nights or days and wrote the first draft. It didn't have an ending but the characters arrived. I very shyly and under a lot of pressure showed it to Phoebe and she had this enormous reaction to it which was the defining moment of my life so far.
How do you want your audience to react?
Vicky: We want them to have strong emotional responses and then to question those responses. I think that's the most exciting thing about theatre.
Phoebe: Once you wrong-foot an audience, they are slightly more exposed to you, and then you can do more with them. What interests us are the moments that you can do that to them. Using humour and pathos all mixed in together means the more you can disorientate them, the more you draw them in, and that's when you get the message across.
Vicky: Then you get real human responses. They have no idea what is going to happen next. We were never interested in making something we'd seen before, we wanted to use theatre to create a different response, and make it feel as live as possible.
What is dangerous? What is taboo in theatre?
Phoebe: It's truth. The most simple moment between two people can be utterly shocking if it's truthful. A mum telling her kid to leave the house, if it's done with characters you love, pulls at you inside. It can be taboo in the world you have created for them.
The One is on at Soho Theatre from 20th February to 30th March. Tickets available here