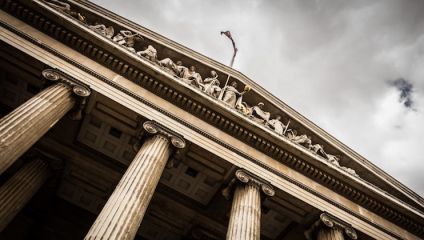 Take a walk around some of cinema's spookiest settings
While life in the capital is fraught with numerous mundane terrors, like the District Line at rush hour, it has also been the site of more sinister happenings. The movies have captured the prowling footsteps of serial-killers down London's dank alleyways, shown its subterranean tubes creeping with ghouls, and been the backdrop of a zombie pandemic. So, steel yourself for a spine-chilling guide around London's horror film hot-spots. But do not unduly fear, dear reader: there are plenty of pubs along the way.
---
The Southbank
Frenzy (1972) is often seen as Alfred Hitchcock's love-letter to London…if said letter waxed lyrical about a sex-crazed serial killer whose modus operandi was death by tie. Returning to the capital for the first time since 1950, his penultimate film makes giddy use of its familiar London locations. Beginning on the Southbank outside County Hall after a glorious tracking shot down the Thames, a politician delivers a speech about his promise to clean up the river…just as the body of a woman washes up. "It's another necktie murder" one man states drily, as if this was as common as a seagull stealing your chips. Hitchcock appears in a bowler hat in a signature cameo.
---
Westminster
A stone's throw away and forty years later, Westminster Bridge became synonymous with the walking dead - proper zombies, not just your sleep deprived barrister or somnambulistic sightseer. 28 Days Later (2002) begins with a man waking up in hospital to an abandoned London. Disoriented, he crosses Westminster Bridge into Whitehall looking for signs of humanity, eventually passing through Piccadilly Circus where the gravity of the situation becomes clear. The spectacular feat of making the capital appear genuinely deserted was achieved by filming early each morning for a few days in summer, temporarily staving off traffic and a few exhausted clubbers.
---
Earl's Court
Proof that the area must be situated over an ancient hell-mouth, it has housed a psychotic blonde, one Master of Suspense, and a very hairy manimal. While Catherine Deneuve was seen going seriously stir-crazy at Kensington Mansions in Repulsion, horror-maestro Alfred Hitchcock plotted at 153 Cromwell Road from 1926-1939. In An American Werewolf in London (1981), one of horror's most iconic scenes took place at 64 Coleherne Road, where David painfully transforms into a blood-thirsty beast. Home is clearly where the heart is…usually fresh from the chest and still beating! For extra chills, visit the nearby Brompton Cemetery, one of the Magnificent Seven Cemeteries in London.
---
Fulham
You'll surely feel the dark eddies of the supernatural here, childhood home of Harry Potter actor Daniel Radcliffe and the location of a dramatic death in The Omen (1976). Selfie sticks on standby at All Saints Church, on the border of Bishops Park, where Father Brennan is turned into a human kebab by a falling metal rod. The park, overlooking the Thames, is also the backdrop for the preceding altercation in which Brennan tries to convince Robert Thorn (Gregory Peck) of his son's satanic affiliations. Bishops Park isn't just the setting for a face-off between good and evil however. It has an urban beach, Spanish War Memorial and café too!
---
Bloomsbury
With its leafy green parks, institutions of higher education and literary affiliations, who'd believe Virginia Woolf's old stomping ground could be home to tube-dwelling cannibals and demon-worshippers too. The British Museum features in Jacques Tourneur's Night of the Demon (1957), where Parapsychologist John Holden visits their reading room to research the occult. It is here that Dr Karswell hands him the runes that will seal his monster-shaped fate. The reading room function was transferred to the British Library in 1997, with plans for its future use now under discussion. A brisk stroll from here to Russell Square station, the innocuous façade belies the presence of a ravenous cannibal in Gary Sherman's Deathline (1972). While the interior scenes were actually filmed in disused Aldwych station, the station's exterior is captured in the seedy opening sequence, with Alex's apartment located at nearby Grafton Mansions on Duke's Road. The film is also notable for starring two stalwarts of horror - Halloween's own Donald Pleasance and Christopher Lee, in a small cameo role.