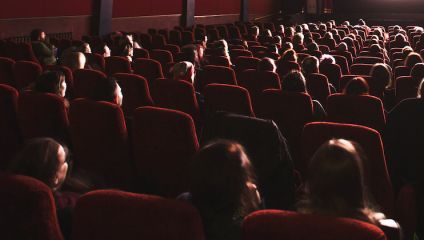 We examine the finest, and more off-piste, filmic offerings London has to offer.
Escaping the confines of the average cinema - not that we here at London Calling don't love our local 'plex - and experiencing a film in a different way is a real treat. From festivals inventively programming rare and unusual movies, to atmospheric settings and orchestral accompaniments, we've rounded up the quirkiest and most varied film festivals and screenings out there.
---
Herne Hill Free Film Festival
Taking place throughout May, this free film festival features cult classics and modern masterpieces alike - situated in suitably atmospheric and site-specific locations. Highlights include the outstanding Moonlight at Brixton Lido, Little Shop of Horrors at the South London Botanical Institute and La La Land at Herne Hill Velodrome. What's more - they're all free! Hurrah.
Herne Hill Free Film Festival runs until May 29 throughout Herne Hill and surrounding areas. Entry is free.
---
East End Film Festival
Image Credit: Tim Green Smith
Now in its 17th year, the annual East End Film Festival is a popular and wide-reaching event held in esteem by the industry as well as us ordinary cinephiles. Taking place every weekend throughout June, the programme encompasses outdoor screenings, premieres of politically charged new work, shorts and cross-media. Urgent Syrian war doc City of Ghosts, SE London-based youth drama Butterfly Kisses and graphic novel-esque S/T/R/A/Y/S, about life in austerity Britain, all tickle our fancy.
The East End Film Festival takes place from June 2 till July 2 throughout East London. Prices vary.
---
The Adventure Travel Film Festival
Image Credit: Altabev Photography
A must for anyone who has ever caught the travel-bug, this celebration of exploration takes place over a weekend in August. It's very much a DIY affair, with founders Austin Vince and Lois Pryce taking inspiration from the wealth of independent travel documentaries amateur adventurers have created over the years. Highlights from this year include Rowed Trip, which follows a married couple's 2008 cycle/rowing trip from John O'Groats to pre-war Syria, and 1934's River of Death which tells the inspiring tale of Alhoa Wanderwell, a woman who travelled 80 countries and 6 continents during the early 20th century.
The Adventure Travel Film Festival takes place from August 11-13 in Mill Hill. Day/weekend tickets are available from £29.
---
Doc 'n' Roll Film Festival
Although the main event takes place in the autumn, the Doc 'n' Roll team programme screenings at various London cinemas all year round. Celebrating the music documentary, current highlights include Don't Forget Your Music - a film following breakthrough soul star Gregory Porter over a four-year period. Keep an eye on the website for updated screenings.
Doc 'n' Roll Film Festival takes place all year round throughout London and the UK. Ticket prices vary.
---
The Barbican Centre
The Barbican hosts a rolling line-up of interesting and off-piste film seasons throughout the year. Current highlights include Shubbak 2017, celebrating contemporary Arab cinema, and Cinema Matters: The Battle for Representation, where you can see films from minorities and the marginalised such as Daughters of the Dust - an inspiration for Beyonce's Lemonade. For sci-fi fans, their series of Sci-Fi Sundays include little-known movies like George Lucas' dystopian debut feature THX 1138 whilst their Outdoor Cinema summer series features sci-fi classics such as 2001: A Space Odyssey and TRON showing in the Sculpture Court.
Shubbak 2017: A Window on Contemporary Arab Culture is on from July 4-9.
Cinema Matters: The Battle for Representation is on from May 2 - June 21.
Sci-Fi Sundays are on from June 18 - August 20.
Outdoor Cinema is on from August 25-27.
Ticket prices vary, and all take place at the Barbican Centre.
---
Orchestral Accompaniment
Image Credit: Paul Sanders
The feeling of watching a movie with live orchestral accompaniment comes highly recommended. The power of an orchestra can give your favourite film - even if you've seen it a hundred times already - a whole new life. Soundtrack is such an integral part of the best movies, and there's nothing quite like experiencing the two in tandem. The Southbank Centre's Film Scores Live has a Hitchcock season throughout June, whilst the Royal Albert Hall's Films in Concert series is currently showing Harry Potter and the Philosopher's Stone, with Jaws and Fantasia later in the year.
Film Scores Live is on at the Southbank Centre from June 23-25. Prices vary.
Films in Concert is at the Royal Albert Hall throughout the year. Prices vary.
---
Backyard Cinema
Opening in June, Backyard Cinema's Miami Beach setting combines an indoor beach with a wide selection of crowd-pleasing films. From Back to the Future to Clueless via Scarface and Mrs Doubtfire, there's something for everyone here. Plus you can dig your toes in the sand whilst sipping a Piña Colada and marvelling at the fact that you're still in Borough. An indoor, urban beach cinema - only in London, eh?
Backyard Cinema: Miami Beach is currently programming from June 2-25 in Borough. Ticket prices vary.