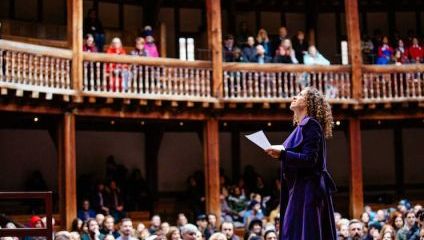 Where to go to enjoy London's booming literary scene
In London one thing's for sure: from Virginia Woolf to Zadie Smith, Shakespeare to Kate Tempest, the big smoke has been home to a smugness-inducing number of literary icons. If you're a fan, this list of the crème de la crème of London's booming literary scene is for you. You can even try your own hand at becoming the next writer to get that longed-for blue plaque up on the wall of your house.
---
Shake(speare) it out at the Globe
Opened in 1994 just 200m from the site of the playhouse built by Shakespeare's theatre company more than 400 years ago, Shakespeare's Globe is a beautiful reconstruction that comes with all the rustic Tudor charm of the original without the smell of sewage. The actors at the Globe make all that iambic pentameter come to life in vivid, fascinating productions, all the better for their atmospheric, old-worldy setting. Make like a Renaissance-era peasant and grab yourself a standing ticket for just £5.
Image: The Globe via Facebook
Shakespeare's Globe, 21 New Globe Walk, London SE1 9DT
---
Delve into the spoken word scene
London's poetry and spoken word scene is thriving with a new night popping up every week. You can go big and see the UK's best poets doin' their thing at Rich Mix's monthly showstopper Jawdance, or for something more intimate, head to righteous and riotous hip-hop, politics and poetry night Pen-Ting at the Poetry Café. If you aren't content just watching, there are usually a good number of open-mic slots at each event, but for a guaranteed go on the stage, try Dalston's ever-popular Spoken Word London. You might just find yourself addicted to the applause. Check out our Top 5 Poetry and Spoken Word events here.
Image: Jawdance via Facebook
Jawdance runs monthly at Rich Mix, 35-47 Bethnal Green Rd, London E1 6LA
Pen-Ting runs monthly at The Poetry Cafe, 22 Betterton St, London WC2H 9BX
Spoken Word London runs monthly at VFD, 66 Stoke Newington Rd, London N16 7XB
---
Go Potty for Harry
Beloved author J.K. Rowling might be Scottish, but the Potter series is full of brilliant and discoverable London locations, so why not take a Harry Potter tour of London? No need to drop a big chunk of change on this activity either - although you will have to pay to get into London Zoo's Reptile House where Harry learns he can speak to snakes, most of the locations mentioned in the series are free to wander around, from Charing Cross Road, (home to the Leaky Cauldron) to Tower Bridge and, of course, Platform 9 ¾ at Kings Cross, which now even has a Harry Potter shop, where you can drop a big chunk of change.
The Harry Potter Shop is located at Kings Cross Station, Kings Cross, London N1 9AP
---
Flex your creative muscles at The Poetry School London
If you don't fancy your chances on stage, there are certainly plenty of other options at the multi-disciplinary Poetry School London. The school covers reading, writing and translating poetry, and there are also courses on poetry and cinema, using collage as a prompt and ecological writing.
Image: The Poetry School London via Facebook
The Poetry School London, 1, Dock Offices, Surrey Quays Rd, London SE16 2XU
---
Get nerdy at The London Library
A small and elegant lending library tucked away in St James Square, The London Library, founded in 1841, is often overshadowed by its gargantuan cousin, The British Library. But its extensive bookstacks are a poetry lover's paradise for browsing, and its quaint reading room (once frequented by greats such as Arthur Conan Doyle) is perfect for doing the homework from that Poetry School class you're now attending. The library also hosts live events, and you can go on a free hour-long tour once a month.
Image: The London Library via Facebook
The London Library, 14 St James's Square, St. James's, London SW1Y 4LG