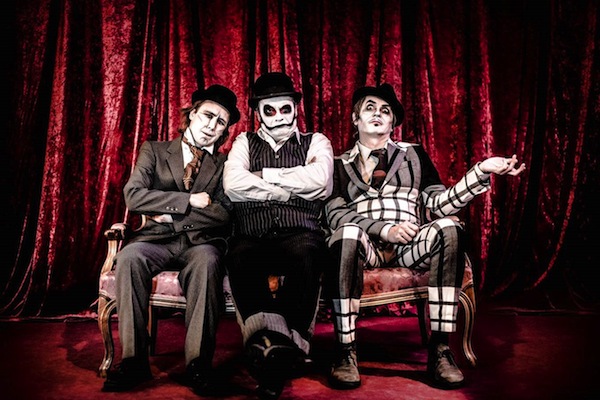 Martyn Jacques talks about freaks, weirdos, intellectual nightbirds and letting his voice sail.

The Tiger Lillies have been around for almost 30 years reaching a sort of cult status, yet they are still notoriously difficult to describe: people come up with constructions such as 'macabre pre-war Brechtian Punk Cabaret' but that still doesn't quite prepare you for the squeaking and squawking falsetto voice of front man Martyn Jacques as he tells us stories about the dark side of humanity, drugs, prostitution, blasphemy and all other vices imaginable.

London Calling talked to Martyn on a suitably grey and miserable day in Manchester, where they are currently performing their concept album Corrido de la Sangre, a narrative song cycle about an undead Mexican Mariachi band coming back to hunt their murderers on the Day of the Dead. But for London's Wilton's Music Hall they are bringing some brand new songs from Devil's Fairground, a new album, which will be recorded live in June with an orchestra for a release later this year. Londoners will therefore be among the first to get a taste of the new material.

Unable to put the Tiger Lillies in any kind of genre box, they have become a genre all onto themselves. "Any description of them is an injustice, they are completely peerless", it has been confirmed by Alex Kapranos of Franz Ferdinand. So how would Martyn describe what to expect from Devil's Fairground?

"The songs are very descriptive of people, almost like portraits. The inspiration for the Devil's Fairground is Prague. There was a time in the early 90s just after the velvet revolution and it was a very strange time because there were no tourists at all. Prague today is a bit like Rome, it's an Easyjet destination, you can't move for tourists, but there was a time just after the Soviet empire collapsed and it was like a vacuum. And the only people in that vacuum were weirdos and freaks that came from all around the world to Prague. They were all artists. It was a little bit like Paris in the 1920s or something. I've written a collection of songs about the people that were there, so you get a lot of excess: some people were really into sexual excess, some people were into substance abuse and then there are also stories about the local people, the impact of the Soviet system on them. So it is a description of a very special moment in time."
What Martyn describes sounds like the kind of social milieu that Brecht would have a field day with. Beggars, thieves, prostitutes, the desolate and the down and out are the kind of characters that populate Brechtian theatre and the Tiger Lillies have always noted the work of Brecht and composer Kurt Weill as their number one inspiration. When did he first discover Brecht?
"I used to live in a squat in Finsbury Park in the early 80s and my next-door neighbour worked in peep shows in Soho. She was called Sonia and she was a speed freak. She's appears in one of my songs actually, Sonia, she is a character in the last album I did, Cold Night in Soho. But she was a very very intellectual cultured person and she gave me a double album of The Threepenny Opera by Brecht and Weill with the great Lotte Lenya singing."
For the last 30 years, their enormous creativity has seen them dabble in theatre, circus, puppetry, and poetry, and they have performed anywhere from dingy basement pubs to big international opera houses.
"I can still remember some of my favourite ever performance were in pubs. We used to play in the King's Head in Islington and that was a fantastic place to play. I remember we used to go on on a Monday or Tuesday and then eventually I persuaded the manager to give us a Saturday and it was amazing! A lot of fans started to come. Normally it's just a bar with people drinking beer and the bands were usually cover bands but on a Saturday night the whole bar would just be full of Tiger Lillies fans. And I remember at one of the shows everybody just started stamping on the floor, the atmosphere was incredible. And then we went from that to playing in some of the most amazing opera houses in the world and that was also fantastic."
The airy quality of the high register singing called falsetto can put quite a lot of strain on the vocal chords and not all male singers can access it without problem, but for Martyn Jacques, this isn't true at all:
"People always think it must be an incredible effort to sing like this every night but I find it the most easy thing in the world. My throat relaxes and I just sail..." he says and the next thing to hear is a familiar high pitched "Aaaaahhhh!!!!" down the phone line. His speaking voice is much more forced in a way, he explains. Singing is freedom. "It's something I can do with real ease. That's my home."
He gets a similar sense of freedom from writing songs. The immense output of creativity - there are about 50 albums, shows, live recordings and collaborations - suggest a mind constantly buzzing with ideas.
"People talk about having blocks or something. Well, I've never experienced that. Every time I sit in front of a piano its like 'Whey hey! I'm free!' I can write and I'm just really happy. I can do anything, go in any direction, let my imagination run riots."
Martyn Jacques dabbled with the idea of being a painter in his youth but made a conscious decision at age 16 to become a musician. Now he thinks of his songs as portraits of people. "If I had become a painter, it would be the same, I would have been interested in people. That is what fascinates me."
The Tiger Lillies will be performing Devil's Fairground at Wilton's Music Hall 15 - 26 May