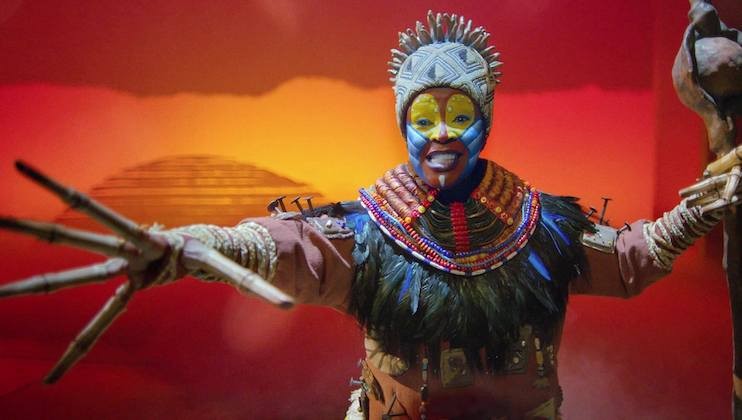 London's Enchanting Stage for Kids - Discover the city's hidden gems and top venues for unforgettable children's theatre experiences!
Ready to embark on a theatrical adventure with your little ones? London is a stage where magic unfolds for kids of all ages, from gentle puppetry for toddlers to captivating dramas for teenagers. Choosing the perfect West End show for your kids can be as tricky as coaxing a puppet to life, but fear not! We're here to guide you through the glittering world of children's theatre in London, ensuring your family's trip to the theatre is not just memorable but magical...
---
Frozen The Musical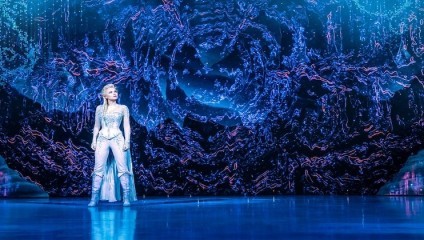 Theatre Royal Drury Lane, Catherine St, Covent Garden, London, WC2B 5JF
This stage adaptation of Disney's modern classic: Frozen is more than just an ice-cold spectacle; it's a heartwarming journey that'll melt even the frostiest of hearts. With Jenna Lee-James taking on the role of Elsa until 2024, and Samantha Barks receiving rave reviews for her 'powerhouse' performance, this show is bringing the kingdom of Arendelle to life like never before. Packed with 12 new songs and all your beloved classics, from 'Let It Go' to 'Do You Want to Build a Snowman?', this dazzling production enchants audiences of all ages. So, if you're searching for the ultimate family experience, snag your tickets now starting at £35.10. Just remember, it's best for ages 6 and up, so leave the littlest snowflakes at home. Don't 'let it go'—book your frost-tastic adventure today!
---
The Lion King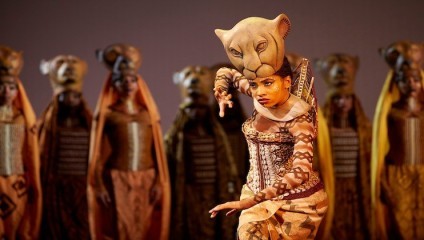 Lyceum Theatre, 21 Wellington St, London WC2E 7RQ
Hakuna Matata, theatergoers! London's Lyceum Theatre is roaring to life with 'The Lion King,' a spectacular musical that's pawsitively unmissable. This Disney sensation takes you on a journey to the Serengeti, where Simba's adventure from cub to king unfolds with breathtaking puppetry, dazzling costumes, and infectious rhythm. Julie Taymor's visionary adaptation, which combines puppetry from around the world, delivers an extraordinary theatrical experience that'll leave your jaw on the savannah floor. While some parts may feel like déjà vu from the film, the magic of 'The Lion King' remains untamed on stage. So, whether you're introducing the kids to the circle of life or rekindling your own love for this Disney classic, don't miss out. Tickets start at £38.70, with performances running until February 11, 2024. It's a wild ride for all ages, but remember, it's best enjoyed by those aged 6 and up, so leave the littlest cubs at home.
---
Matilda The Musical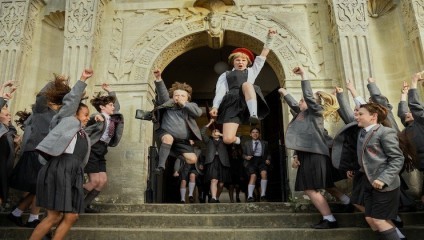 CAMBRIDGE THEATRE,, 32-34 Earlham Street, London WC2H 9HU
Prepare for a 'revolting'ly good time at London's Cambridge Theatre with 'Matilda The Musical.' This spectacular show, based on Roald Dahl's timeless tale, will have you and your little miracles spellbound from start to finish. Follow the extraordinary Matilda Wormwood, a pint-sized genius with a big heart and telekinetic powers, as she takes on the tyrannical Miss Trunchbull and her revolting parents. Tim Minchin's witty original score, featuring catchy tunes like 'Revolting Children' and 'When I Grow Up,' injects a breath of fresh air into this darkly humorous story. With inventive staging, choreography that will leave you in awe, and a cast of young performers who steal the spotlight, 'Matilda' is a must-see for all ages. Tickets start at just £23.80, and the show runs until December 15, 2024. It's a perfect treat for children aged 6 and up, and while babes in arms aren't allowed, booster seats are available for the little ones.
---
Wicked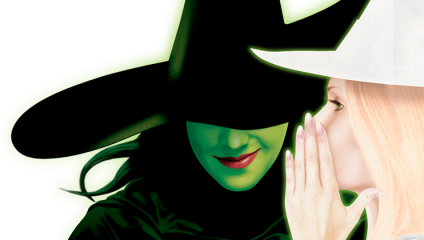 Apollo Victoria Theatre, 17 Wilton Road, London, SW1V 1LG
Get ready to go 'Wicked' in the West End! This spellbinding musical, which has enthralled audiences at the Apollo Victoria Theatre for over 14 enchanting years, unveils the captivating backstory of the Wicked Witch of the West and Glinda the Good Witch from 'The Wizard of Oz.' Wondering what transpired before Dorothy's iconic yellow brick road adventure? 'Wicked' holds all the answers. With a bewitching score featuring modern musical classics like 'Defying Gravity' and 'The Wizard and I,' this visually stunning show is a hit for both young and old. Join Elphaba and Glinda as their friendship takes center stage at Shiz University, tested by love, politics, and authority. Tickets start at just £25.00, making this a family-friendly spectacle that's not to be missed. It's suitable for ages 7 and up, and under-3s are not permitted. Catch 'Wicked' in London from September 26, 2023, to June 2, 2024, and prepare to be spellbound for 2 hours and 45 minutes, including an interval.
---
Elf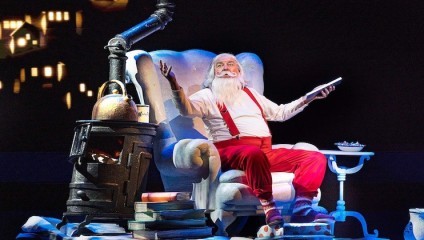 Dominion Theatre, 268-269 Tottenham Court Road, London, W1T 7AQ
Elf, the festive favorite is back to dazzle audiences with more fun, surprises, and treats than Santa's workshop on Christmas Eve. Join Buddy, the North Pole's most overenthusiastic elf, on a journey of self-discovery as he embarks on an adventure to the big city of New York. This modern Christmas classic is based on the hit film starring Will Ferrell and marks 20 years since Buddy's big-screen debut. With an unforgettable score featuring catchy songs like 'World's Greatest Dad,' 'Sparklejollytwinklejingley,' and 'A Christmas Song,' 'Elf The Musical' is the perfect family treat. Tickets are available now, starting from £25.00, and the show runs from November 15, 2023, to January 6, 2024, with a running time of approximately 2 hours and 45 minutes, including an interval. It's a festive delight suitable for ages 4 and up, and with everyone's favorite buddy back on stage, you're in for a sparklejollytwinklejingly good time!
---
Harry Potter and The Cursed Child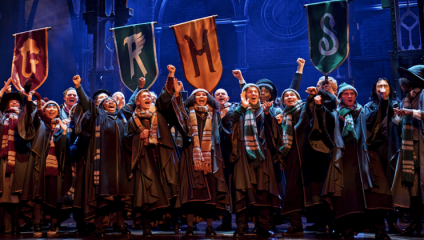 Palace Theatre. Shaftsbury Avenue, London, W1D 5AY
Pack your wands and grab your tickets for 'Harry Potter and the Cursed Child' at the Palace Theatre, because the magic is back in London! This spellbinding continuation of J.K. Rowling's beloved series reunites fans with Harry, Ron, and Hermione 19 years after their last adventure. Directed by John Tiffany and featuring dazzling special effects by illusionist Jamie Harrison, this bewitching play has taken the West End by storm, winning a record-breaking nine Olivier Awards. Audiences can expect to be transported back to the enchanting world of Hogwarts, with familiar faces from the books and new characters to meet. Suitable for ages 10 and up, this epic tale is told in two parts, so be sure to catch both to experience the full magic. Tickets are available now, so don't miss out on this extraordinary journey through time, spells, and epic battles.
---
The Witches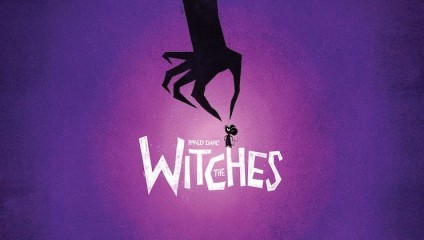 Olivier Theatre, National Theatre, South Bank, London SE1 9PX
Brew up some mischief with 'The Witches' at the National Theatre's Olivier Theatre, where Roald Dahl's classic tale comes to life in a spellbinding new musical! Everything you thought you knew about witches is about to be turned upside down, as they hatch an evil plan that only a ten-year-old boy and his Gran can thwart. But can they stop the witches from squalloping every child in England? Directed by Lyndsey Turner and featuring a book and lyrics by Olivier Award-winner Lucy Kirkwood, along with music and lyrics by Tony Award-nominee Dave Malloy, this production is a rip-roaring musical adventure that promises wit, daring, and heart. With performances from November 7th, tickets start from £20, and it's recommended for ages 8 and up.
---
Horrible Histories: The Terrible Thames Tour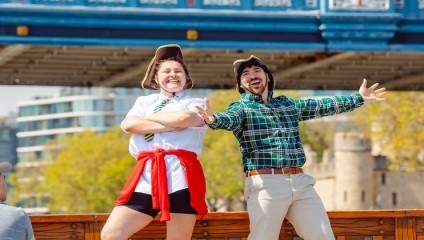 Tower Bridge Quay
Prepare to embark on a wickedly entertaining voyage down the 'Terrible Thames' with Horrible Histories! Set sail on a hilarious and educational river tour where history comes to life with a cheeky twist. Tremble at the Tower, sizzle at the Savoy, and give Cleopatra the needle as you explore the gruesome and glorious tales of London's iconic river. Get ready to lose yourself in Lambeth, be gobsmacked by the Globe, and hold onto your head at London Bridge. This delightful hour-long clipper tour is a fantastic family adventure that brings to life the stories of King Henry VIII, Anne Boleyn, Julius Caesar, Queen Boudicca, Jack the Ripper, and Captain Kidd, all with the nasty bits left in! So, climb aboard, and let Horrible Histories make history horribly fun! Sailing times vary, but you can catch one of the six daily tours between 11:45 am and 4:45 pm. Ticket prices start at £15, and it's an experience both kids and grown-up tourists with a thirst for history will cherish. Don't miss the boat on this Terrible Thames adventure!
---
The Tempest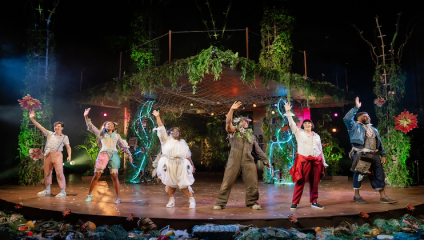 Unicorn Theatre, 147 Tooley St, London, SE1 2HZ
'The Tempest,' Shakespeare's classic reborn for kids aged six and above, is making waves with its lively and imaginative take on the Bard's late masterpiece. Director Jennifer Tang brings a fresh twist to the tale, turning Prospero into a tech mogul stranded on a desert island by jealous rivals, complete with electricity-generating bikes and oceanic junk-turned-technology. While the production is brimming with brilliant ideas and engaging tunes, it occasionally hits rocky waters as it navigates the challenges of being a condensed kids' show. However, it's a bright, brisk, and entertaining experience that's perfect for primary schoolers, offering an enchanting blend of spells, monsters, revenge, and romance. Ticket prices start at an affordable £10, making it a fantastic family outing. Join this tempestuous journey – after all, we are such stuff as dreams are made on! Catch the 75-minute show at the Unicorn Theatre.
---
My Neighbour Totoro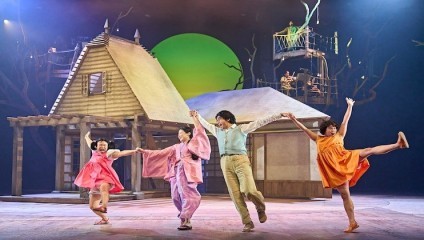 Barbican, Silk Street, London, EC2Y 8DS
A world of magic and wonder awaits with 'My Neighbour Totoro' at London's Barbican Theatre! This enchanting stage adaptation of Studio Ghibli's beloved film is making a triumphant return, and it's a must-see for families. This modern classic will sweep you away into a world where childhood imagination reigns supreme. Follow the heartwarming journey of two sisters, Satsuki and Mei, as they encounter fantastical creatures, including the lovable forest guardian, Totoro. With captivating storytelling, remarkable puppetry by Jim Henson's Creature Shop, and live performances of the film's score, 'My Neighbour Totoro' is a true feast for the heart and mind. Tickets start at £10, making it an accessible adventure for all. Don't miss your chance to experience this 'healing hug of a show' that delighted audiences and earned six Olivier Awards.