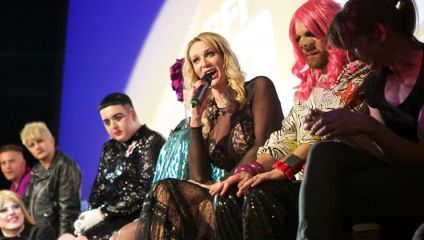 Interview with Director Colin Rothbart ahead of the glittering film screening at Dalston Roof Park
Dressed as a Girl takes an insider look at the personalities and lives central to East London's vibrant alternative drag scene. London Calling talks to Director Colin Rothbart ahead of the screening (and glitter filled after-party) as part of the East End Film Festival 2015.
London Calling: This is your debut feature length documentary, what inspired you to profile the East London alternative drag scene?
Colin Rothbart: A friend of mine, one of the performers that's in the film called Holestar, suggested it. I work full time in TV anyway so I said as long as I have time to do it! She got me tickets to the NYC Downlow [dance/cabaret installation] in Glastonbury and it went from there really. We tried to get people on board and they were all really suspicious at first; they didn't want to have someone filming them and they'd turned down other people in the past. But we got on quite well with them and chose five characters, and then we decided to also film Amber about a year later.
LC: What was it like working with such drag stars as Jonny Woo, Scottee, Holestar, Pia, Amber, and John Sizzle?
CR: We went to film a lot of events and things like that, but when it came to filming their personal lives they were a little more reluctant. Someone like Holestar, she was fine because I knew her anyway. Jonny [Woo] has been my partner for almost 6 years now and has been incredibly supportive of the film, but didn't want any filming of his personal life whatsoever.
Amber was amazing - she was really upfront as she was going through transition so she wanted it to hopefully educate people around the world and help people in other countries where people might be going through a similar thing but it's not as accepted. That was her inspiration for doing it. Scottee as well, especially, didn't want his personal life filmed.
LC: It took 6 years to make the film. Was there a specific reason for this?
CR: I think the main thing was money actually, because I'm working full time. We didn't have any money to pay for an editor, then we did a Kickstarter campaign a year and a half ago which got us the initial money for the first edit. That was actually brought about because Jonny was performing at Sheffield Documentary Festival and they said they'd love to show our film, so it was kind of accidental.
LC: How did the story progress over the years, and how did you feel about the end result?
CR: Holestar initially said she wanted it to be the British Paris is Burning [1990 Documentary about the New York Drag scene of the '80's] but I think that was very much about an underground subculture. This is that too but sometimes it becomes a bit more mainstream. The drag scene is very much still a subculture that most people aren't exposed to though. I think the longer you leave filming then the more things happen. Amber looks completely different. At the start of the film before transitioning she looks like a burly macho skinhead and by the end of it she looks like a glamorous lady. So the time frame allowed us to film that. Scottee's relationship with his family changes and develops throughout the film, which is really nice to see. Jonny gave up alcohol and drugs in the last year, so I think everything came together. I've actually opened a bar recently with Jonny and John Sizzle [Glory Hole on Kingsland Road], and we thought we could include that. But at a 90 minute running time a good place to end it was when they did the 10-year anniversary of Gay Bingo at Hackney Empire.
LC: What sticks out as your most memorable moment in filming?
CR: The initial filming at Glastonbury was exhausting. Six days, not much sleep, it was very full on, boiling. It was lots of fun! LoveBox [East London music and arts festival] was great when we had Debbie Harry on the stage, all the cast and crew were there and the whole community came together as well. Those were the best memories of filming.
LC: The East End Film Festival champions local talent and stories. How does it feel to be presenting this documentary at the festival?
CR: It's great because obviously East London is the natural home for the documentary. A lot of the filming was done round there, I live there, most of the cast live there, so the people who are most familiar with the whole scene. It's all based in East London still, so it's the natural home for the film.
LC: What can we expect from the film screening at Dalston Roof Park?
CR: I'm doing a Q&A, hopefully the weather will be nice so we can get some lovely views over the city. I can't confirm exactly who yet but we'll definitely have some of the cast members performing and DJ'ing too! It should be a really good evening.
Dressed as a Girl is showing at Dalston Roof Park, Tuesday 7TH July 7pm, as part of the East End Film Festival 2015. Click here for tickets.