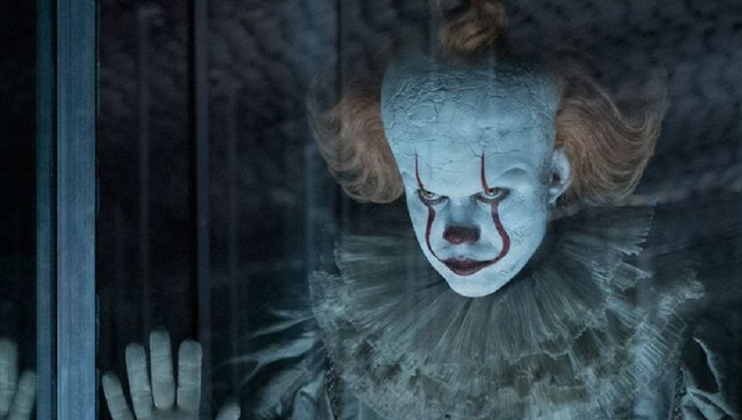 Events for hardcore horror mega-fans and self-confessed Hallowimps
Whether you're a hardcore horror mega-fan or a self-confessed Hallowimp, there's a Halloween movie event somewhere in London to en-witch your spooky celebrations.
---
Thrillers and Killers and Monsters, oh my! at The Prince Charles Cinema
A month of horrors and thrillers is what's being promised (or is that threatened?) at one of our favourite London cinemas. Their Halloween programming provides something for hardcore horror fans and self-confessed Hallowimps alike, with comedy and family classics like Death Becomes Her, Casper, and Shaun of the Dead for the latter, and spine-tingling selections such as The Texas Chainsaw Massacre, American Psycho and It Follows for the former. As well as their one-off trick or treat screenings, there are also some of the PCC's excellent All-Nighter Movie Marathons with themes such as classic horror (think Rosemary's Baby, The Exorcist) modern horror (including It Follows, Cabin in the Woods) as well as some good old Teen Horror. We've seen enough scary movies to know that whatever you do… don't fall asleep!
The Prince Charles Cinema is located at 7 Leicester Pl, London WC2H 7BY. See their website for full listings.
---
Film and Fizz: It: Chapter Two at One Aldwych
If you feel like clowning around this Halloween then we suggest enjoying a glass of Lallier Champagne and a viewing of the terrifying Stephen King clown fest, It: Chapter Two in One Aldwych Hotel's private screening room. Unlike the creepy streets of Derry, there'll be no floating down sewers, just contemporary luxury surroundings as you watch Pennywise exact revenge after the events of the first instalment. After the film and fizz you'll also be treated to an indulgent three-course meal at one of the hotel's restaurants, the innovative dairy and gluten-free Indigo, or a sumptuous taste of Spain in the Eneko Basque Kitchen & Bar. You definitely won't feel like part of the Losers Club with this many Halloween treats.
Film & Fizz: It: Chapter Two takes place on 31 October and 1 November at One Aldwych, London WC2B 4BZ
---
Halloween Movie Nights at The Clapham Grand
The Clapham Grand has been around for over a century and has prided itself on being a "palace of varieties" throughout its long history, which makes it the perfect place for a whole host of weird and wonderful Halloween celebrations. Part of the festivities are screenings of two of your cinematic favourites, the absolutely witchin' Hocus Pocus, and, of course, The Rocky Horror Picture Show. Not known for a shy and retiring atmosphere, The Grand encourages its audiences to cheer and boo for their favourite characters, join in the dancing and don your best themed costume to truly get into the spirit. With a photobooth to showcase your costumes and awards for the best dressed, as well as interval games and devilishly good themed cocktails, this is cinema - but not as you know it.
The Clapham Grand Halloween Movie Nights take place 29 October - 2 November at 21-25 St John's Hill, London SW11 1TT
---
Halloween Fright Night at the Rivoli Ballroom
Add a little vintage glam to your All Hallow's Eve festivities with a movie night inside London's only remaining 1950s ballroom. Originally the Crofton Park Picture Palace when it first opened in 1913, the Rivoli has since featured as a location in many a Hollywood blockbuster so where better to enjoy some classic cinema magic? With four nights of spooky screenings, choose from horror classics Nightmare on Elm Street, Halloween or The Shining, or go a little lighter with audience participation favourite, The Rocky Horror Picture Show. With two vintage bars stocking everything from beers to creepy cocktails, not to mention an abundance of snacks, it has the makings of a Halloween to remember. Here's hoping it's not quite as haunted as the ballroom at the Overlook hotel.
Halloween Fright Night takes place 28-31 October at Rivoli Ballroom, 350 Brockley Road, Crofton Park, SE4 2BY