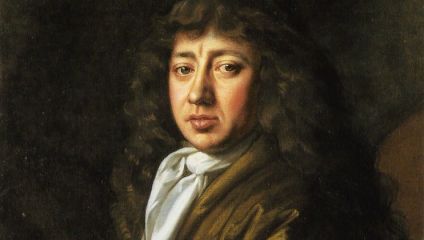 Nine Christmas Days are recorded by famous Londoner Samuel Pepys in his famous diary. How did he spend them?
Merry Christmas, London! One of London's first significant Christmas Days came in 1066 with the coronation of William the Conqueror at Westminster Abbey. 600 years later, as the city was attacked by fire and plague, one of the most famous Londoners of all time was writing his decade long diary, for which he recorded nine of his Christmas days...
The first Christmas Day recorded in the diary of Samuel Pepys was also the first legal Christmas in England in 14 years. The celebration of Christmas had been banned by the Puritan government in 1647, and the ban lasted until the swinging 1660s, when Charles II was restored to the throne. Pepys' nine recorded Christmas Days give a fairly good sense of the man (between the ages of 27 and 35), for better and worse.
Christmas Day, 1660
The first of Pepys' recorded Christmas Days begins 'In the morning very much pleased to see my house once more clear of workmen and to be clean' and continues with no explicit references to the season - although we may assume 'my wife's new mantle' is a Christmas present from her husband, and 'a good shoulder of a mutton and a chicken' sounds like a decent enough Christmas dinner. After a dull sermon in church (he attended Saint Olave Hart Street, which still stands) Pepys entertains himself with his lute and a book ('Fuller's History') and gets to bed at midnight.
Christmas Day, 1661
The Pepyses lived in the Navy Office buildings on Seething Lane. After a festive argument is resolved, they take a walk on the roof, where Admiral Sir William Penn calls out to the couple to invite them to supper at his house. In a scene that sounds like something out of Blackadder, a 'Captain Cock' invites himself round half-drunk and the Admiral leads him three times in a toast to the King to make him drunk so that he will leave.
Christmas Day, 1662
Pepys' 22-year-old wife Elizabeth is unwell this morning. After a trip to Whitehall Palace to look at paintings and hear a moralizing sermon, her husband returns to sit with her, before paying a visit to Admiral Sir Penn, getting down to a bit of maths and finishing a book about business. The household is well stocked for food, 'three dozen tongues' having arrived the day before.
Christmas Day, 1663
Pepys reports 'great pleasure' in dining with Elizabeth, who earlier has asked him 'what she should do if I should by any accident die'. Watching boys play games in the yard makes him think of his youth. He teaches his wife a bit of geography ('upon the globes') and reads to himself a bit of history (Rushworth's Historical Collections).
Christmas Day, 1664
Elizabeth still has the black eye that her husband gave her less than a week ago during an argument and Pepys worries what the neighbours may say. Attending a church other than his usual, he reports 'a very great store of fine women there is in this church, more than I know anywhere else about us.'
Christmas Day, 1665
When Pepys arrives at church in the morning, there is a wedding. He writes: 'strange to see what delight we married people have to see these poor fools decoyed into our condition, every man and woman gazing and smiling at them.' After paying a visit to Lord Brouncker, the President of the Royal Society he returns to some very messy admin: 'I hope God will never suffer me to come to that disorder again.'
Christmas Day, 1666
Elizabeth has a lie-in, 'having sat up till four this morning seeing her mayds make mince-pies'. Later, Pepys teaches her and a servant a song he has written entitled 'It is decreed'. He then heads off alone to Temple in the hope of seeing a play, although disappointment awaits: 'there, missing of any bills, concluded there was none, and so back home.' Still, there is fun to be had with his brother Tom: the two men spend several hours alphabetizing Samuel's library.
Christmas Day, 1667
Wondering what to spend that book token on? Pepys has a helpful recommendation: '"The History of the Drummer of Mr. Mompesson," which is a strange story of spies, and worth reading indeed.' It is perhaps more suitable for Halloween, however: the full title of Joseph Glanvill's book is Palpable evidence of spirits and witchcraft: in an account of the fam'd disturbance by the drummer, in the house of M. Mompesson.
Christmas Day, 1668
Elizabeth is up 'till ten at night, altering and lacing of a noble petticoat'. Pepys sits with her after dinner, his servant boy Tom Edwards providing the entertainment, first by reading 'the Life of Julius Caesar' and Descartes' Musicae Compendium - 'the latter of which I understand not, nor think he did well that writ it' - and after supper by playing his lute. The entry concludes with the words, 'and so, my mind in mighty content, we to bed.'