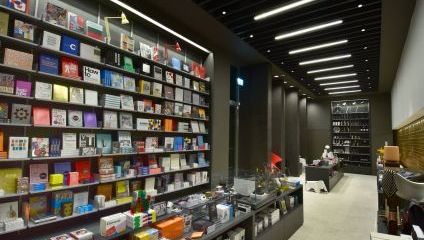 Exiting through the gift shop is often an unavoidable part of the museum experience but in some of London's cultural institutions it can actually be a real treat.
No longer the realms of fridge magnets, plastic rulers and mugs with a logo on them, these shops are becoming increasingly swish, offering more unusual and captivating products. Andy Warhol once prophesised that in the future "all museums will become department stores" but for the person looking for an usual souvenir or specially themed gift, London's museum, gallery, library and theatre shops offer a real alternative to department stores.
British Library Shop
(c) Bryony Harrison
The gift shop at the British Library stocks books and gifts for the curious and literary minded. If you need something for a Potterhead this is the right place, stocking all the book editions as well as anything from dolls, backpacks and Hogwarts scarves to chocolate frogs. Gifts are often themed to accompany the latest exhibition and with the focus on literature, there is plenty of pretty stationary, notebooks, reading lights and book marks.
V&A Shop
Photography: Ed Reeve
The mother of all museum gift shops, this massive 465m square retail space has had a £1 million make over by architectural practice Friend & Company in 2016 and resembles a gallery in its own right. Apart from the main V&A shop at the heart of the museum, specialising in exclusive pieces inspired by the museum's collection exhibiting the best in contemporary craftsmanship and design, the V&A actually has 3 more impressive retail spaces. The Exhibition Road Quarter Shop, located above the Sainsbury Gallery, features a carefully curated product range that explores the architectural history of the museum. The V&A bookshop stocks a broad selection of books that range from art and design to fashion, performance and architecture. Finally, the V&A Fashion Shop, which is nestled in the V&A fashion galleries, is regularly refreshed to reflect the museum's latest exhibition and fashion displays.
Design Museum Shop
(c) Luke Hayes
Not to be outdone, the Design Museum has recently opened two retail spaces - one linked to the exhibition spaces at its new HQ at the Commonwealth Institute in Kensington, and a stand-alone shop on nearby Kensington High street - with interiors by the minimalist maestro John Pawson and products selected by Sir Terence Conran, including several new designer collaborations. As the world's leading museum devoted to contemporary design, it is no surprise that the Design Museum Shop sells a unique selection of classic, beautiful and cutting edge books, furniture and objects that all have a handpicked curated air about them.
Natural History Museum Shop
If you are looking for gifts for children the Natural History Museum has a huge range of educational, scientific and fun toys, games and books, plenty of dinosaur themed merchandise, any species of cuddly toys you could imagine (if your child maybe prefers a Utahraptor to a teddy bear for bedtime). The Natural History Museum also does their own beautiful range of cards and the cabinet of curiosities section has some rather stylish trinkets and decorations for the home. And as the host of the annual Wildlife Photographer of the Year exhibition, their selection of prints and posters is of course fantastic.
National Theatre Bookshop
For theatre lovers this is a top destination. Scripts and textbooks from Shakespeare to the latest West End hit, books about theatre, acting, stage design and costume. There is a DVD and CD section with some rare finds, gifts for architecture fans celebrating the buildings brutalist design, gifts for Shakespeare fans and a section for children. Best of all though is the selection featured in the front of the shop that always offers gifts and merchandise to go with the current productions - always unusual, creative and surprising you'd be a hero to leave here empty handed.
---