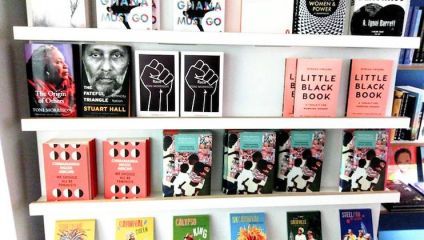 To celebrate Black History Month, London Calling selects five London-based organisations related to Black history.
It's important to keep learning about Black History all year round, so here's our guide to the best exhibitions, museums, events (and walks!) that celebrate Black History in London.
Black Cultural Archives
After a rather long hiatus the Black Cultural Archives returned in 2014 as the only dedicated Black History Museum in London and the UK. Set up in 1981, their collection includes all kinds of documents and papers related to Black history, rare books, ephemera and photographs. They curate exhibitions which document the many untold stories of black experience while celebrating Black culture and history.
The Black Cultural Archives are found at 1 Windrush Square, SW2 1EF
---
SOAS, University of London
SOAS has long been an important centre of learning for those interested in the African Diaspora and the many different subjects that intersect around its history and future, as well as those studying individual African nations and cultures. They host a year-round programme of Black History events alongside a student union with a political and freethinking reputation, and are also dedicated to the study of Asian and Middle Eastern history and culture.
SOAS is located at 10 Thornhaugh Street, WC1H 0XG
---
The Africa Centre
A Covent Garden treasure for fifty years, The Africa Centre has a history of hosting hip hop DJ nights in the 2000s, while still representing a lost community centre for central London. Forced out of their home in 2013, they now reside in Southwark, promoting creativity and innovation in African art, culture, business and entrepreneurship in London.
The Africa Centre is found at Arch 28, Old Union Yard Arches, S1 0LR
---
Hackney Museum
Hackney is a very culturally diverse borough and its museum reflects this diversity with regular Black History exhibitions and events. It is important for London's museums to represent Afro-Caribbean culture, and its continuing influence in our city, and Hackney Museum does a brilliant job.
Hackney Museum is located at 1 Reading Lane, E8 1GQ
---
Black History Walks
Black History Walks do exactly that - they present guided walking tours of London taking in areas and buildings that have played key roles in the city's history in the context of Black residents. They also programme talks and films which further expand on this mission - educating people about Britains's Black history.
Black History Walks programme events across the city.
---