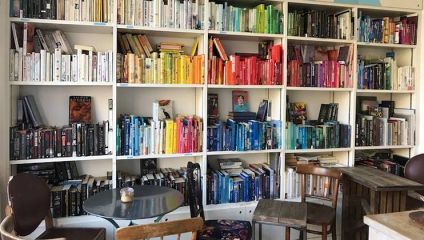 Get your caffeine hit with a literary side at the best bookshop-cafes in London.
Ahead of the London Coffee Festival beginning next week, we decided to pick out some places to curl up with a coffee and read a book: London's best bookshop-cafés. What could be better than combining cakes, coffee and books?
London Review Bookshop and Cake Shop, Bloomsbury
Yes, it's an obvious choice, but included for a reason: its tea selection is almost as extensive as the range of books on offer. The London Review Cake Shop can be found inside the bookshop, through a corridor in the History section, meaning that you can select a book to buy and then settle down with a pot of tea. They serve Monmouth coffee, as well as a selection of loose-leaf tea served in glass Gong Fu teapots, and the homemade cakes range from Apple & Earl Grey to Rose & Pistachio, balancing delicate combinations of flavours.
Open Monday-Saturday, 10am-6.30pm. Visit the London Review Cake Shop.
Nomad Books, Fulham
Nomad Books is the ideal place to visit if you have children, as they have a wide variety of children's books and lots of comfy beanbags and chairs. As the space is a bookshop-cum-café, it's easy to settle down with an espresso and still keep an eye on children. Nomad run a monthly Modern Book Club: recent discussions include Claire Fuller's Our Endless Numbered Days, Renee Knight's Disclaimer, and Chigozie Obioma's The Fishermen. There are lots of creative events for children, including a Harry Potter Book Night, at which children are encouraged to either dress as a character, or pretend to be a wizard dressing as a 'convincing' Muggle. The personal recommendations scribbled on bookmarks - a feature co-opted by Waterstones - display how knowledgeable the staff are, and the shop are happy to order in any requests.
Open Monday-Friday, 9am-7pm, Saturday 10am-6pm, Sunday 10.30am-6pm. Visit Nomad Books.
Paper & Cup, Shoreditch
This social enterprise café in Shoreditch is run by a local charity offering training and work experience to former addicts and the long-term unemployed. Inside, you can sample their selection of cakes, including vegan options, and read in peace. The books on the shelves are for sale - hardbacks £4, paperbacks £2 - and it's the perfect place to people-watch in east London. They also host a series of resident artists (most recently, designer Charlie Patterson), and the work displayed on the walls adds to the arty and vibrant atmosphere.
Open Monday-Friday, 8am-6pm, Saturday 9am-6pm, Sunday 10am-5pm. Visit Paper & Cup.
Arthur Probsthain's/Tea and Tattle, Bloomsbury
Directly opposite the British Museum, you can find Arthur Probsthain Oriental and African Bookseller, and below it, the traditional tea room Tea & Tattle. At Arthur Probsthain's, which has been in that spot since 1903, you can find a collection of Asian and African books, music and film, as well as rare and out of print editions. Their gallery has a changing display of Asian and African art, and they specialise in books on Eastern and African art, music, film, religion, languages, literature and culture. After exploring this specialist selection, head downstairs for tea and cake: Tea & Tattle offer afternoon tea for £15, a steal in central London.
Bookshop open Monday-Friday 9.30am-5.30pm, and Saturday 12pm-4pm. Teashop open Monday-Friday 9am-6.30pm, and Saturday 12pm-4pm. Visit the bookshop and café.
Review Bookshop, Peckham
The Review Bookshop in Peckham is best visited on a warm day, as you can buy a book and then take advantage of the outside garden with a fresh coffee for company. There are some squashy stools inside for when the weather is less pleasant, and they also sell local zines, gifts, Moleskines and items for children. Sadly their resident shop dog Gus is no longer there, but one quirk of the Review is that they happily accommodate visitors with friendly dogs. They often host book launches and readings, and the owner, Roz Simpson, is the creator of the Peckham Literary Festival, meaning that many of the autumn events are held there.
Closed Monday-Tuesday, open Wednesday, Friday and Saturday 10am-6pm, Thursday 12pm-7pm and Sunday 11am-5pm(ish). Visit Review Bookshop.