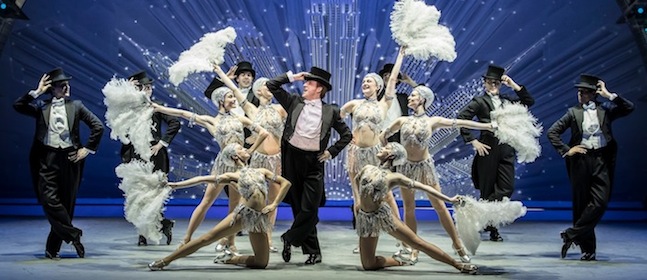 The most exciting dance makers in the UK right now
Matthew Bourne may be the reigning king of dance with his extremely popular retellings of the big classics in his very own unique, cinematic way. But these days it seems we are actually in a golden age for dance in the UK with many of the world's most exciting young dance makers creating and showing their work in Britain. Cutting the list down to just five proved difficult but these are our pick of choreographers with exciting things in store this year:
---
Christopher Wheeldon
Christopher Wheeldon with Leanne Cope in rehearsal for An American in Paris. Photo by Matt Trent
Wheeldon is the most classical of the five, a proper Royal Ballet School alumnus whose choreographic output is however largely influenced by the time he spent with New York City Ballet. His work clearly shows the distinct speed, virtuosity, humour and chic of America's greatest choreographers such as George Balanchine and Jerome Robbins. The all American jazz hands and fast tapping feet influences came in handy when Wheeldon choreographed and directed his first musical An American in Paris, which won him a Tony Award on Broadway and plenty of five star reviews for its West End run. But Wheeldon's greatest talent lies in story-telling. After a big success with Alice's Adventures in Wonderland, a joyful family show created for the Royal Ballet, Wheeldon tackled a complicated Shakespeare play, The Winter's Tale and turned it into an expressive and moving narrative ballet with the potential of becoming a modern classic. For this March, the Royal Ballet commissioned a new work by Wheeldon, so far untitled, as part of a triple bill tribute to American composer Leonard Bernstein, which should be right up his alley.
An American in Paris will be screened in cinemas May 16.
A Winter's Tale is at The Royal Opera House 13 February - 21 March
The tribute to Leonard Bernstein will premiere at the Royal Opera House 15 March
---
Wayne McGregor
Wayne McGregor in rehearsal with his company, (c) Paul Jeffens
Though McGregor has no classical training, he is one of the resident choreographers of the Royal Ballet, his lack of classical credentials actually giving him a unique edge, pushing ballet dancers into movements that shouldn't even be physically possible. Describing his style is difficult, one could imagine it as ripping up the rulebook of the human body and creating movement that is almost shockingly physical, gymnastic and superhuman. More a scientist than a choreographer, McGregor takes inspiration from computer technology, biological science, research and psychology, seeking out the most exciting artists from design, architecture, fashion, sound and visual art for collaborations, including The Chemical Brothers, Radiohead, Jamie XX, Olafur Eliasson, Max Richter and Gareth Pugh. McGregor is Commander of the Order of the British Empire, has won two Olivier Awards and the Prix Benoit de la danse - often called the "Dance Oscar". His own Company Wayne McGregor will tour New York and San Francisco this spring, but Londoners can look forward to a new work created for the Royal Ballet's Leonard Bernstein tribute.
The tribute to Leonard Bernstein will premiere at the Royal Opera House 15 March
---
Akram Khan
Akram Khan in Desh at the Onassis Cultural Centre 2012
Khan is a London born choreographer who explores his Bangladeshi descent through South Asian and contemporary dance. He founded his own Akram Khan Company in 2000 and became famous when he and his dancers performed at the 2012 London Olympics opening ceremony. He was one of the choreographers primaballerina Sylvie Guillem picked for her farewell performance in 2015. Khan himself will give his final solo performance as a dancer at Sadler's Wells with a new work called Xenos, which will blend Greek myth and contemporary history drawing on the story of a shell-shocked Indian soldier trapped in a trench during the First World through the lens of the myth of Prometheus - the Titan who stole fire and gave it to mankind. His retelling of one of classical ballets big staples, Giselle, for English National Ballet was sold out within days but the production has now been announced to come to cinemas nationwide, giving us all a chance to see what was being hailed as a masterpiece of 21st century dance.
Xenos will be performed at Sadler's Wells from 29 May - 9 June
Akram Khan's Gisele will be broadcast in selected cinemas nationwide from 25 April until late May
---
Arthur Pita
Stepfather by Artur Pita

Born in Johannesburg, Pita is not actually a British choreographer, but has studied contemporary dance in London and is based here with his partner of 21 years Matthew Bourne. Pita is something of the dark, creepy, gothic uncle of ballet, creating work that is violent and disturbing but also very humorous. He is a cross over choreographer, easily sliding from classical to contemporary to theatrical happenings, and not afraid to make dancers sing, speak or scream on stage. His Stepmother/Stepfather last year at The Place was a spooky exploration of the horrific violence in fairy tales that entailed a darkly beautiful pas de deux of a dead father who hanged himself, swinging from the noose and the daughter he raped and drowned, dripping wet, circling the stage in a macabre yet lyrical trapeze number. The Little Matchgirl, a ballet for children last Christmas at Sadler's Wells, included scenes of cruelty that made some children properly frightened, but there is a fantastical dreamlike theatricality to Pita's work that makes him one of the most interesting dance makers to watch. The Royal Ballet commissioned his first piece for the big stage The Wind last November but the next time you can sample his work will be with Ballet Black at the
---
Barbican.
Ballet Black will perform Arthur Pita's A Dream within a Midsummer Night's Dream as part of a Double Bill at the Barbican, 15 - 17 March
---
Drew McOnie
Drew McOnie (c) Gabriel Mokake
Drew McOnie is one of the youngest and most successful choreographers in Britain today. Just a few years ago you could easily take one of his open classes at Pineapple Studios and there was a slight buzz around the kid who just staged an interesting dance show called Drunk in fringe theatre. Nowadays, it is doubtful McOnie could show his face at a dance class without getting mobbed. His name is credited in shows all over London, from Jesus Christ Superstar at Regents Park to The Wild Party at The Other Palace. He is associated artist of The Old Vic and artistic director of his own McOnie Company, Olivier Award winner and currently splitting his time directing King Kong on Broadway and the highly anticipated Baz Luhrmann musical Strictly Ballroom in the West End. McOnie effortlessly blurrs the lines between musical theatre and contemporary dance, not defined by one style but by his immense divertsity and versatility.
Strictly Ballroom is opening at the Piccadilly Theatre on 29 March